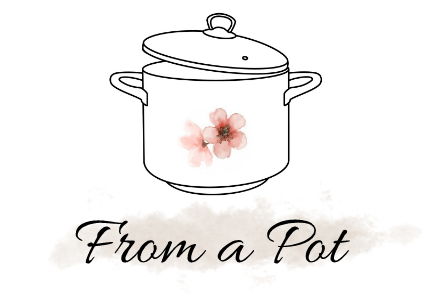 From a Pot: Asparagus with Salmon and Spätzle
Asparagus with Salmon and Spätzle
Asparagus with salmon and spätzle (egg noodles) are delicious, and light spring lunch.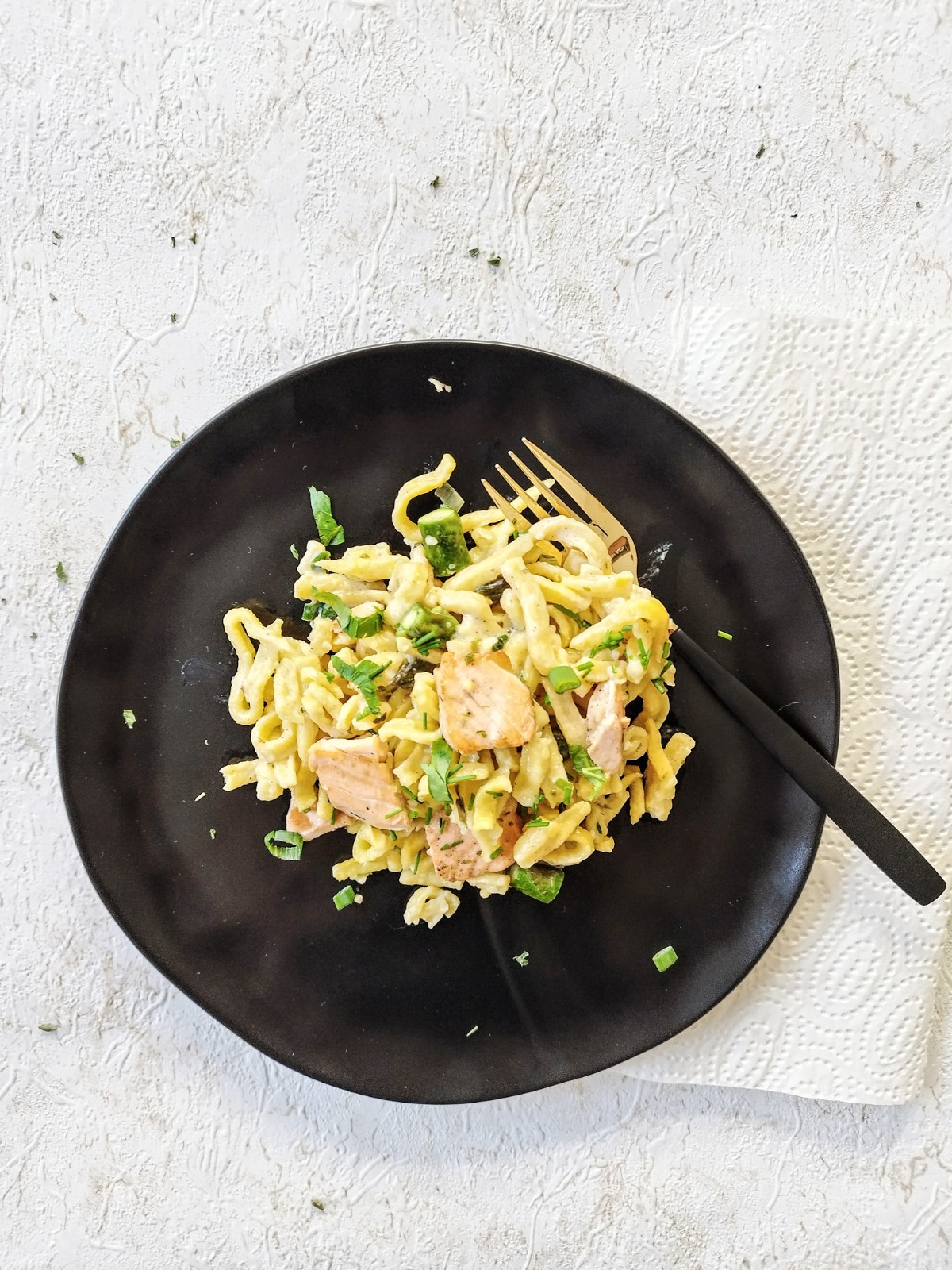 Spring is the time for asparagus season, and I am adding them everywhere. :) In this recipe, instead of pasta, I used spätzle, egg noodles that originated from German - speaking countries, but are also used in other European countries. If you never had them, you're seriously missing out. They're easy to make, soft, and so delicious.
Equipment
Cutting board
Knife
Pan
Baking tray with high edges
Nutritional values
Shopping List

Eggs: 3.0
Flour: 300.0 g
Salt
Water: 80.0 ml
Milk: 70.0 ml
Salmon: 250.0 g
Pepper
Asparagus: 200.0 g
Oil
Vegetable soup base: 100.0 ml
Garlic: 10.0 g
Cooking cream: 150.0 g
Marjoram
Butter: 5.0 g
Garlic powder
Ingredients and Instructions
Field to change the scale in the recipe. The meaning of the number depends on the type of recipe and can mean the number of servings or the number of products obtained from the recipe.(Asparagus with Salmon and Spätzle)
Scale
Spätzle
Eggs: 3

Flour: 300 g

Salt: 1 tsp

Water: 80 ml

Milk: 70 ml

Nutmeg
Salmon
Salmon: 250 g

Pepper: 0.5 tsp

Salt: 1 tsp
Asparagus and spätzle sauce
Asparagus: 200 g

Oil: 1 tablespoon

Vegetable soup base: 100 ml

Garlic: 10 g

Cooking cream: 150 g

Marjoram: 0.5 tsp

Butter: 5 g

Garlic powder: 0.5 tsp
Instructions
Spätzle
In the large bowl whisk together eggs, flour, salt, cold water, milk and freshly grated nutmeg.
Place a large pot of salted water on the stove and wait for the water to boil, then reduce the temperature to simmer.
Press batter into the water through a grater with large holes, a spätzle maker, or a sieve with large holes …
Work in batches, after using some of the batter stop adding more to the water and wait for the spätzle to cook for about 2 - 3 minutes (or until they start to float on the top), before picking them out of the water. Use a big slotted spoon for picking them out of the water.
Salmon
Cut salmon into small pieces, then season it with salt and pepper. Heat the oil in a pan and quickly fry the salmon. Fry it for only about 2 minutes, so that it browns a little, then take it out of the pan.
Asparagus and spätzle sauce
Wash the asparagus, remove the woody parts and cut them into small pieces. Peel the garlic and finely crush it.
Put sliced ​​asparagus and garlic in the same pan that we used for frying salmon. Cook them for about a minute, then pour over vegetable soup broth and let it simmer for about 3 - 5 minutes.
When the asparagus softens, pour the cooking cream over them and cook for about 3 minutes so that the cream thickens a bit. Season the sauce with pepper, garlic powder and thyme.
Put salmon and spätzle into the sauce and mix well to combine.
Coat a baking tray with high edges with some butter (so that the spätzle don't stick to the edges) then spread the spätzle with a sauce into it. You can top it with some cheese if you wish.
Bake at 200 degrees Celsius (392 F) for about 20 minutes, or until the spätzle are slightly brown. Be careful not to over bake or the dish will not be so creamy.
Gallery: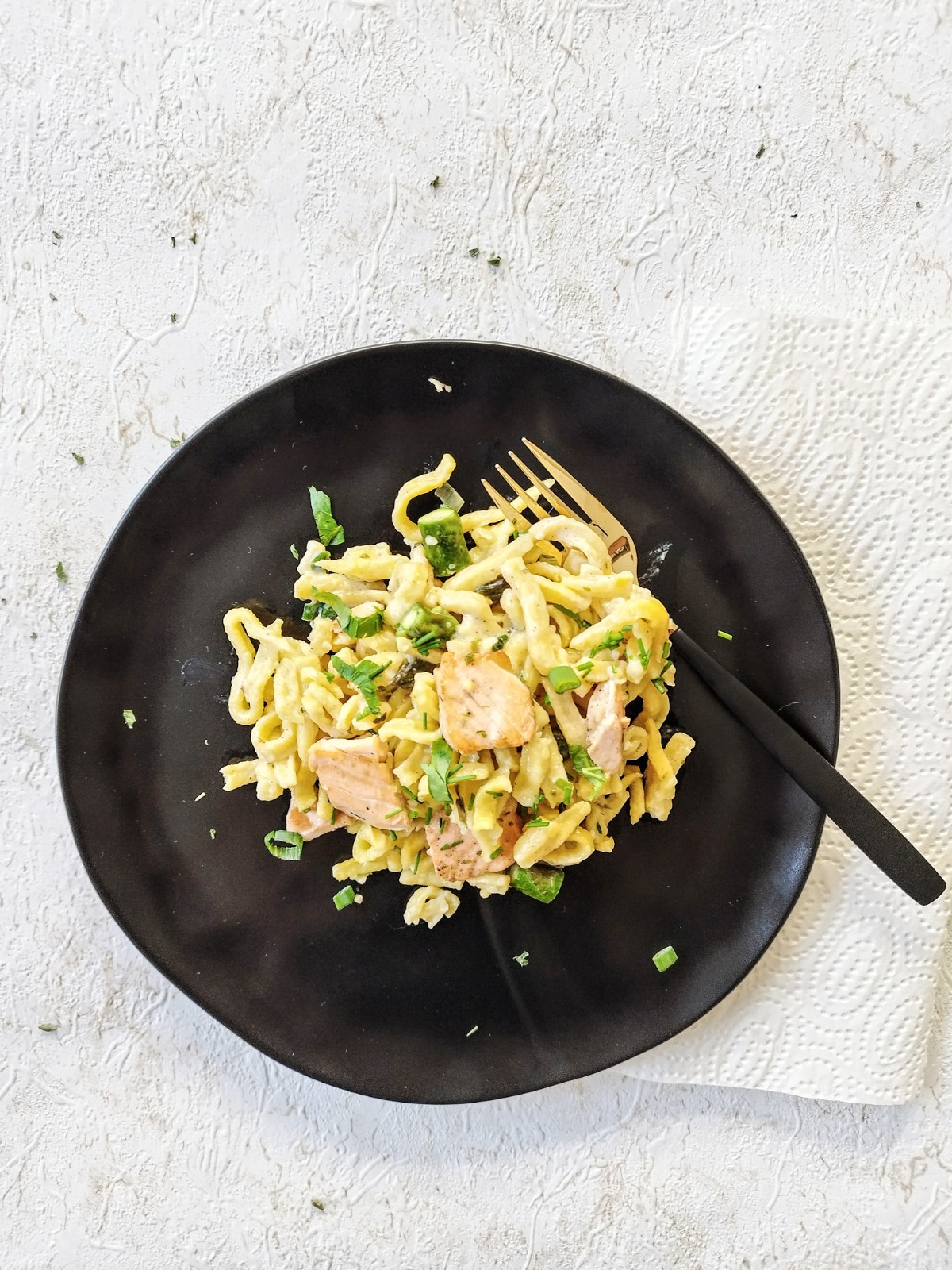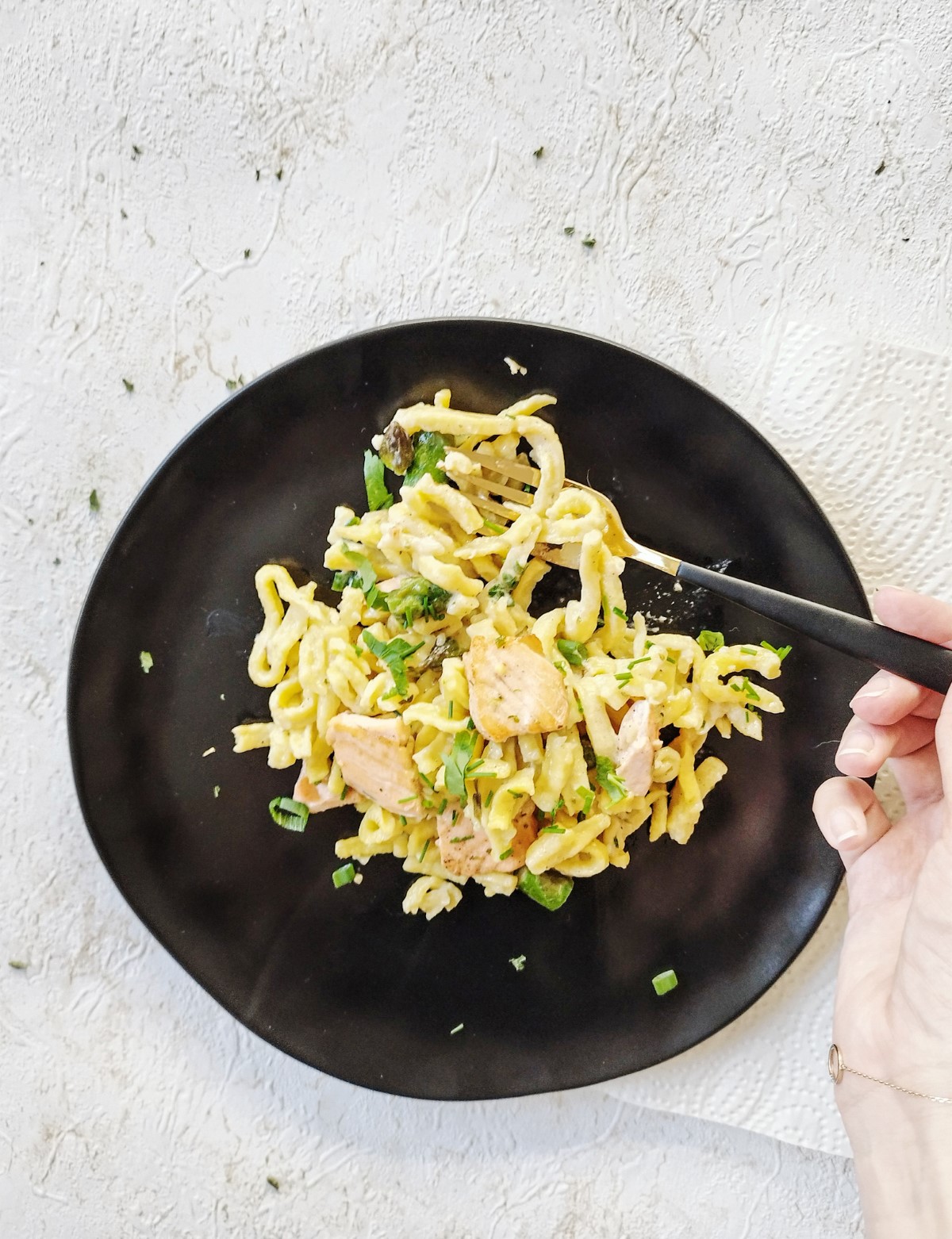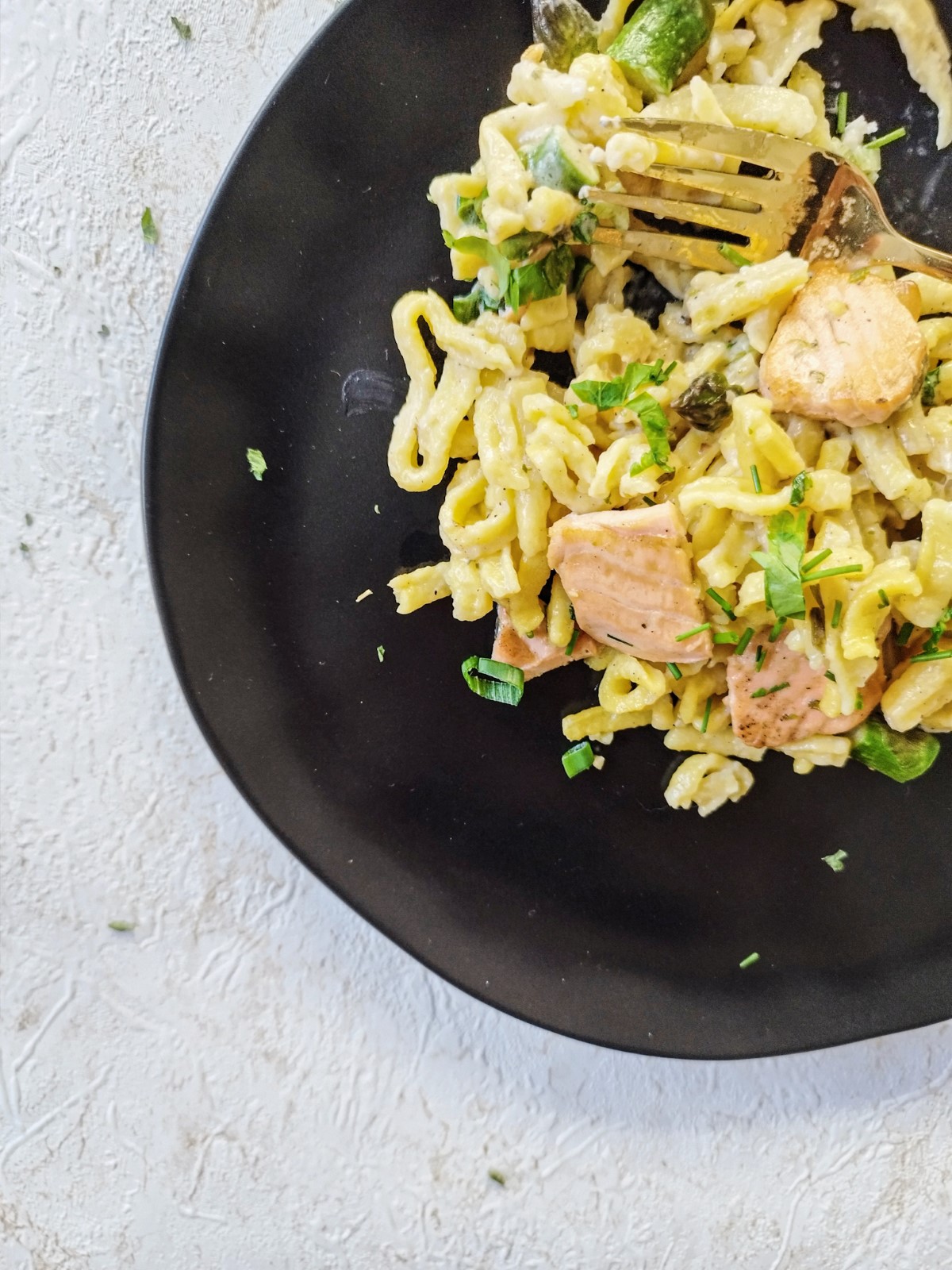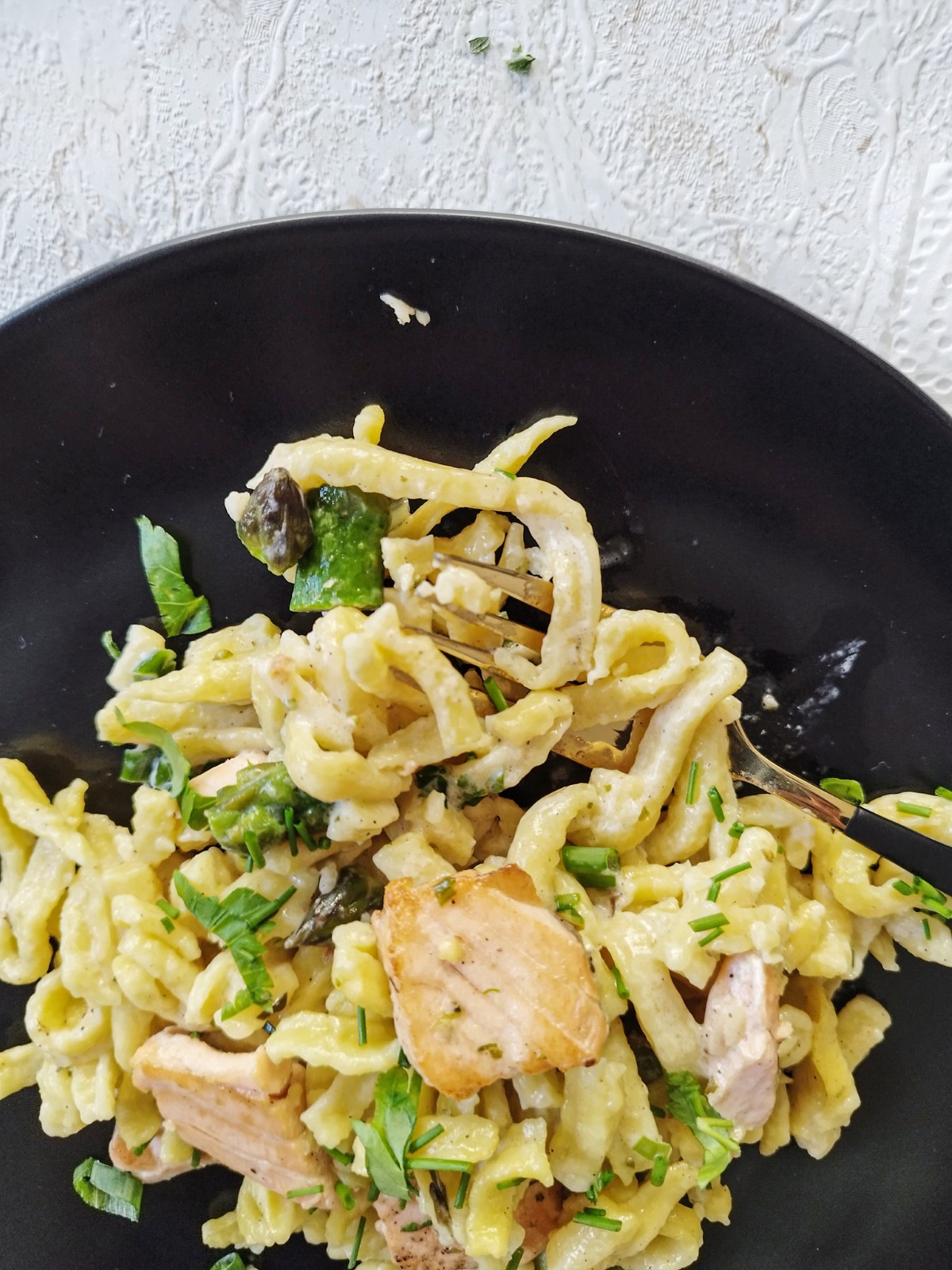 Notes:
Where can I buy spätzle?
In Europe you can buy them in almost every store. You'll usually find them in the fridge next to gnocchi. If you don't find them in store you can make them at home in just 15 minutes.
What can I use instead of spätzle?
You can use some other type of pasta, but the taste will not be the same.
Cheese
If you want you can sprinkle some cheese on top before baking.