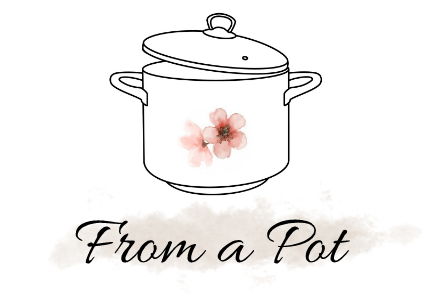 From a Pot: Breakfast Potatoes with Scrambled Eggs
Breakfast Potatoes with Scrambled Eggs
Delicious breakfast potatoes with scrambled eggs.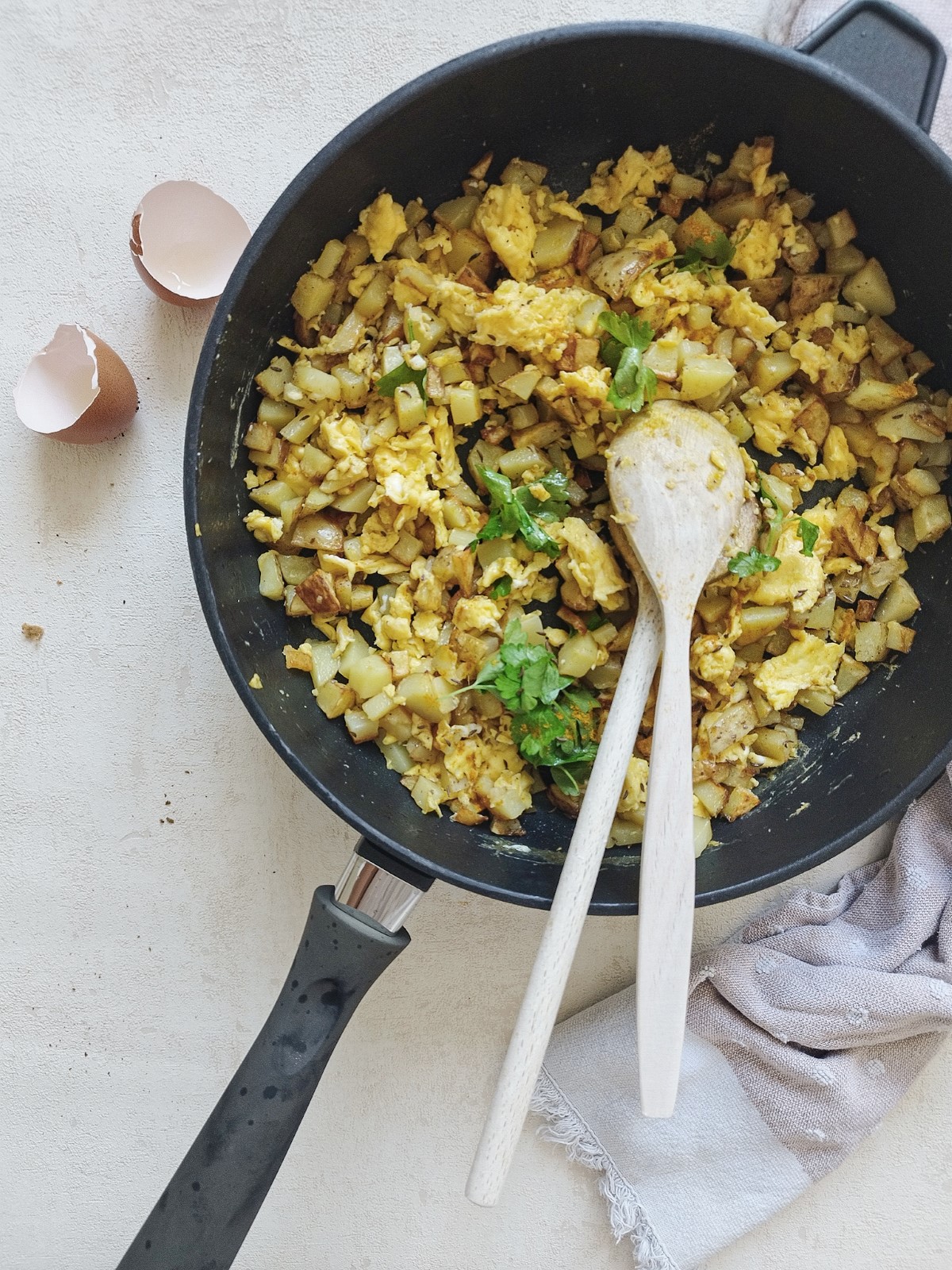 I think I miss out on life, because growing up we never had potatoes for breakfast. It's just not something that you would have for breakfast in Slovenia. We had stuff like bread, oatmeal, porridge, yogurt, eggs in every kind of way but never with potatoes. What I like most about food blogging is options to experience and research different cultures and their food. Potatoes are my favourite food. I like them more than pasta and if I can start the day with potatoes, well that's just perfect.
This combination may sound unusual to have for breakfast, especially to people like me who grow up with oats and eggs as a breakfast meal, but it is so good. Crispy baked potatoes, fluffy scrambled eggs with a combination of fresh herbs. What not to love.
This is just one version of a popular Pakistan dish. It's endlessly adaptable, you can add some onions, tomatoes, chillies, ginger, garlic to make it more full and maybe serve it as a dinner with some bread.
I know it takes a bit of time to make it for breakfast but it's kinda perfect as a brunch on a sunday morning.
Nutritional values
Shopping List

Potatoes: 300.0 g
Egg: 4.0
Oil
Butter: 10.0 g
Salt
Coriander
Curry
Cumin
Pepper
Ingredients and Instructions
Field to change the scale in the recipe. The meaning of the number depends on the type of recipe and can mean the number of servings or the number of products obtained from the recipe.(Breakfast Potatoes with Scrambled Eggs)
Scale
Breakfast Potatoes with Scrambled Eggs
Potatoes: 300 g

Egg: 4

Oil: 3 tbsp

Butter: 10 g

Salt: 1 tsp

Coriander: 0.3 tsp

Curry: 0.5 tsp

Cumin: 0.3 tsp

Pepper: 0.5 tsp

Parsley
Instructions
Breakfast Potatoes with Scrambled Eggs
Peel and wash potatoes, then cut them into small pieces.
In a large non-stick pan, heat the oil and fry the potatoes until they brown slightly. Cover the pan with a lid and cook them for about 15-20 minutes. It's best if you don't add any water to them and let them cook over medium heat, but if you feel that your potatoes are sticking to the bottom of the pan, then feel free to add some water.
Once the potatoes are baked/cooked, take them out of the pan and place them on a plate lined with a paper towel to soak up the oil.
Whisk the eggs in a small bowl, then heat the butter in a pan and add the eggs. Cook them at a medium heat for about 2 minutes, stirring constantly.
Add potatoes to the eggs, mix, add salt, pepper, spices and serve with some bread.
Gallery: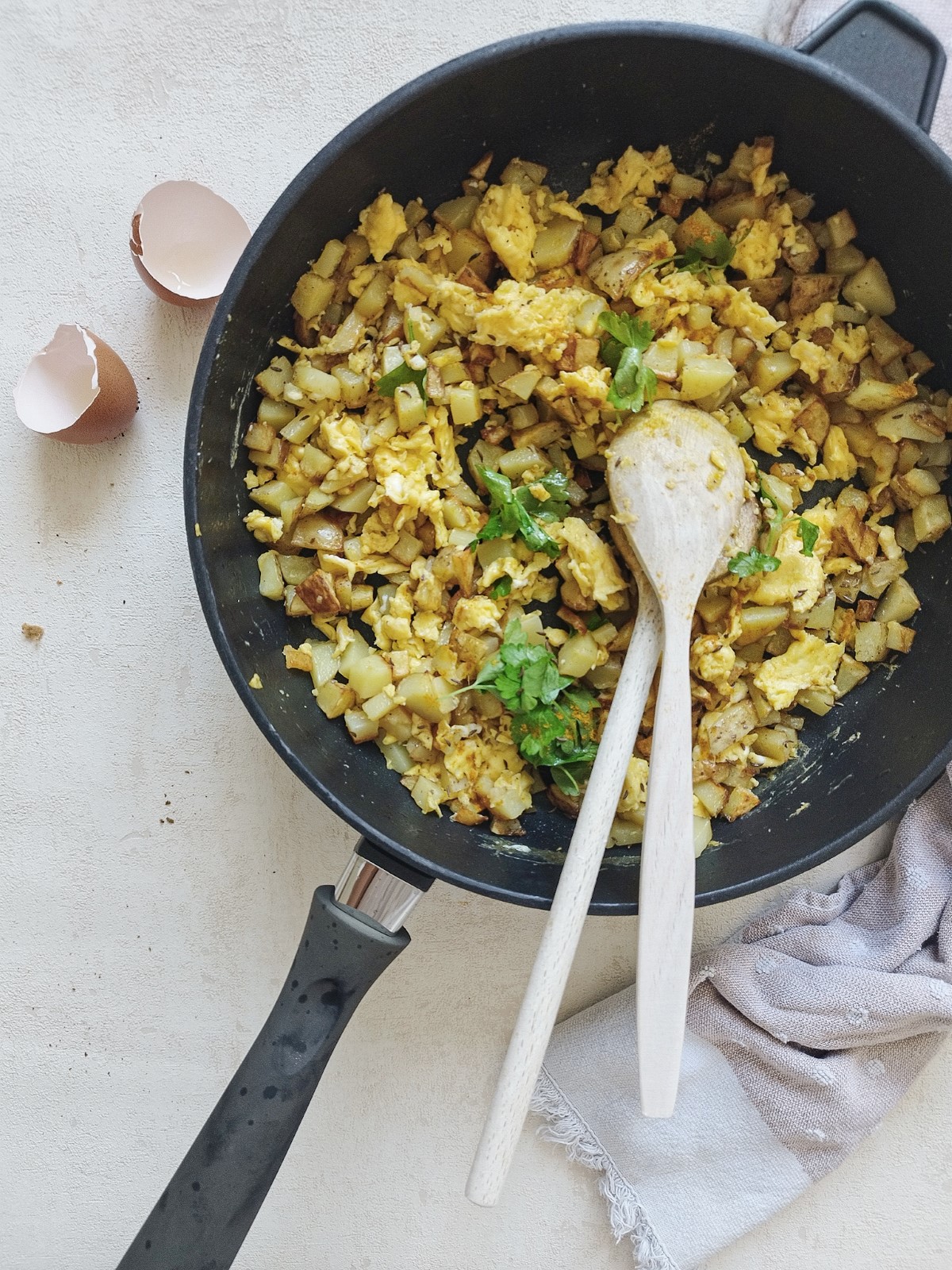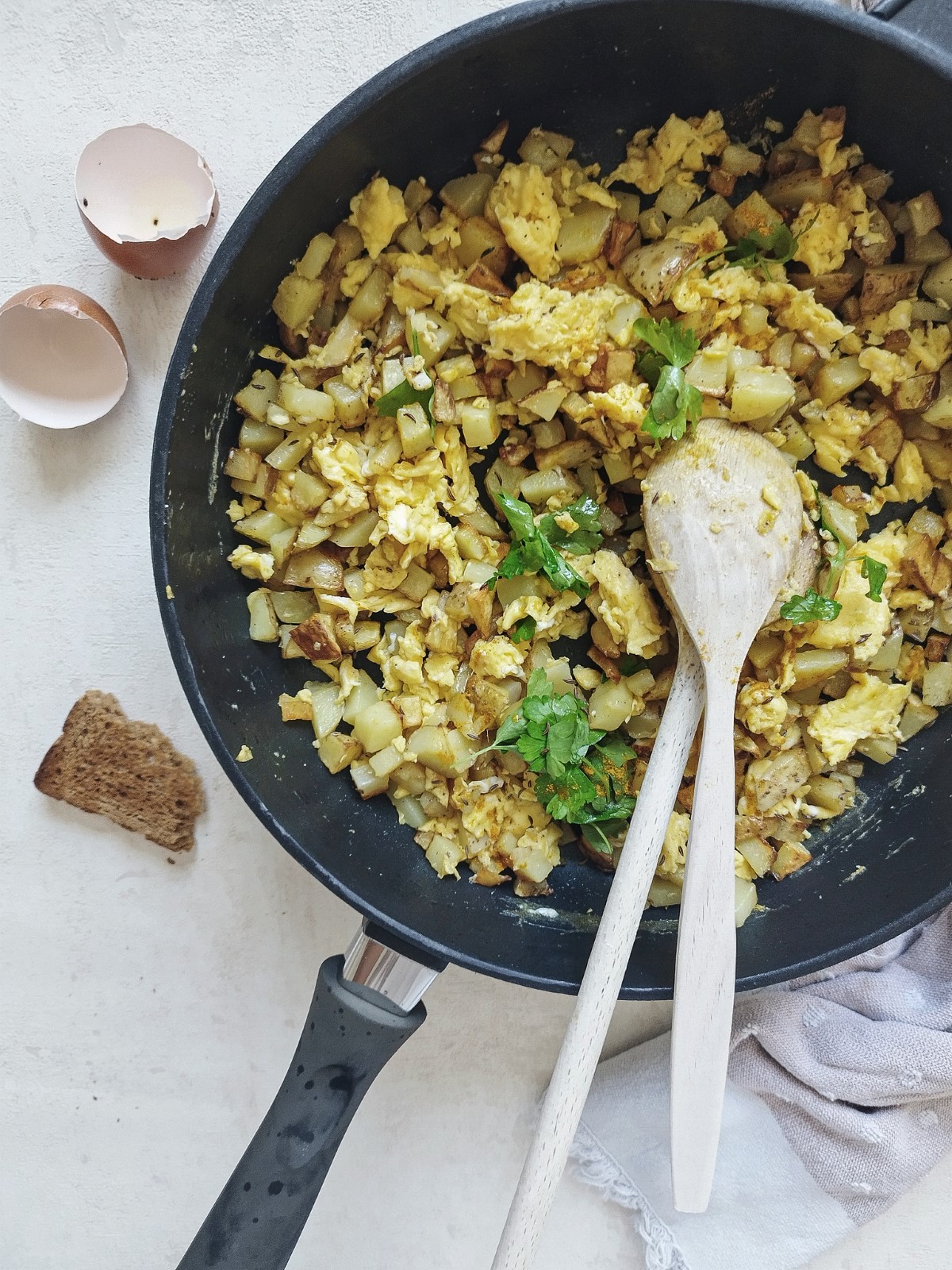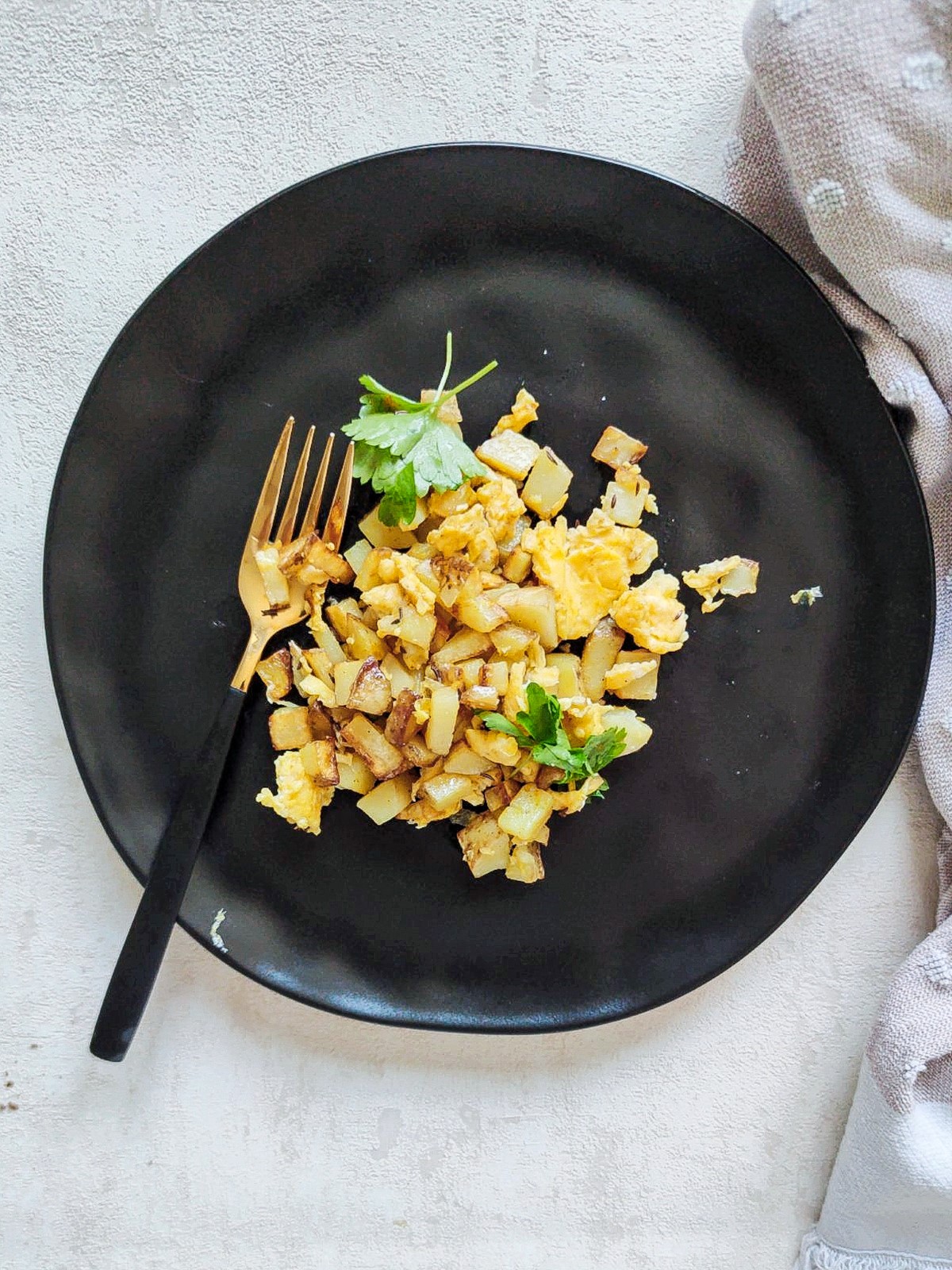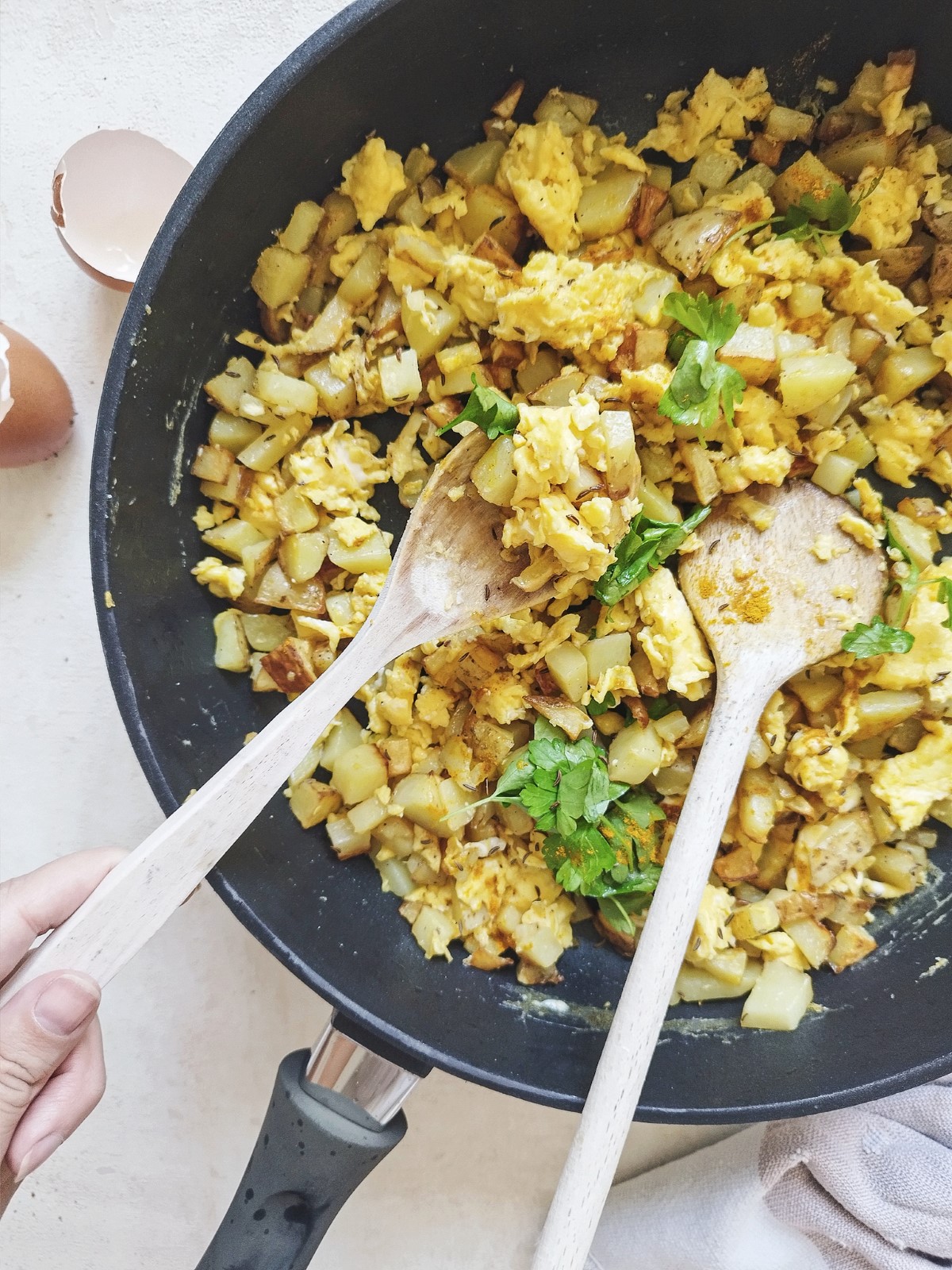 Notes:
Potatoes
If you have baby potatoes, you don't need to peel them. Baking time will vary depending on how big the potato pieces are. You can prepare potatoes the night before and let them rest in cold water overnight.
Spices
I like to mix it up every time that I make this dish. I sometimes add onions, tomatoes, turmeric, chillis to make it spicy, ginger, garlic … there are so many options.