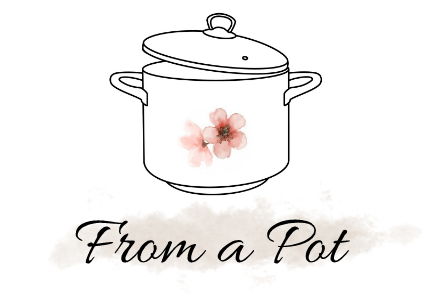 From a Pot: Indian Butter Chicken
Indian Butter Chicken
Indian restaurant without butter chicken probably doesn't exist. Chicken pieces in a creamy tomato sauce are so delicious.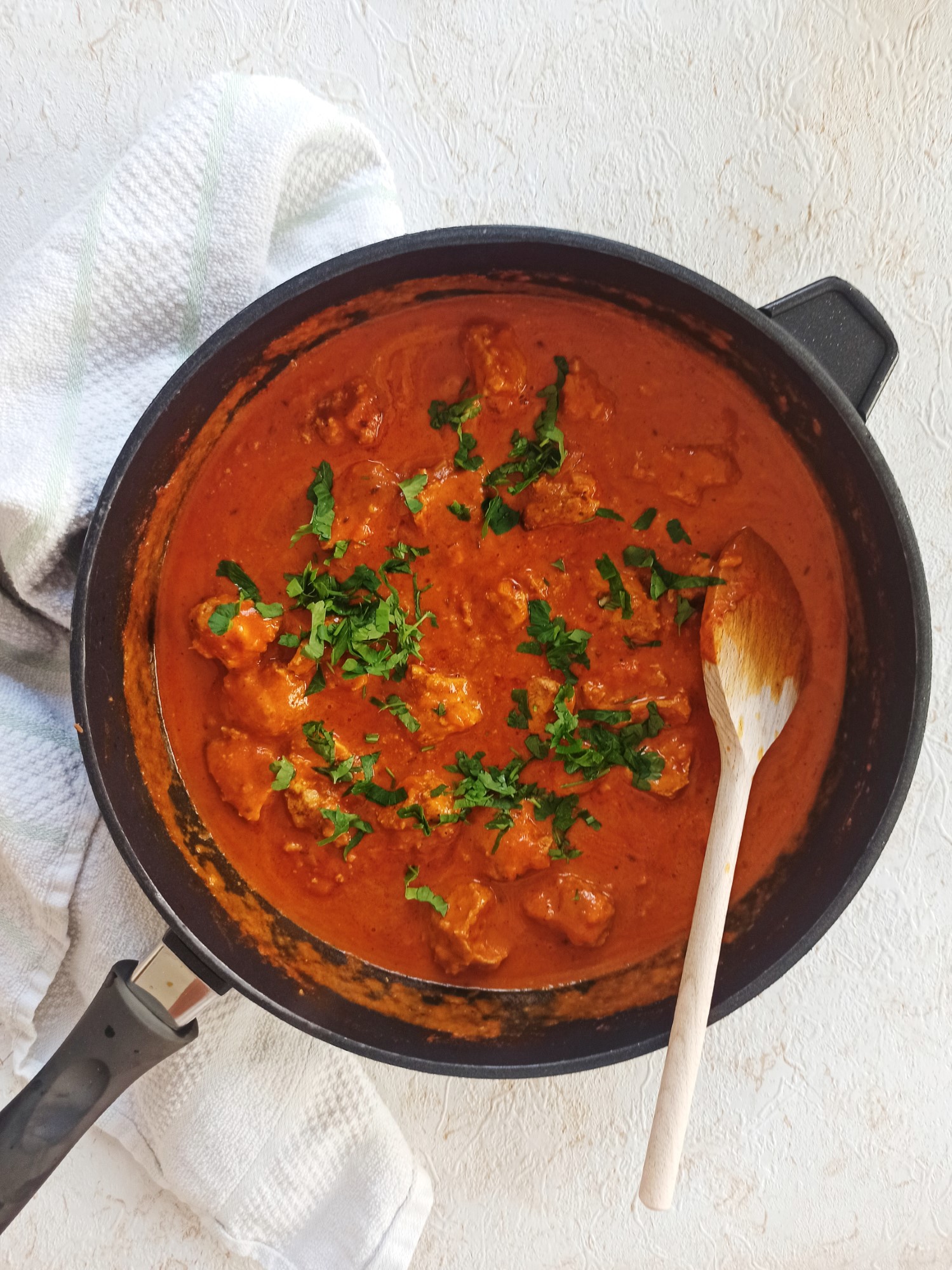 If you are in an Indian restaurant for the first time, you will definitely get butter chicken or chicken tikka masala as a recommendation on what to try. Both dishes are very similar to one another. Butter chicken is slightly more creamy and originates from India, while tikka masala originates from Britain.
Equipment
Knife
Cutting board
Baking tray with raised edges
Wooden skewers
Pan
Parchment paper
Blander
Nutritional values
Shopping List

Chicken breast: 500.0 g
Plain yogurt: 100.0 g
Salt
Paprika powder
Chili powder
Cumin
Lemon juice
Garam masala
Pepper
Ginger: 15.0 g
Garlic: 50.0 g
Tomatoes: 700.0 g
Oil
Butter: 20.0 g
Heavy cream: 100.0 ml
Vegetable soup base: 20.0 ml
Onion: 1.0
Sugar
Turmeric
Coriander
Tomato puree
Ingredients and Instructions
Field to change the scale in the recipe. The meaning of the number depends on the type of recipe and can mean the number of servings or the number of products obtained from the recipe.(Indian Butter Chicken)
Scale
Chicken Marinade
Chicken breast: 500 g

Plain yogurt: 100 g

Salt: 2 tsp

Paprika powder: 1 tsp

Chili powder: 1 tsp

Cumin: 1 tsp

Lemon juice: 2 tbsp

Garam masala: 2 tsp

Pepper: 0.5 tsp

Ginger: 10 g

Garlic: 30 g
Tomato Sauce
Tomatoes: 700 g

Oil: 1 tsp

Butter: 20 g

Heavy cream: 100 ml

Vegetable soup base: 20 ml

Onion: 1

Garlic: 20 g

Ginger: 5 g

Sugar: 1 tbsp

Cumin: 1 tsp

Garam masala: 1 tsp

Turmeric: 1 tsp

Paprika powder: 2 tsp

Chili powder: 1 tsp

Coriander: 2 tsp

Salt: 1 tsp

Tomato puree: 1 tsp

Parsley
Instructions
Chicken Marinade
Cut the chicken into small pieces and marinate it with all the ingredients for about one hour or overnight. Use fresh ginger and garlic.
Place the chicken pieces on wooden skewers (there should be spaces between the pieces) and place them on a baking tray with raised edges. This way, the chicken pieces will be evenly baked on all sides. Bake them at 220 degrees Celsius for about 30 minutes, or until they become golden brown. If you want you can also fray the chicken pices in oil, but baking them in the oven is more healthy.
Tomato Sauce
Wash the tomatoes and cut them in half. Line a baking tray with parchment paper and evenly spread the tomatoes on it. Bake them at 200 degrees Celsius for about 20 - 30 minutes, then blend them to get a smooth sauce.
Heat the butter and oil in a frying pan and quickly saute the onion, garlic, ginger and all the spices (cumin, garam masala, coriander, chili and paprika). Then add a teaspoon of tomato puree, tomato sauce, salt and sugar.
Pour over the soup broth and heavy cream, then cook for about 10 minutes.
Remove the chicken pieces from the skewers and add them to the sauce. Cook everything together for about 5 more minutes.
Sprinkle with parsley and season more if necessary.
Serve with rice or naan.
Gallery: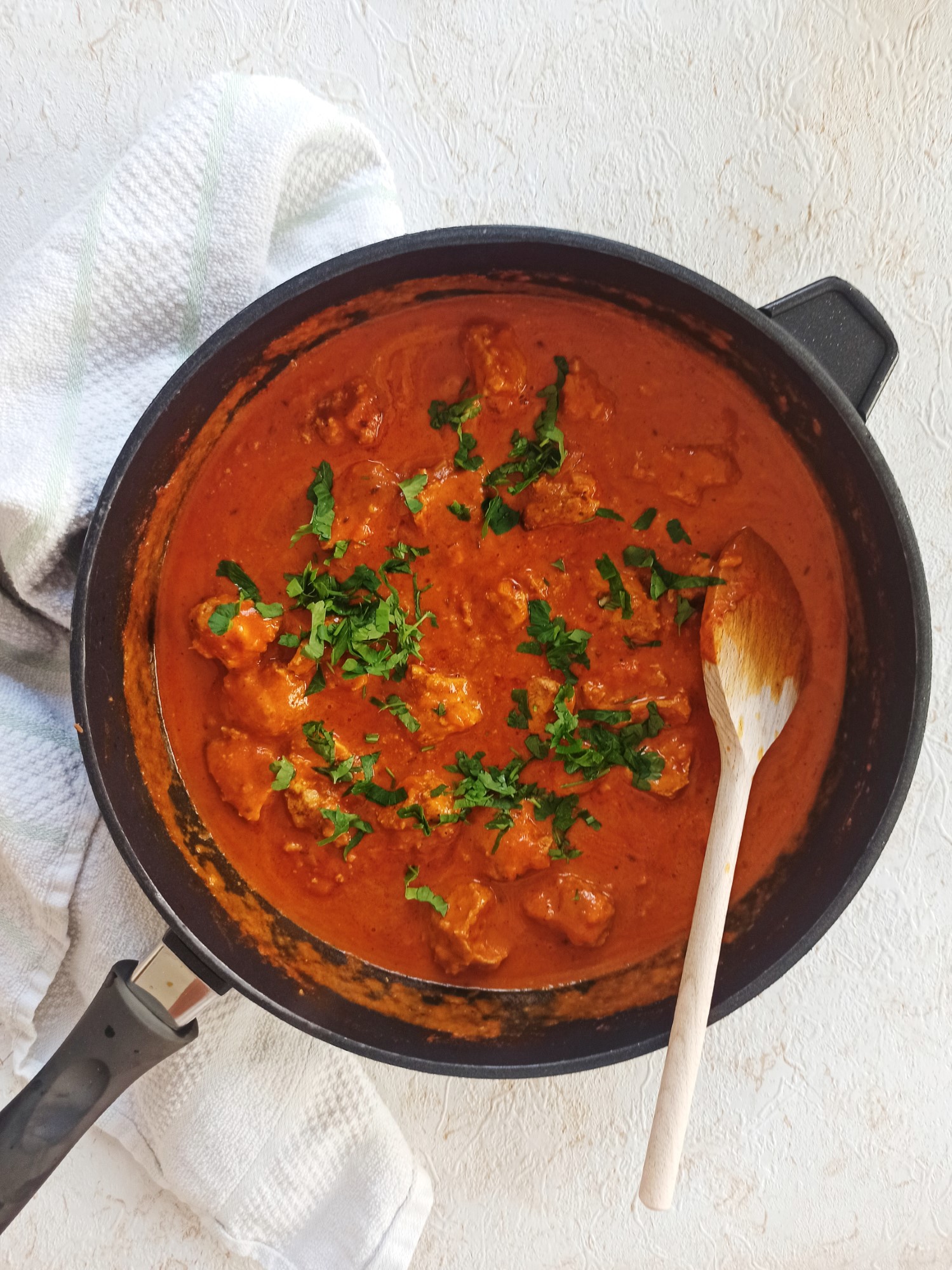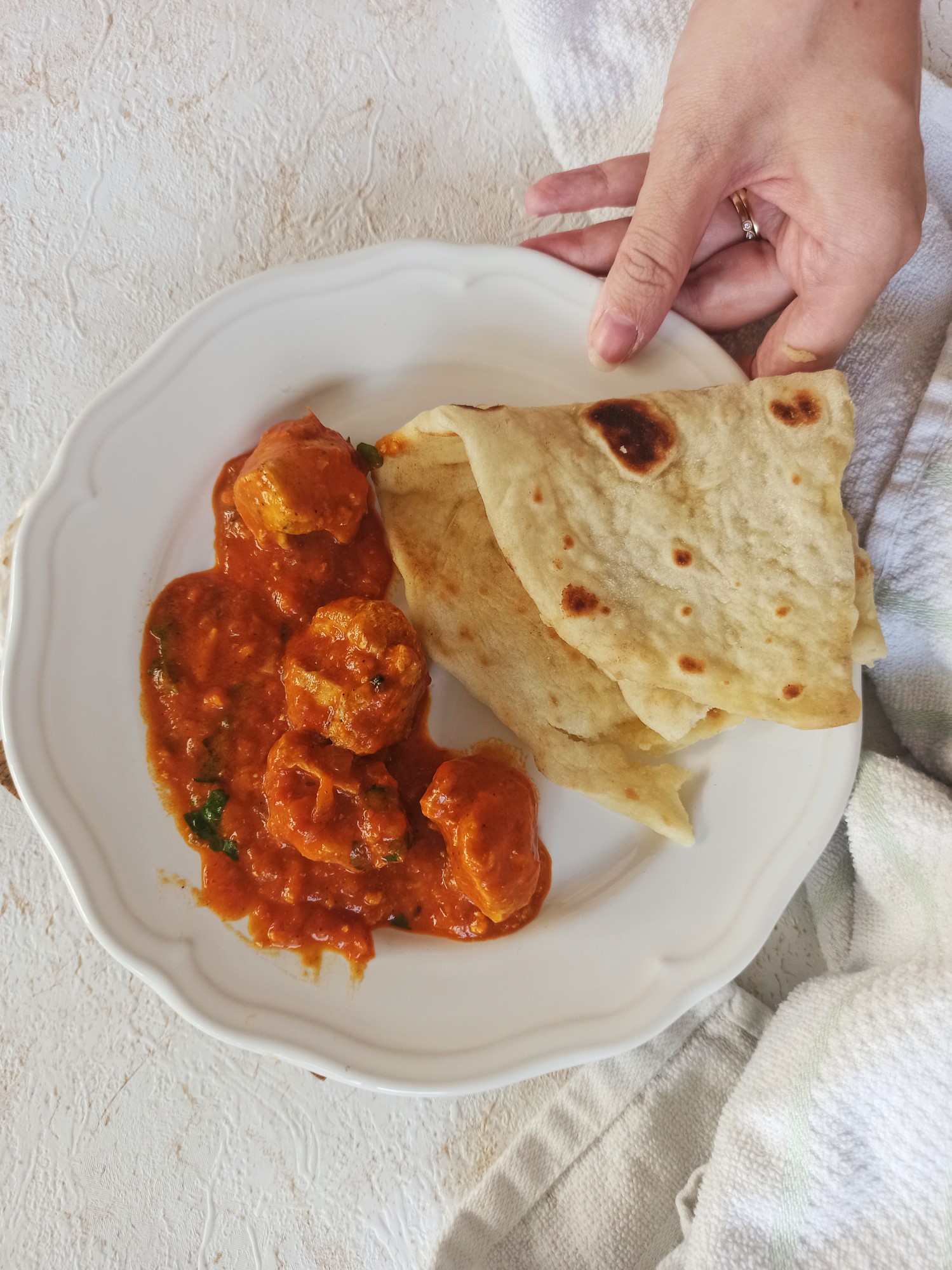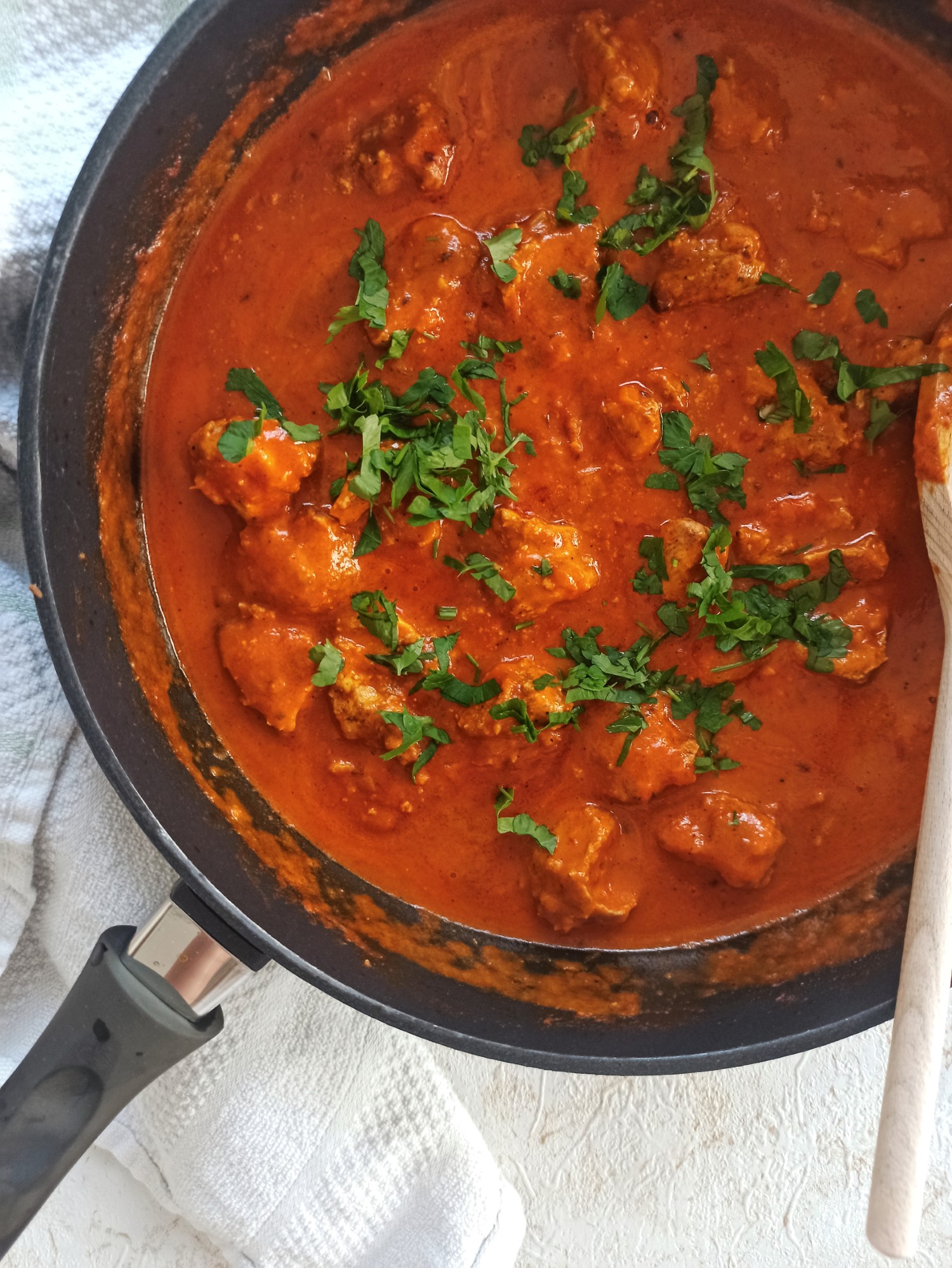 Notes:
With fresh coriander, the dish will be even better.
You can use pre - made tomato sauce, but I prefer it homemade.
Use freshly squeezed lemon juice.
We fray the spices in oil because they relise more flavor like that.
Vegan
For a vegan version you can also use tofu. Just press the tofu and marinate it with 1 tablespoon of olive oil, use the same spices as you would use for the chicken marinade but skip the yogurt. Marinate it for about 20 minutes, then bake it in the oven at 200 degrees Celsius for about 20 minutes or until golden brown.
If you don't like tofu, you can also use button mushrooms. Just top them with some salt and pepper and then bake them at 200 degrees Celsius for about 15 - 20 minutes.
Fun Facts:
Butter chicken, or in Hindi murgh makhani, originated in Delhi around 1950. At that time, in the city operated a restaurant with the name Moti Mahal. The story goes that the cook would mix leftover marinade with chicken, tomatoes and butter, and you got butter chicken. The restaurant soon became extremely popular and different versions of the dish began to spread around the world.
I have a habit of always trying the local version of butter chicken when traveling to different countries. My favorite Indian restaurant is ironically located in Kyoto, Japan.
I needed quite a few attempts to make this dish as I had imagined it. Most of the recipes I read during the research had pre - prepared tomato sauce as base, but the dish has a really original taste with roasted and then blended tomatoes.