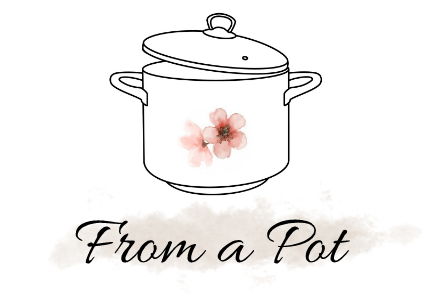 From a Pot: Butter Cookies with Lemon Curd
Butter Cookies with Lemon Curd
Soft, crispy, butter cookies with lemon curd, perfect for summer.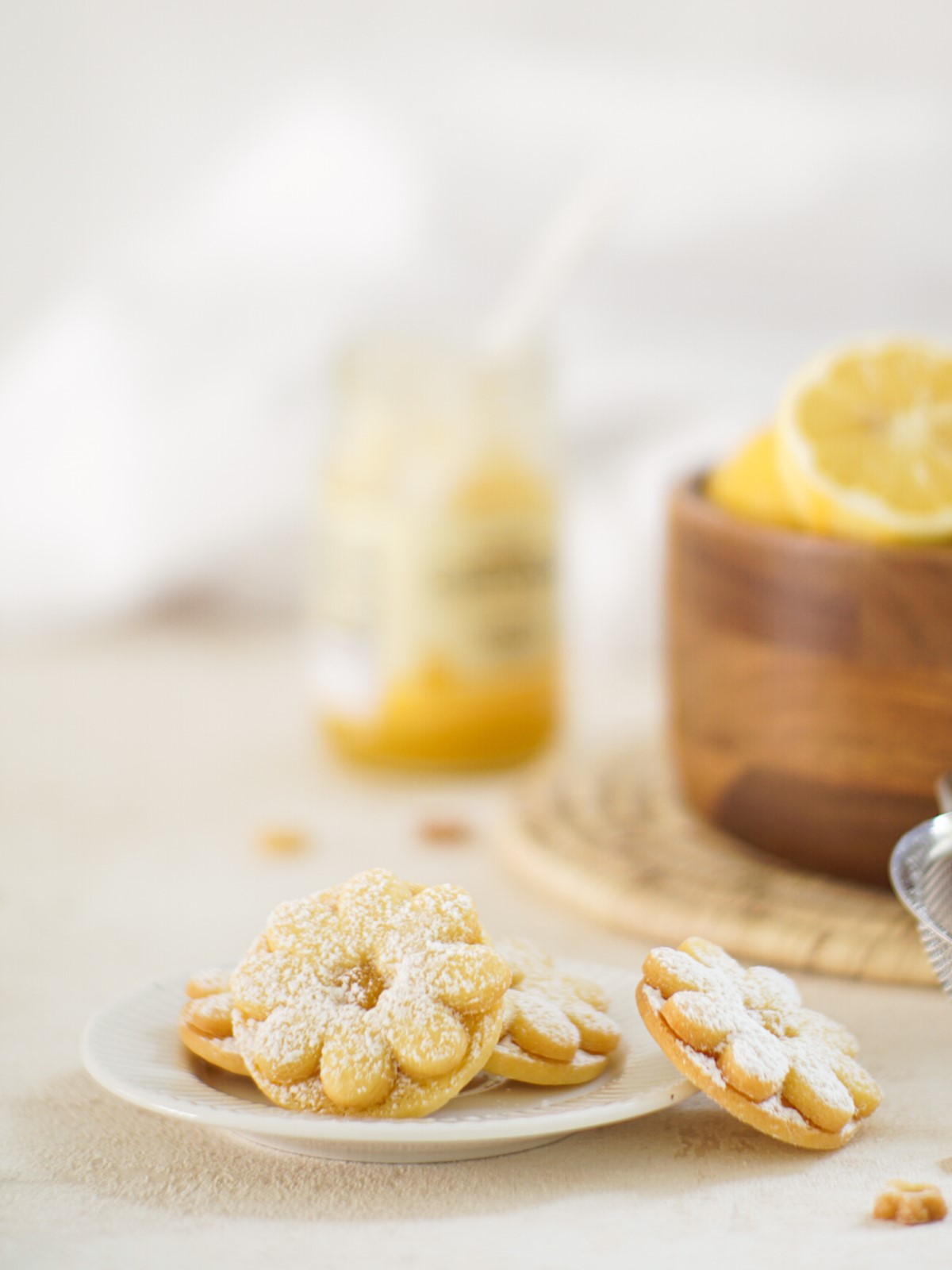 Is it just me, or are those cookies too pretty to eat? Crispy and soft, with a melt in your mouth texture full of refreshing lemon flavor. They're perfect to serve at a summer garden party.
You can make lemon curd from start to finish at home (it's so simple, I promise), or you can get it store bought. If you want your cookies to last more than five days I recommend getting store bought lemon curd or some kind of lemon jam, because homemade lemon curd doesn't last that long, but you'll probably eat these cookies in five days anyway so whatever option you choose it's fine.
Prep Time
Total Time:
3 Hours and 50 Minutes
Equipment
Electric mixer
Big bowl
Parchment paper
Baking tray
Wooden roller
Cookies cutter
Nutritional values
Shopping List

Butter: 250.0 g
Egg: 7.0
Egg yolk: 1.0
Powder sugar: 100.0 g
Flour: 300.0 g
Vanilla ekstrakt
Lemon zest: 1.0
Baking powder: 10.0 g
Sugar: 230.0 g
Lemon juice: 230.0 ml
Ingredients and Instructions
Field to change the scale in the recipe. The meaning of the number depends on the type of recipe and can mean the number of servings or the number of products obtained from the recipe.(Butter Cookies with Lemon Curd)
Scale
Butter cookies
Butter: 150 g

Egg: 1

Egg yolk: 1

Powder sugar: 100 g

Flour: 300 g

Vanilla ekstrakt: 1 tsp

Lemon zest: 1

Baking powder: 10 g
Lemon curd
Egg: 6

Sugar: 230 g

Lemon juice: 230 ml

Lemon zest: 1 lemon

Butter: 100 g
Instructions
Butter cookies
Mix room temperature butter with powdered sugar to get a smooth texture without lumps.
Then add room temperature egg and egg yolk to the batter and mix. Add vanilla extract, lemon zest and mix just to combine.
Then sieve in the flour and baking powder and knead with your hands to get a smooth dough. Shape it into a ball, wrap it in a plastic foil and place it into the refrigerator for at last 3 hours or overnight.
Roll out the dough on a floured surface with a wooden roller to about 3 mm thick. If you left the dough to rest overnight, leave it outside the fridge for about 10 minutes before use, so it warms up a bit.
Cut the cookies out of the dough with a cookie cutter. Use different cookie cutters, one with a hole in the middle and the other without a hole.
Place parchment paper on a baking tray and bake the cookies in a preheated oven at 180 degrees Celsius (356 F) for about 10 minutes or until they start to brown around the edges. The baking time may vary based on your oven and on how big are your cookies.
Wait for the cookies to cool down a bit, then spread lemon curd on all the cookies that are without holes (use about half teaspoon of lemon curd for a cookie). Cover them with cookies that have holes, then sprinkle them with some powdered sugar if you wish.
Lemon curd
Zest your lemon and juice your lemons.
Separate the egg yolks from egg whites, then add sugar to egg yolks and mix with a whisk to get a smooth texture.
To a saucepan with sugar and egg yolks add the lemon juice and zest. Then place on a low heat (my setting is on 4) and whisk until the curd starts to thicken and start bubbling just a little. It will take about 10 to 20 minutes to get to this state, it depends on the heat and the saucepan that you use. Do not turn the heat up or the eggs will scramble, and don't stop mixing, or the eggs will also scramble.
Remove the pot from heat and add in the butter, then mix until it melts and incorporate.
Strain the curd into a jar and place a plastic wrap on top of it so that it touches the curd. This will prevent a "skin" from forming while the curd is cooling. It takes about 3 hours to cool completely.
Gallery: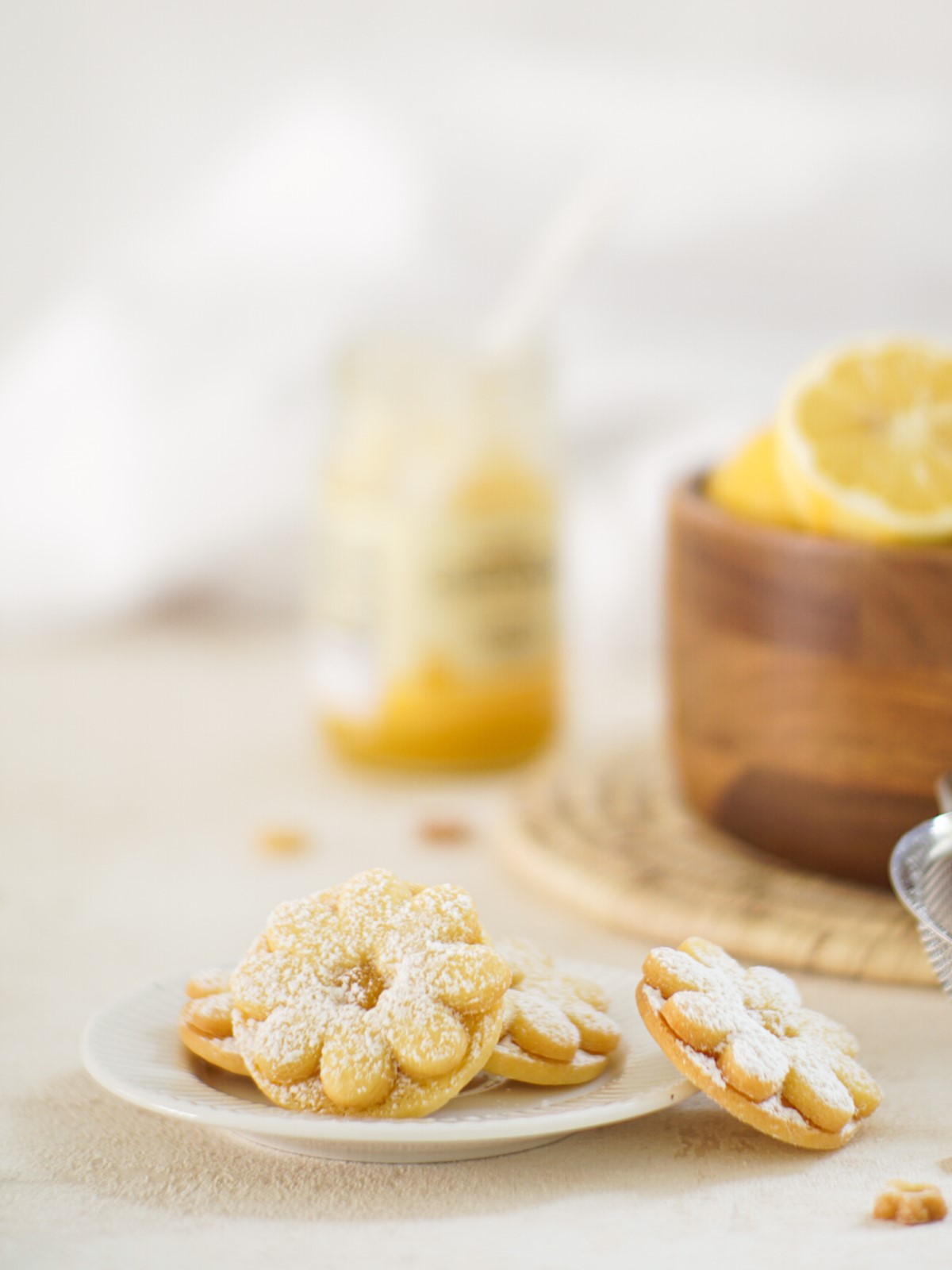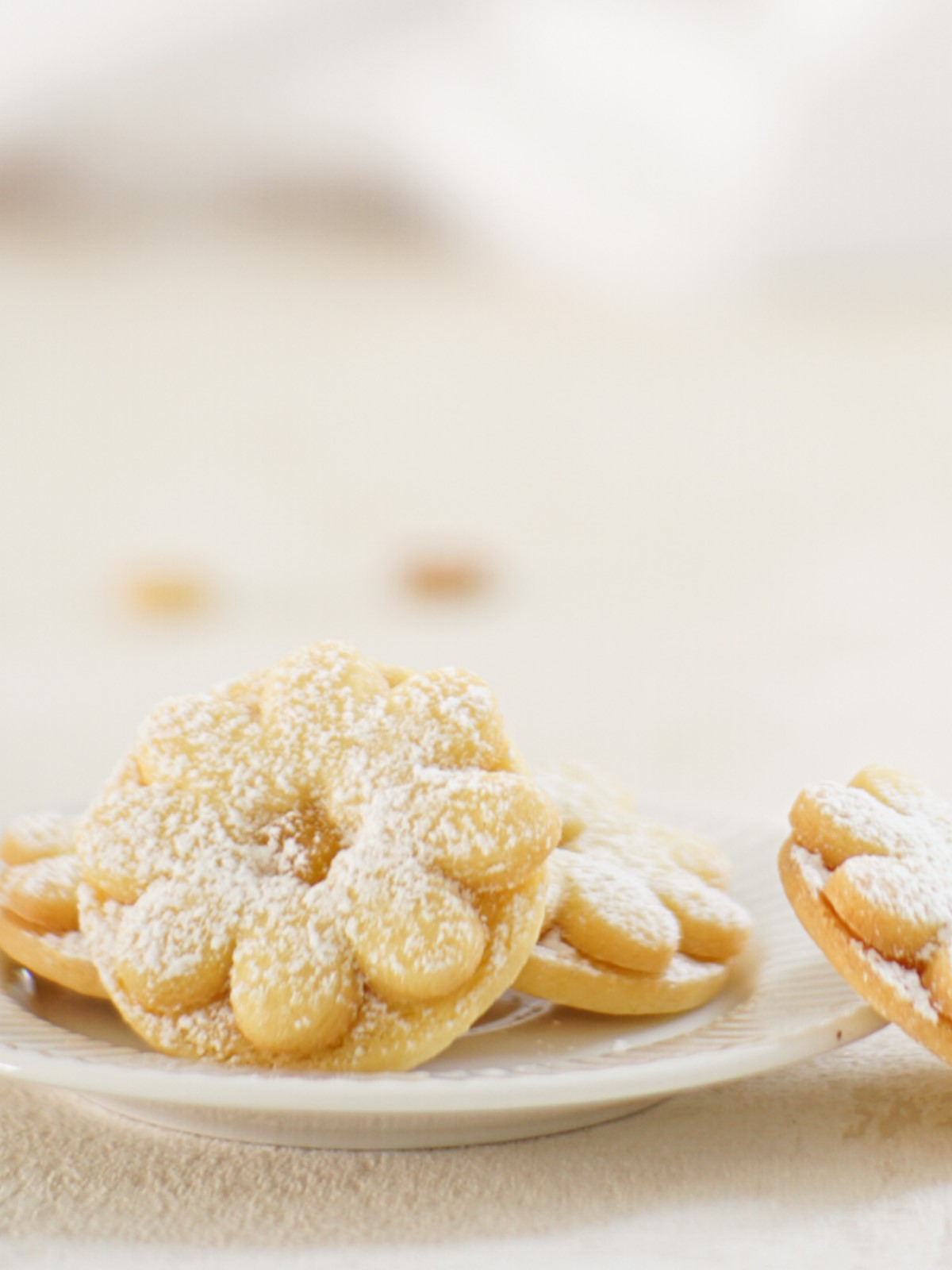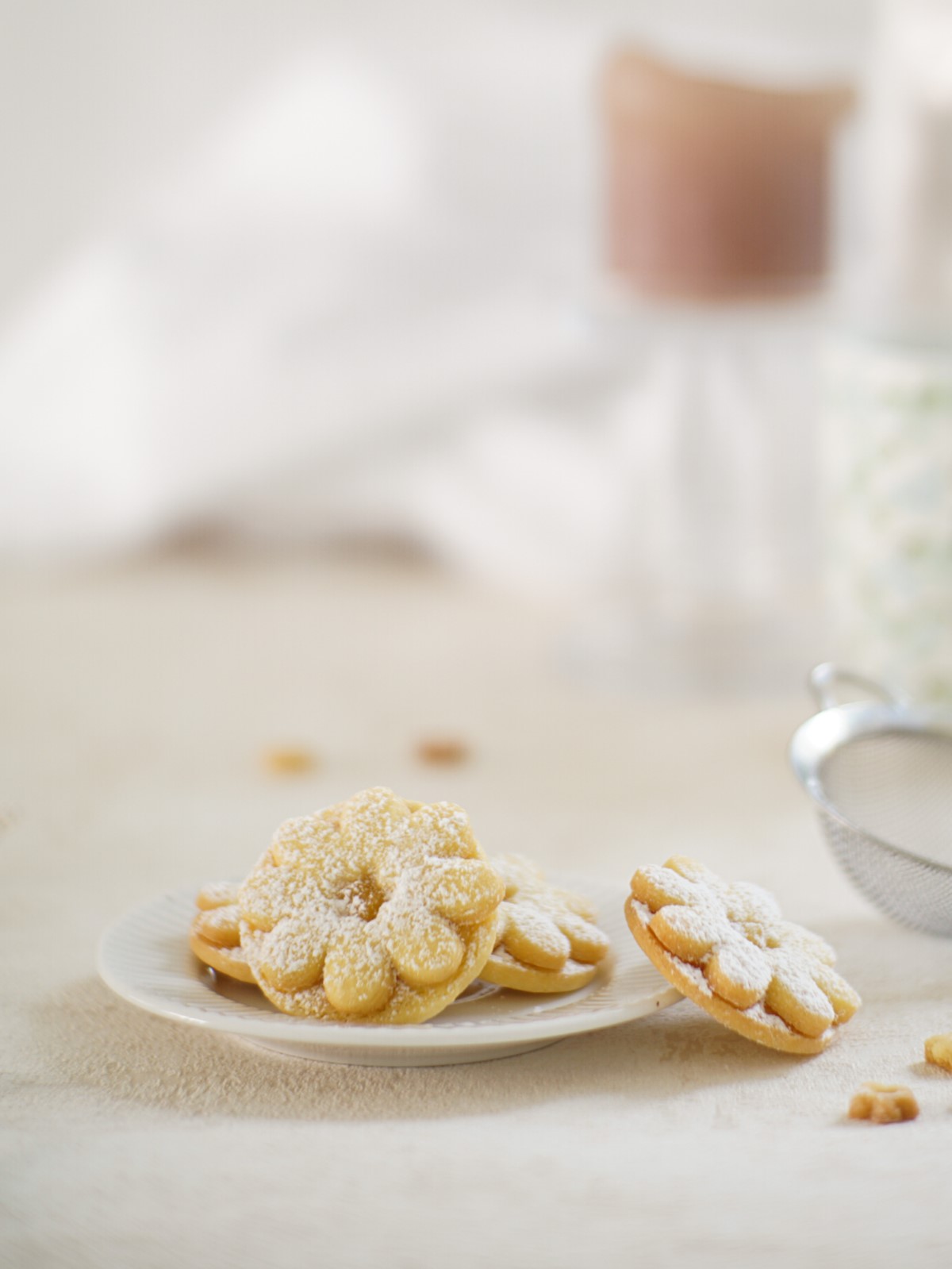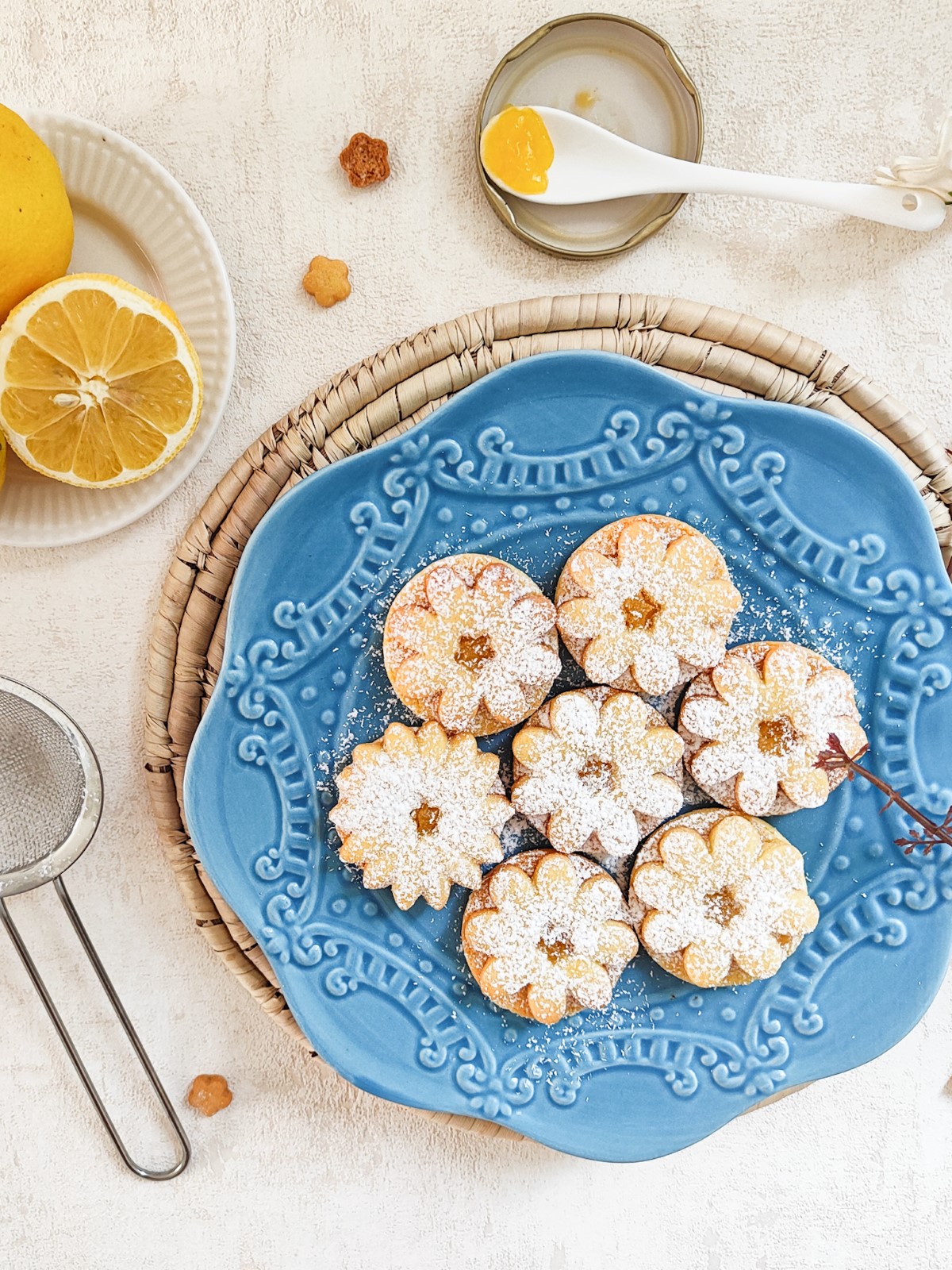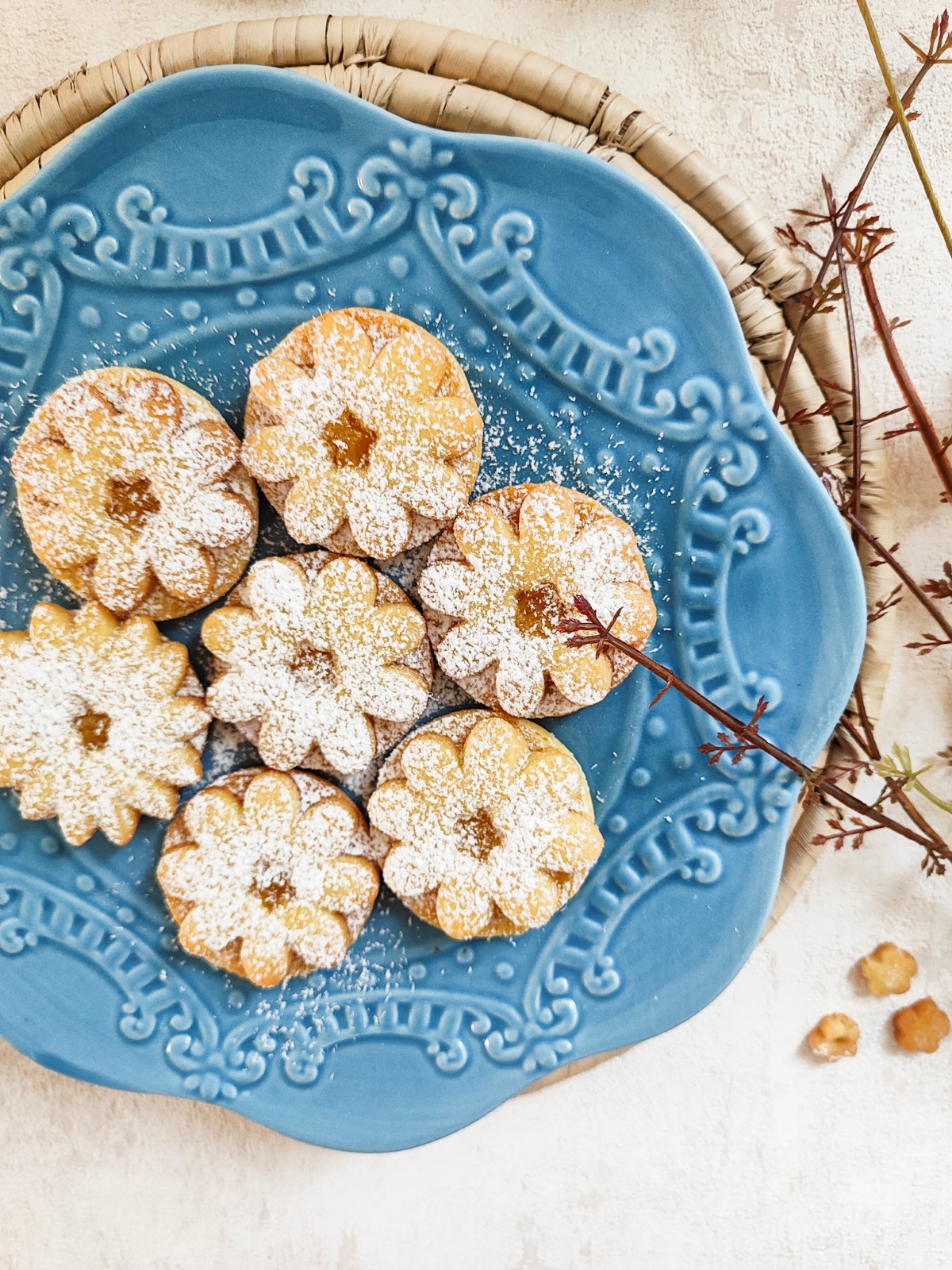 Notes:
What is lemon curd?
Lemon curd is kinda like lemon jam, but at the same time not, if that makes sense. It's great for a cake filling or as a topping for cookies, ice cream, pies… It's made with sugar, lemon juice, lemon zest, eggs and butter. It's so delicious and simple to make.
Do I have to use lemon curd?
You can use some other type of jam or chocolate filling.
How many cookies can I get from this recipe?
You can get about 25 - 30 cookies from this recipe, but it depends on the size of your cookie cutters.
How long will these cookies last?
They will keep well for several weeks in a sealed container. But the time depends on what kind of filling you will use.