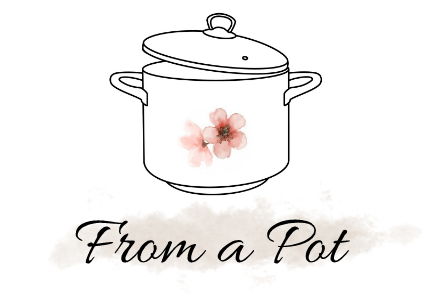 From a Pot: Chinese Hot and Sour Soup
Chinese Hot and Sour Soup
A classic at almost every Chinese restaurant. Hot and sour soup is totally easy to prepare and low in calories.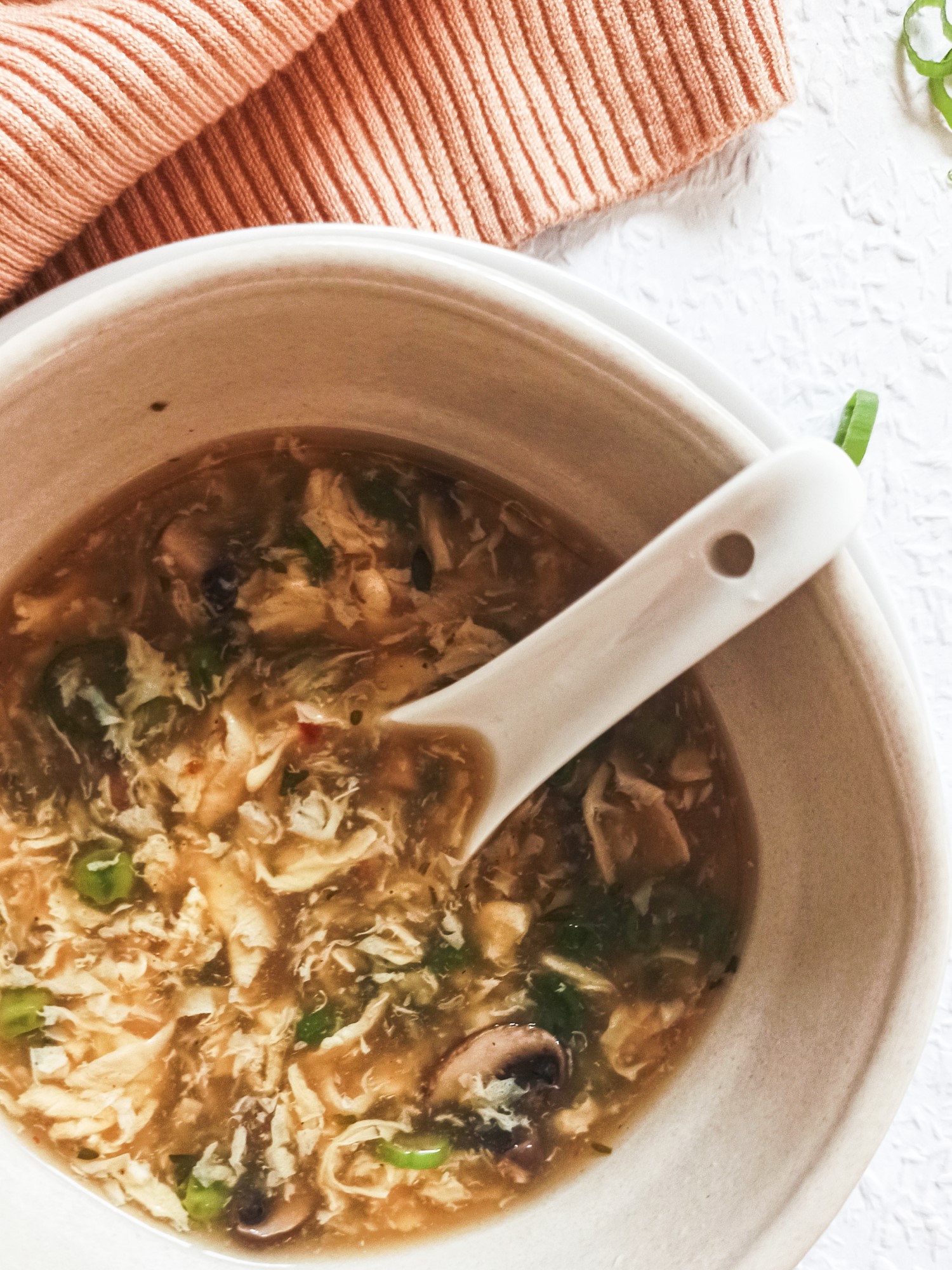 Nutritional values
Shopping List

Tofu: 100.0 g
Button mushrooms: 100.0 g
Scallion: 1.0
Sugar
Egg: 2.0
Ginger
Salt
White pepper
Rice vinegar: 60.0 ml
Soy sauce: 20.0 ml
Oil
Sesame oil
Vegetable soup base: 1.5 l
Cornstarch
Water
Ingredients and Instructions
Field to change the scale in the recipe. The meaning of the number depends on the type of recipe and can mean the number of servings or the number of products obtained from the recipe.(Chinese Hot and Sour Soup)
Scale
Chinese Hot and Sour Soup
Tofu: 100 g

Button mushrooms: 100 g

Scallion: 1

Sugar: 1 tsp

Egg: 2

Ginger: 0.5 tsp

Salt: 1 tsp

White pepper: 1 tsp

Rice vinegar: 60 ml

Soy sauce: 20 ml

Oil: 1 tsp

Sesame oil: 1 tsp

Vegetable soup base: 1.5 l

Cornstarch: 1 tbsp

Water: 2 tbsp
Instructions
Chinese Hot and Sour Soup
Wash the mushrooms and cut them into slices. Cut the tofu into about an inch big cubes.
Heat oil in a pot, add mushrooms and ginger and stir quickly. Pour vegetable soup base over mushrooms and ginger, then add in the tofu and season with salt, sugar and soy sauce.
Cook the soup for about 10 minutes to bring it to a boil, then lower the heat and let it simmer.
In a cup, mix the cornstarch with 2 tbsp of water to get a smooth mixture. Add it to the broth to thicken it.
Whisk the eggs in a cup and slowly pour them into the soup. Make sure that the soup isn't boiling too much. Cook for about 3 minutes.
At the end, add white pepper and vinegar to the soup and cook for another 2 minutes.
Garnish the soup with chopped green parts of scallion and sesame oil.
Adjust the soup to your taste. You can make it thicker if you add in more cornstarch, or you can add in more salt, pepper ...
Gallery: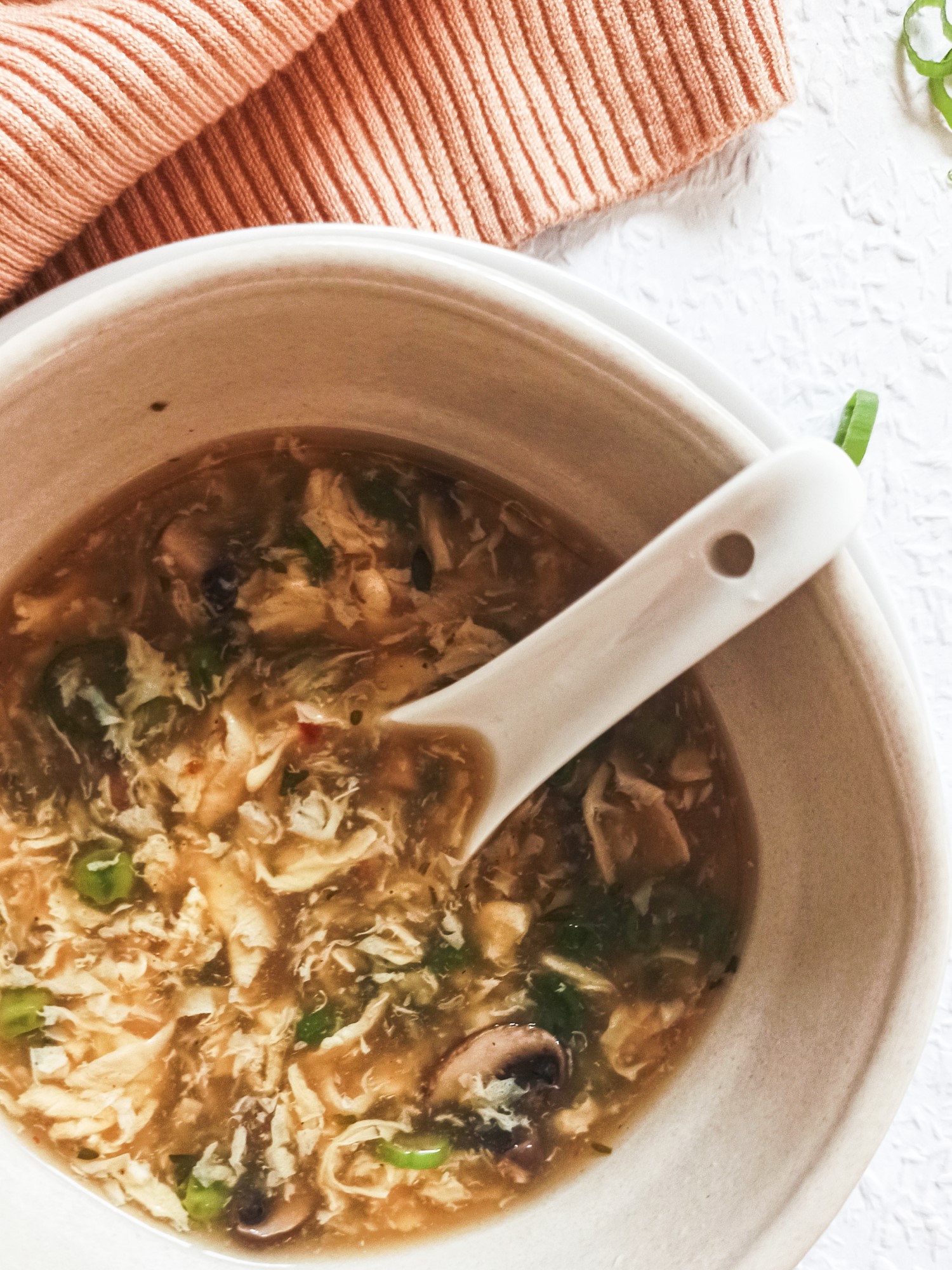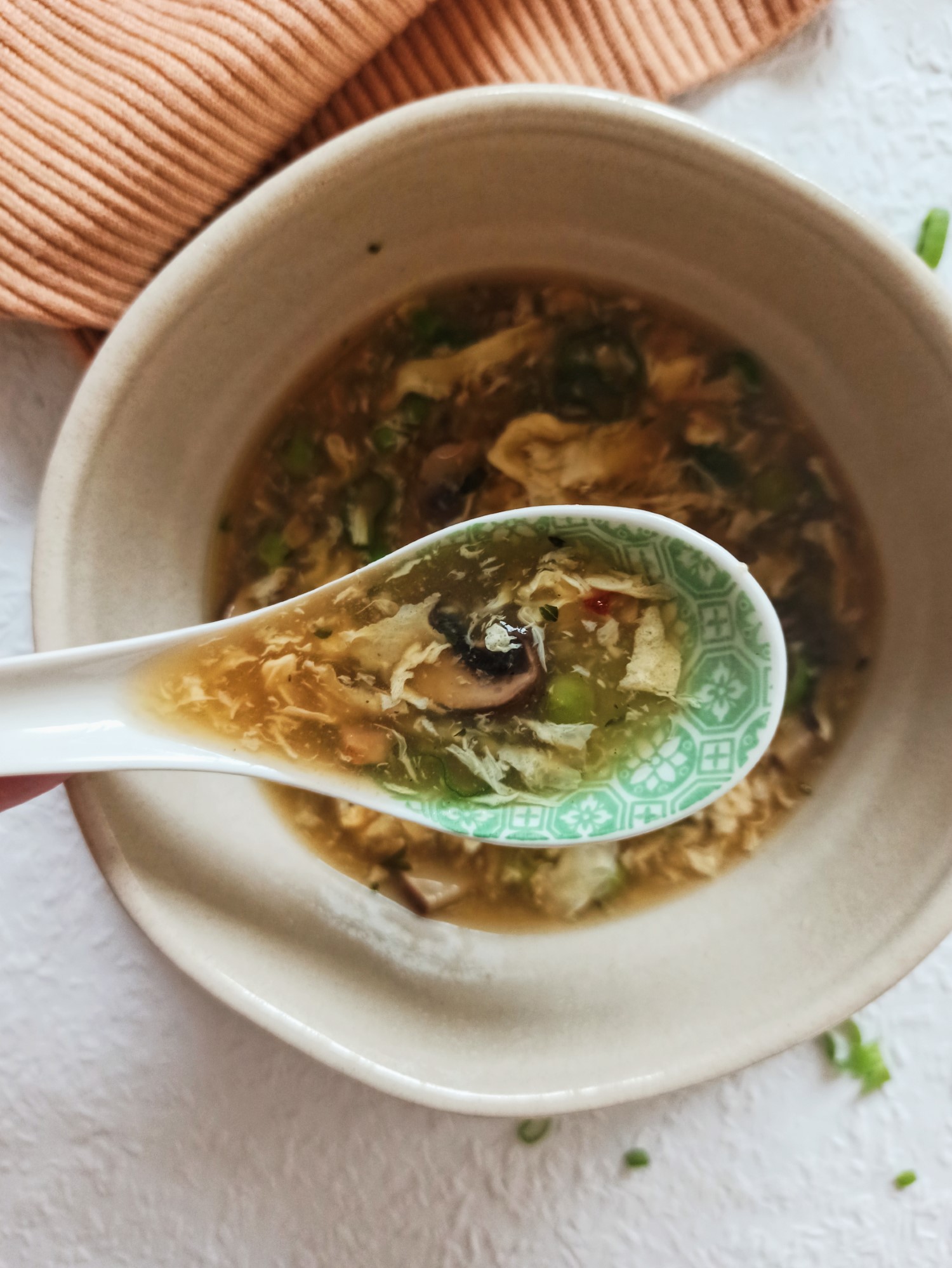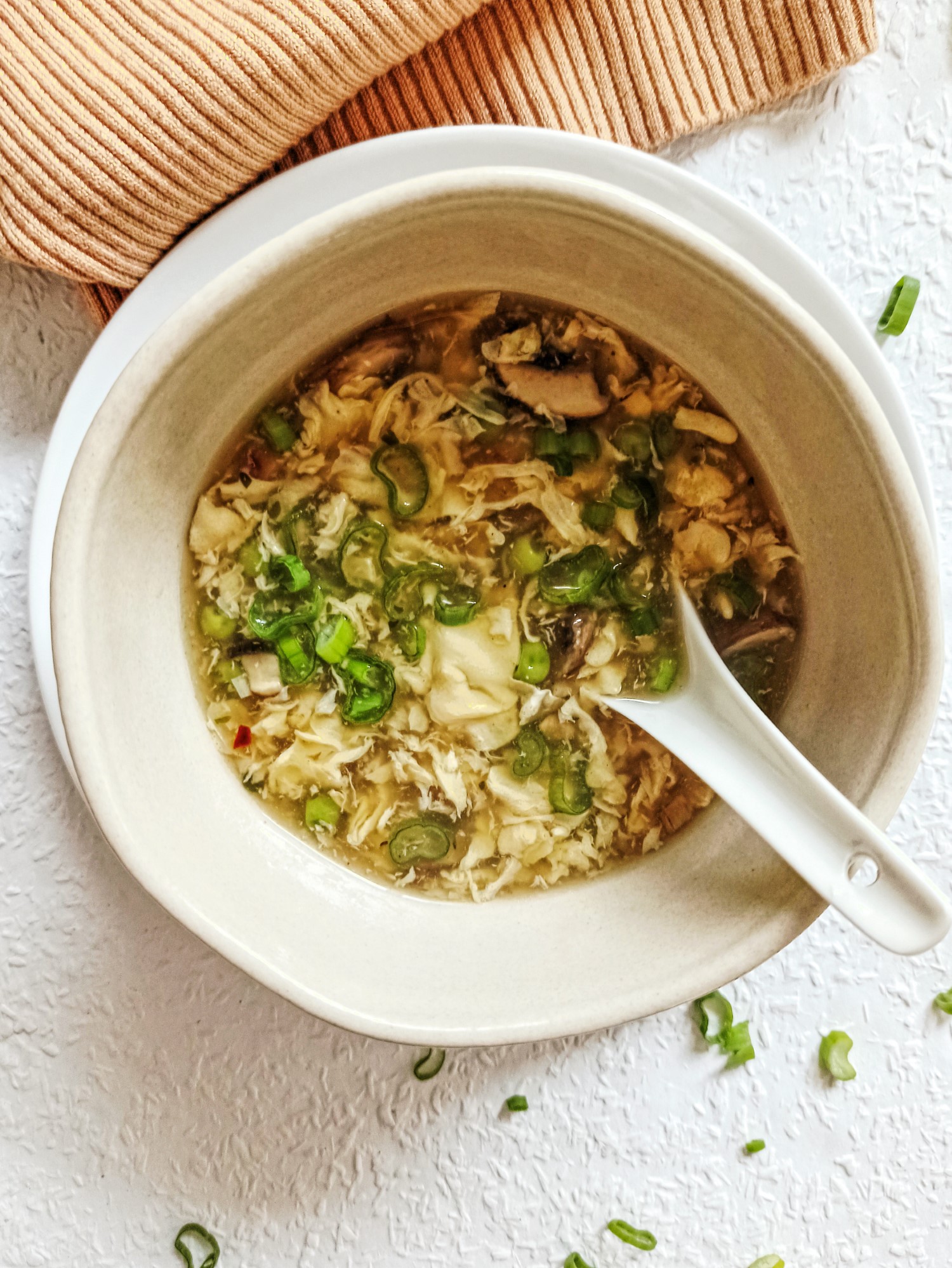 Notes:
This recipe is extremely flexible. You can adjust the amount of pepper, soy sauce and vinegar to your taste.
Traditionally, hot and sour soup is made with shitake mushrooms, bamboo shoots, chicken or pork. Since I'm not a fan of meat and shiitake mushrooms, I adapted the recipe to my taste. If you want to make this soup according to the traditional recipe, just replace tofu with meat, mushrooms with shiitake mushrooms and add bamboo shoots.
Pork or chicken
Cut 100 g of meat into pieces and then marinate it for about 10 minutes in 1 teaspoon of oil, 1 teaspoon of salt, 0.5 teaspoon of white pepper.
Mushrooms
You can use fresh or dried shiitake mushrooms. Dried ones have a more intense taste, so they are usually used for this soup. If you use dry mushrooms, soak them in water for about 2 hours before adding them to the soup.
Bamboo shots
Just add them to the soup.
Fun Facts:
When I first tried hot and sour soup, I did not like the taste of it. Later, after a few visits to a Chinese restaurants, I got used to it. Now, of course, I love it.