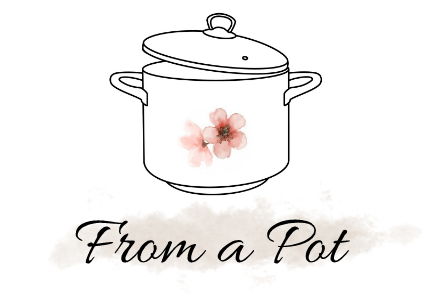 From a Pot: Chocolate Chip Cookies
Chocolate Chip Cookies
Crunchy on the outside, chewy on the inside, delicious chocolate chip cookies.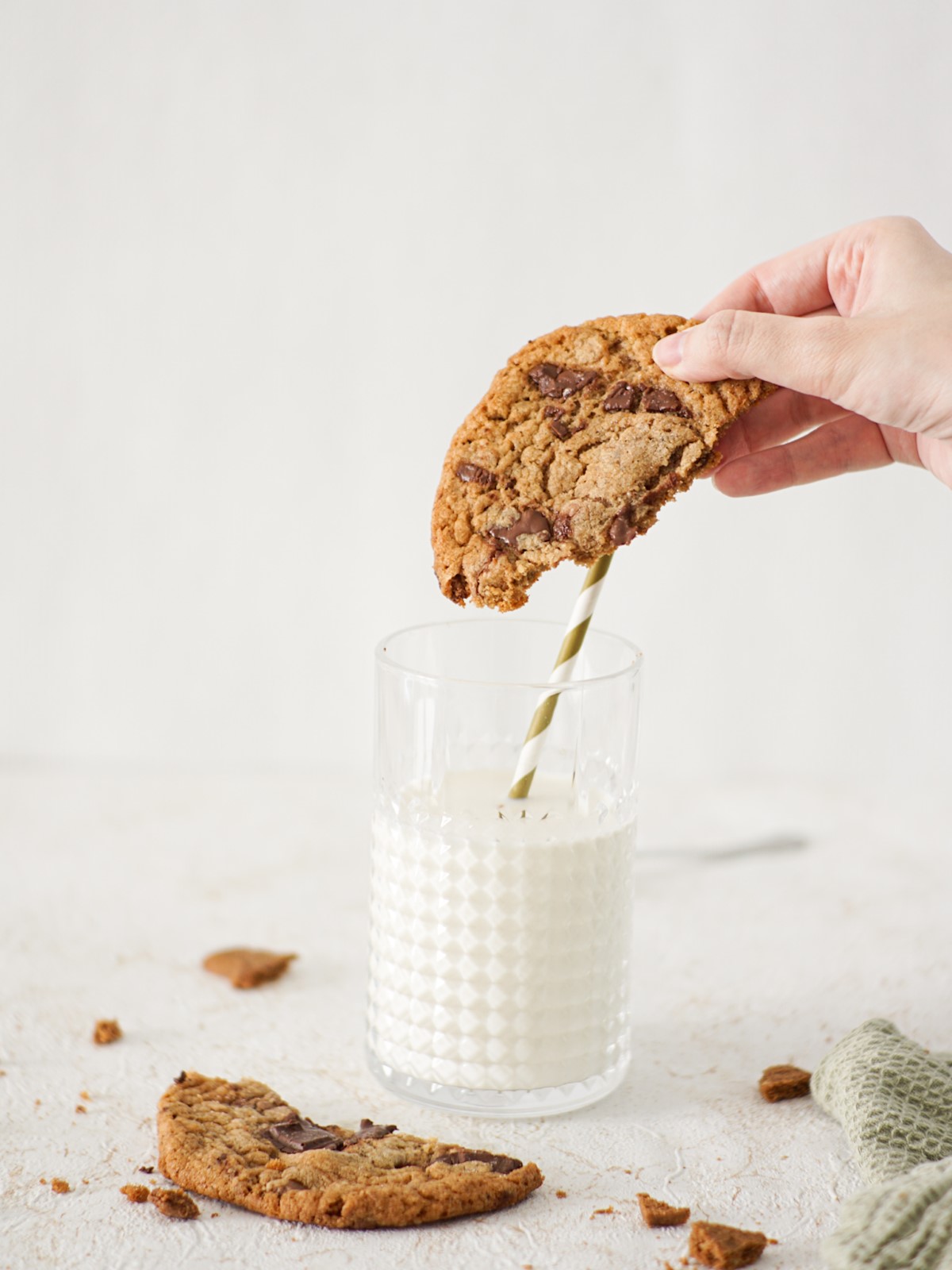 These chocolate chip cookies are so giant that you could cover a coffee mug with them. I was stunned when I saw how huge they turned out to be, they are like something that you would find in a bakery.
The first time that I made chocolate chip cookies was years ago, I was using some recipe with butter that was not melted or softened to room temperature and I managed to break my mixer. Not sure if it was the recipe fault of mine, but I did not attempt to make cookies for a while after that.
So to not break another mixer (duh) this cookie dough is made with browned butter, big chocolate chunks and topped with sea salt for that extra flavor. You will get crunchy on the outside, chewy on the inside cookies, they are so delicious. Serve them with a glass of milk, coffee, tea, or eat them as they are.
Equipment
Baking tray
Parchment paper
Whisk
Saucepan
Ice cream scooper
Nutritional values
Shopping List

Butter: 140.0 g
Brown sugar: 80.0 g
White sugar: 50.0 g
Egg: 1.0
Vanilla extract
Salt
Flour: 160.0 g
Baking soda
Baking powder
Coffee powder
Milk chocolate: 70.0 g
Dark chocolate: 100.0 g
Ingredients and Instructions
Field to change the scale in the recipe. The meaning of the number depends on the type of recipe and can mean the number of servings or the number of products obtained from the recipe.(Chocolate Chip Cookies)
Scale
Chocolate Chip Cookies
Butter: 140 g

Brown sugar: 80 g

White sugar: 50 g

Egg: 1

Vanilla extract: 1 tsp

Salt: 0.5 tsp

Flour: 160 g

Baking soda: 1 tsp

Baking powder: 1 tsp

Coffee powder: 1 tsp

Milk chocolate: 70 g

Dark chocolate: 100 g
Instructions
Chocolate Chip Cookies
Brown the butter in a saucepan over medium heat, stirring constantly. Once the butter is melted, it will foam up a bit and turn to a light golden brown color. If you smell the butter, it should have a nutty aroma.
As soon as the butter starts to brown, remove it from the heat to prevent over browning. Wait for the butter to cool before use.
In a large bowl, combine brown butter with white and brown sugar, room temperature egg and vanilla extract. Mix to combine, be careful not to over mix.
In a separate bowl combine coffee powder, salt, flour, baking powder and soda. Mix dry ingredients into the wet. Mix just until combined, don't over mix.
On a cutting board, chop the chocolate into small pieces and fold it into the cookie batter.
Refrigerate the cookie dough for about 30 minutes before use.
Line a baking tray with parchment paper and scoop the cookie dough out of the bowl. Help yourself with a spoon or an ice cream scooper. Form small balls and place them on baking paper. Place them far apart from each other, because they will expand in the oven. Those cookies are huge. Only place around 4 balls on one large baking tray, just to be safe
Bake in a preheated oven at 190 degrees Celsius (374 F) for about 12 minutes, or until the edges get a bit brown. Every oven is different, so the baking time may vary.
Once the cookies are baked, sprinkle them with some sea salt and leave them to cool and set before serving.
Gallery: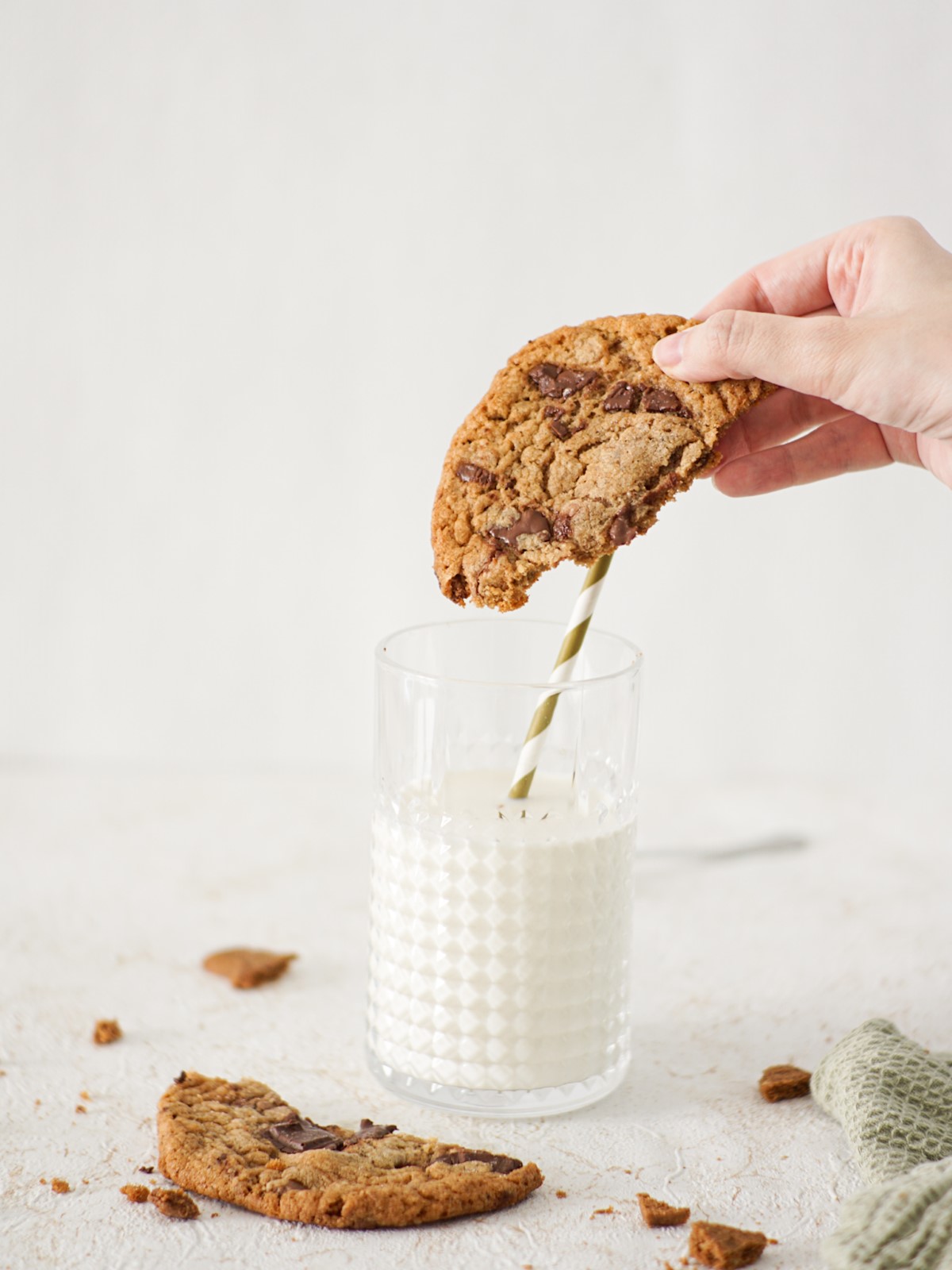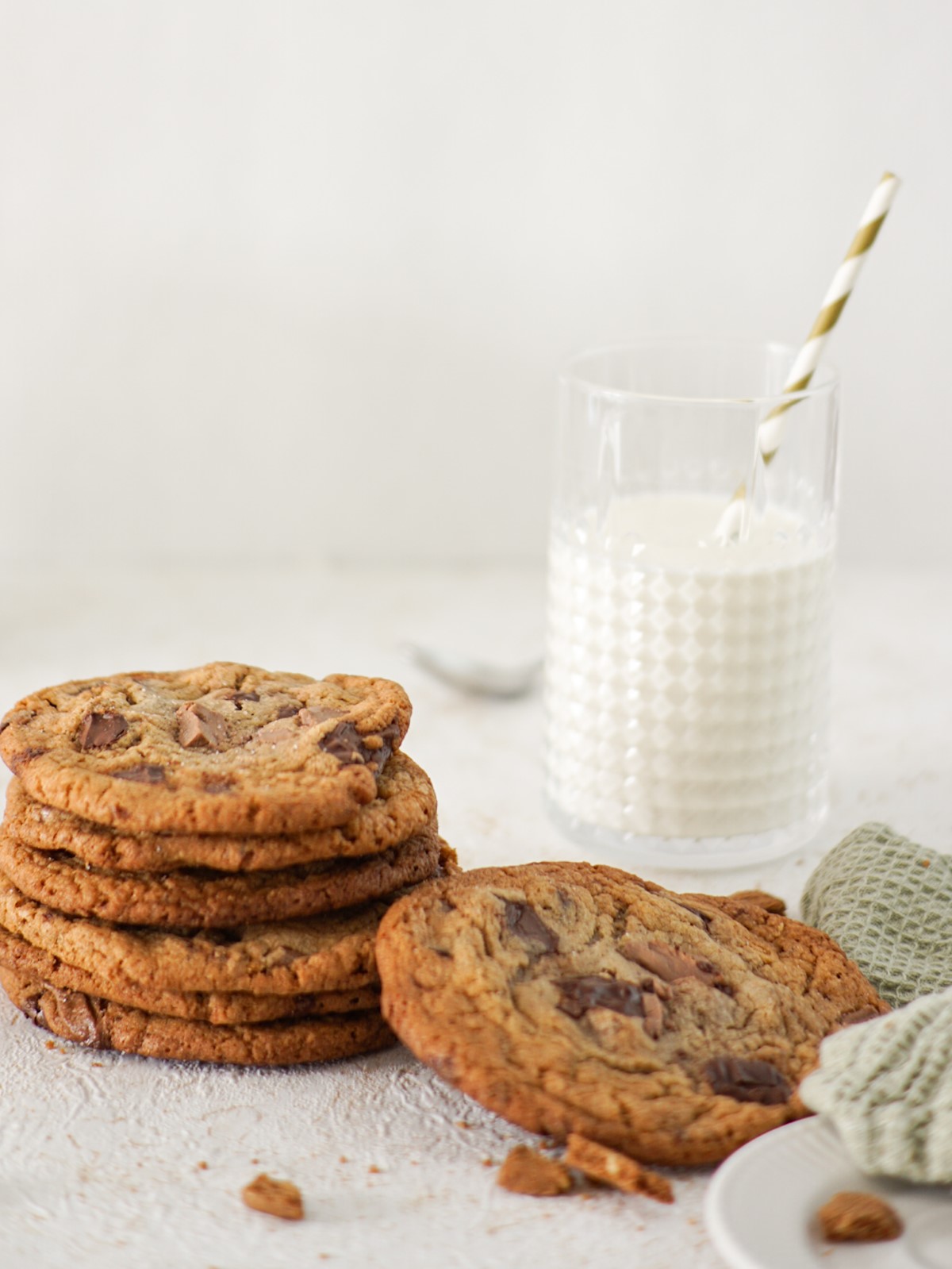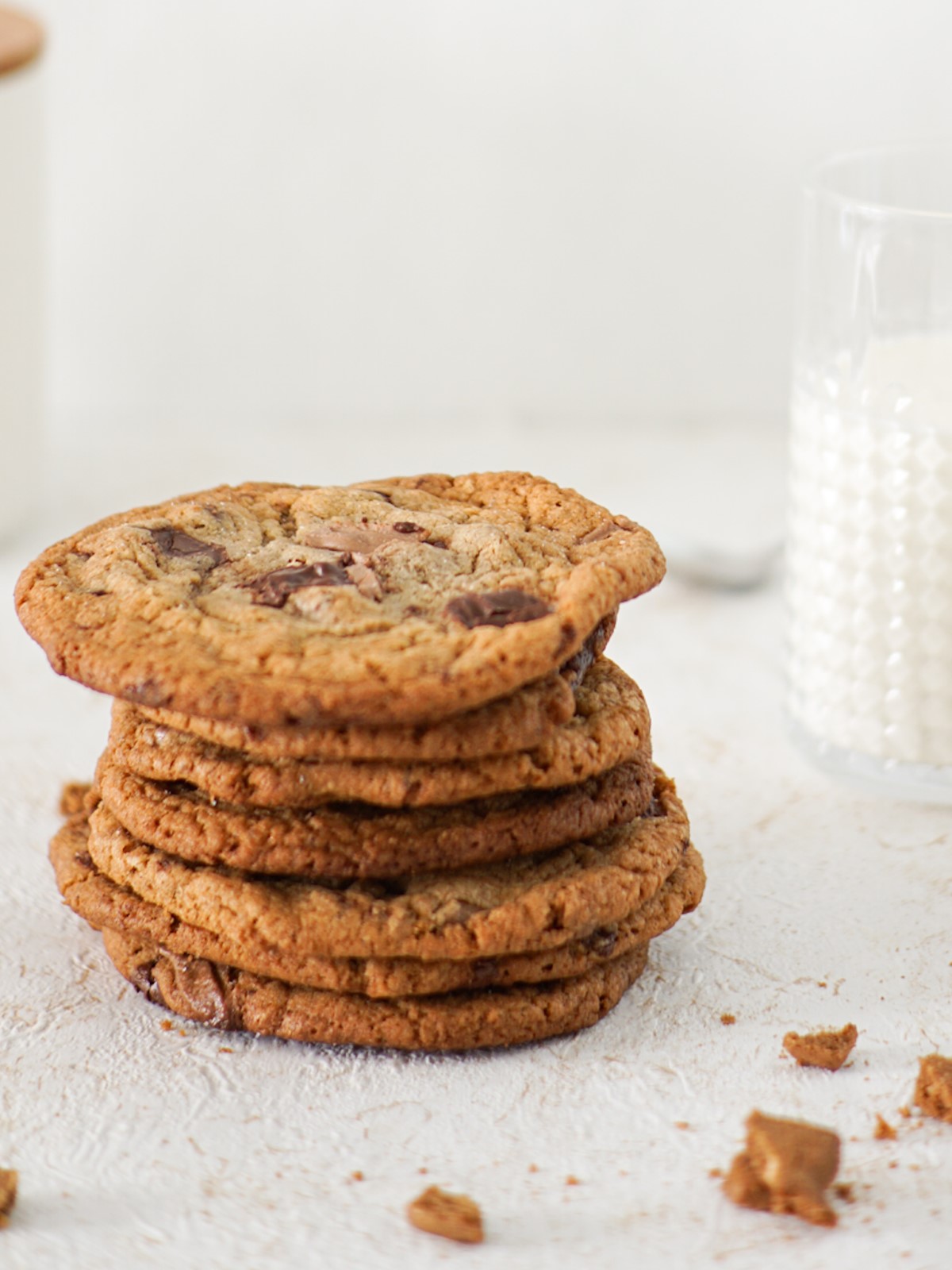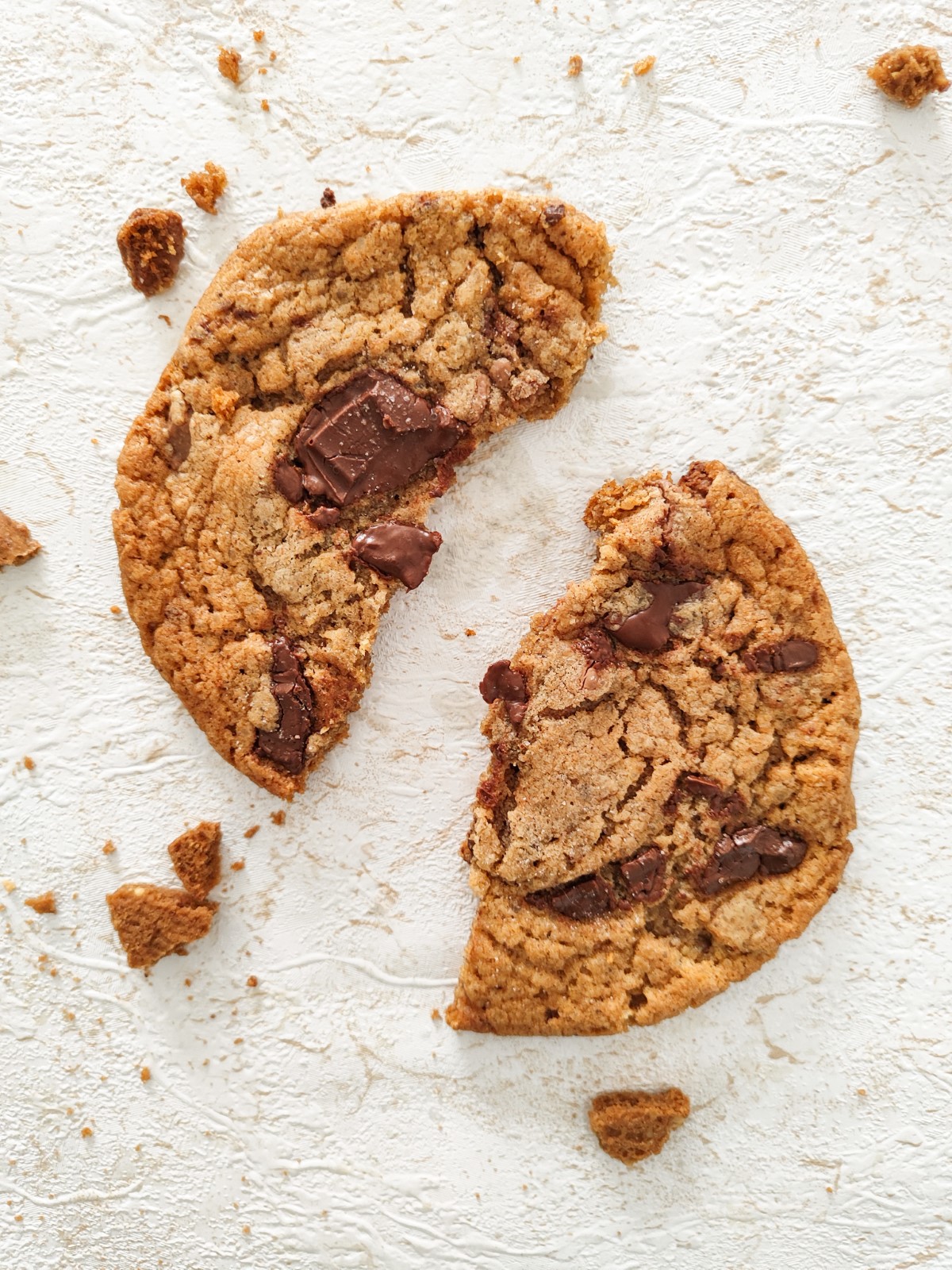 Notes:
Chocolate
I know that those are called chocolate chip cookies, but please use quality chocolate instead of chocolate chips that they sell in stores for cookies. I promise good, quality chocolate makes all the difference.
Do I really need to chill the cookie dough before baking?
Not really, no, but it does make a difference if you chill the dough. Chilling the dough gives the flour time to absorb all the ingredients. I usually let the dough chill for around 1 hour.
Do you form the cookie dough balls before or after chilling the dough?
As you wish, but if you will chill the dough already formed into balls, place them on the baking paper before chilling, otherwise they will stick to the plate, and it will be a bit hard to get them off.
Can you freeze the dough?
But of course. Prepare the cookie balls and place them in a plastic bag for a freezer. Before baking, let the dough come to room temperature.
How to store this cookie?
It's best if you enjoy them freshly baked. They will last in a sealed container for about five days, but they will not be as good as they are when they're fresh.
Fun Facts:
Chocolate chip cookies were invented by mistake. Back in 1938 a woman named Ruth Wakefield was making a back of butter cookies when she chopped up a bar of Nestlé chocolate and added it to the dough, intending to create a chocolate cookie. Instead, the chocolate bits did not melt, and the chocolate chip cookie was created.