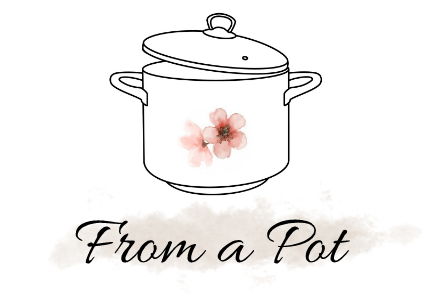 From a Pot: Delicious Raspberry Cupcakes
Delicious Raspberry Cupcakes
These raspberry cupcakes are so delicious, moist, full of raspberry flavor and perfect as a spring or summer dessert.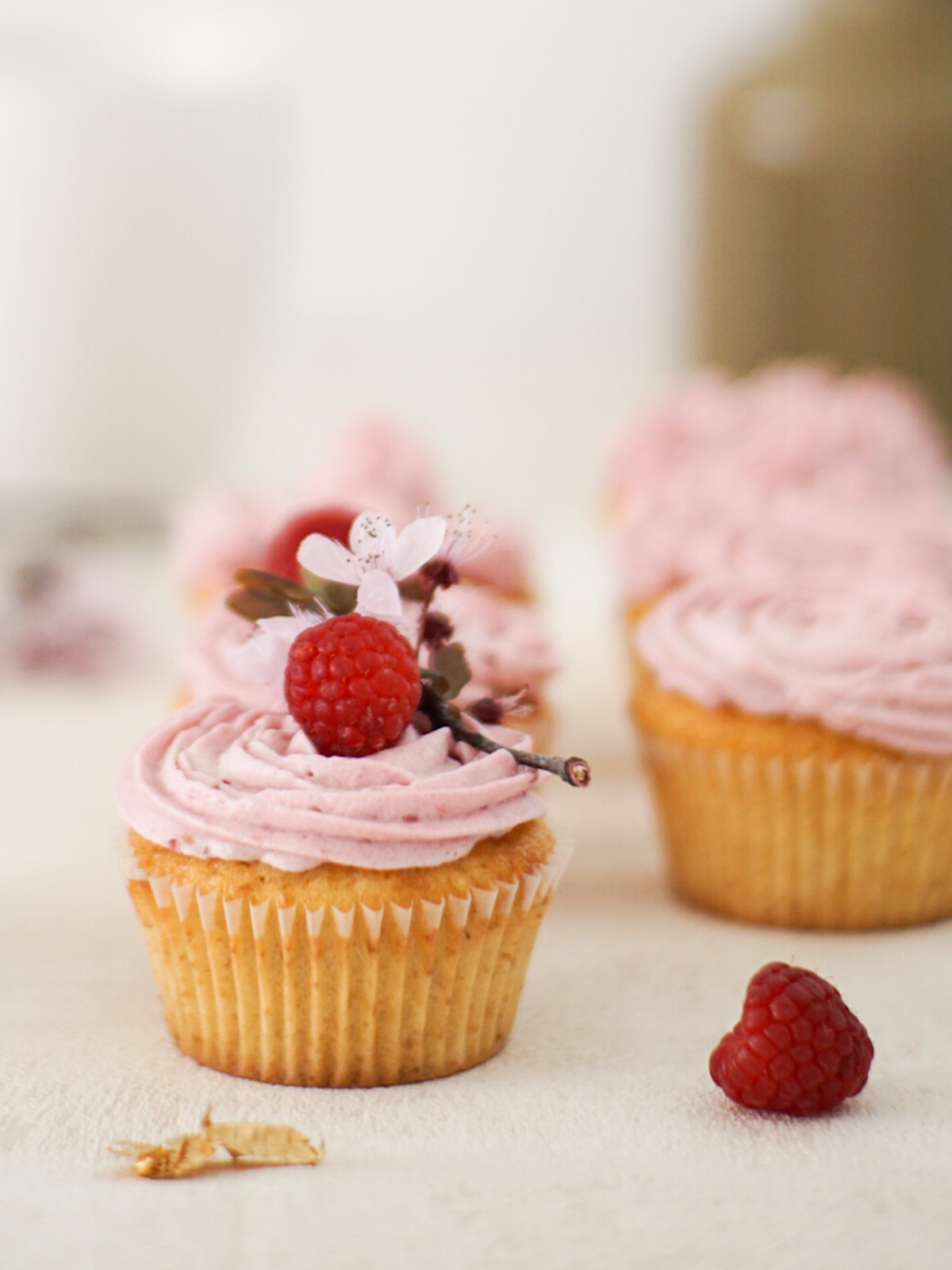 Those are so good, if you like raspberries that's it, cuz they're loaded with them. Super moist and soft vanilla cupcakes filled with homemade raspberry purée and topped with the best raspberry cream cheese frosting. They really taste so good, they'll completely melt in your mouth.
I made them when we had some friends over for lunch, and we ate them all. They are also a good spring or summer dessert, perfect for a baby shower, as a valentine day dessert or for Easter.
Equipment
Scale
Hand mixer
Saucepan
Muffin tin
Cupcakes liners
Piping bag
Nutritional values
Shopping List

Flour: 150.0 g
Baking powder: 7.0 g
Sugar: 110.0 g
Salt
Egg: 2.0
Butter: 50.0 g
Oil: 10.0 ml
Milk: 120.0 ml
Vanilla extract
Raspberries: 150.0 g
Lemon juice
Cornstarch
Cream fix: 15.0 g
Philadelphia: 270.0 g
Heavy cream: 100.0 ml
Powdered sugar: 50.0 g
Raspberry purée
Ingredients and Instructions
Field to change the scale in the recipe. The meaning of the number depends on the type of recipe and can mean the number of servings or the number of products obtained from the recipe.(Delicious Raspberry Cupcakes)
Scale
Vanilla cupcakes
Flour: 150 g

Baking powder: 7 g

Sugar: 80 g

Salt: 0.5 tsp

Egg: 2

Butter: 50 g

Oil: 10 ml

Milk: 120 ml

Vanilla extract: 1 tsp
Raspberry puree
Raspberries: 150 g

Lemon juice: 1 tsp

Sugar: 30 g

Cornstarch: 1 tsp
Cream cheese raspberry frosting
Philadelphia: 270 g

Heavy cream: 100 ml

Powdered sugar: 50 g

Salt: 0.3 tsp

Vanilla extract: 1 tsp

Raspberry purée: 2 tbsp
Instructions
Vanilla cupcakes
In a saucepan, heat the butter until melted. Set it aside to cool for a bit.
Creak the eggs In a big bowl and beat them with sugar on high speed for about 5 minutes or until doubled in volume and in light yellow almost white color.
To the egg's mixture add the melted butter, oil, vanilla extract and salt. Mix for five seconds, just to combine the ingredients.
Sift flour and baking powder to the wet ingredients and mix for about 1 minute, until combined.
Line a muffin tin with cupcake liners and fill them with batter about ⅔ up. Be careful not to overfill them. There is enough batter for 12 muffins.
Bake in a preheated oven at 180 degrees Celsius (350 F) for about 20 minutes, or until golden brown.
Wait for about 15 minutes for them to cool, before decorating.
Raspberry puree
Add raspberries, sugar and fresh lemon juice to a small saucepan and turn the heat to medium. Stir to combine and break up the raspberries just a little, they break up completely as they cook,
As the raspberries start to boil, lower the heat and add in cornstarch. Mix well so that there are no white parts of cornstarch visible. Cook for about a minute, then remove from the heat and let the purée cool a bit before using it as a raspberry filling and in a frosting.
Cream cheese raspberry frosting
In a bowl, mix heavy cream with sugar on high speed until the cream starts to harden. Then add in Philadelphia, salt, vanilla extract and 2 tablespoons of raspberry purée. Mix well to combine, then add in Cream fix, and mix.
Put the frosting in a fridge to rest for a bit before use.
Assemble the cupcakes
Dig small holes in the middle of muffins. Help yourself with a spoon, knife or a piping bag attachment. You can save the biscuit from the holes to cover them back up later.
Fill the holes with raspberry purée. Use about half a teaspoon of raspberry purée per cupcake. Then cover them back up with the biscuit that you scrape out, p
Fill your piping bag with cream cheese raspberry frosting and decorate the cupcakes. You can use any piping attachment that you like.
Add some raspberries, sprinkles or flowers to decorate the cupcakes.
Gallery: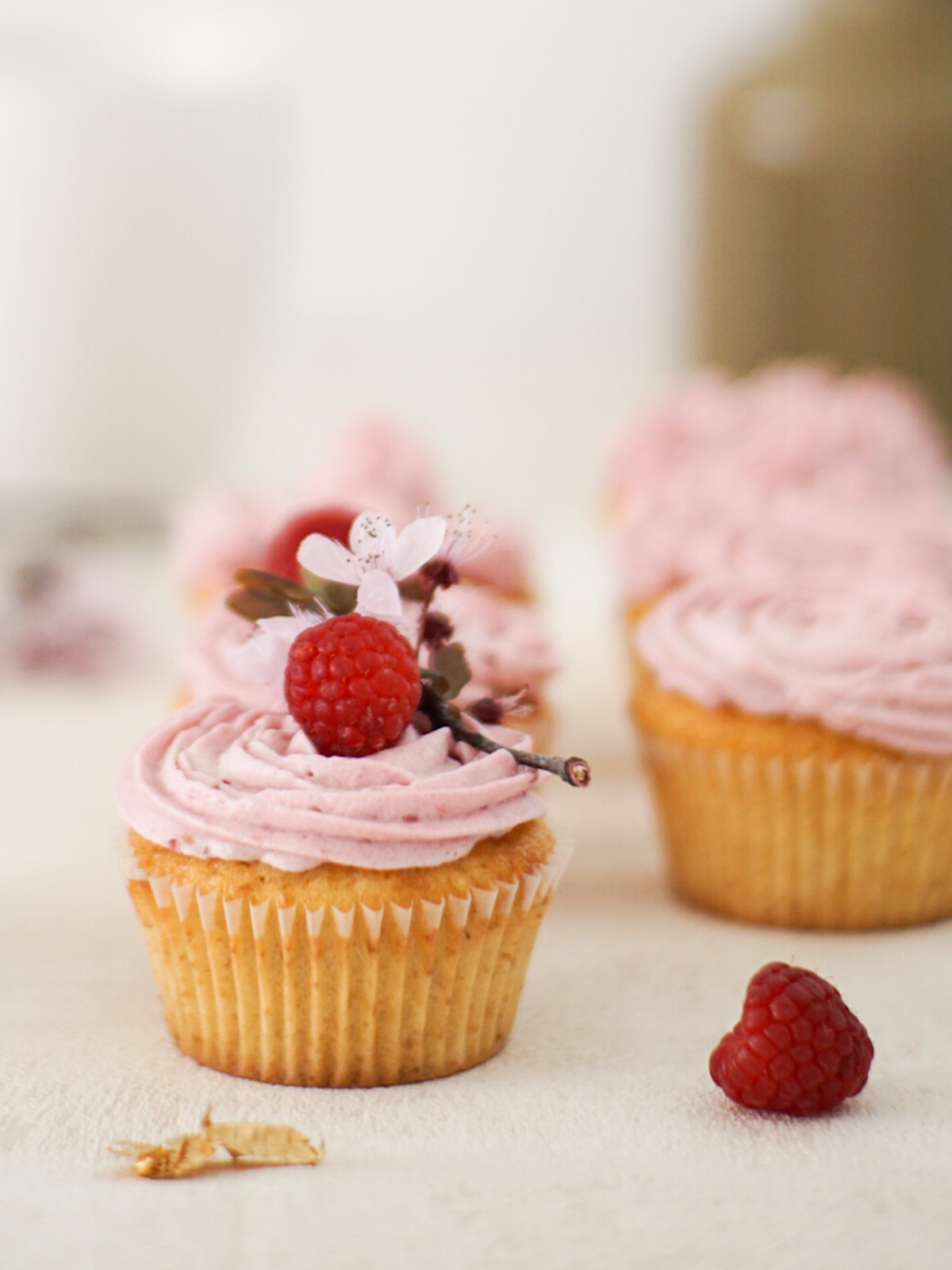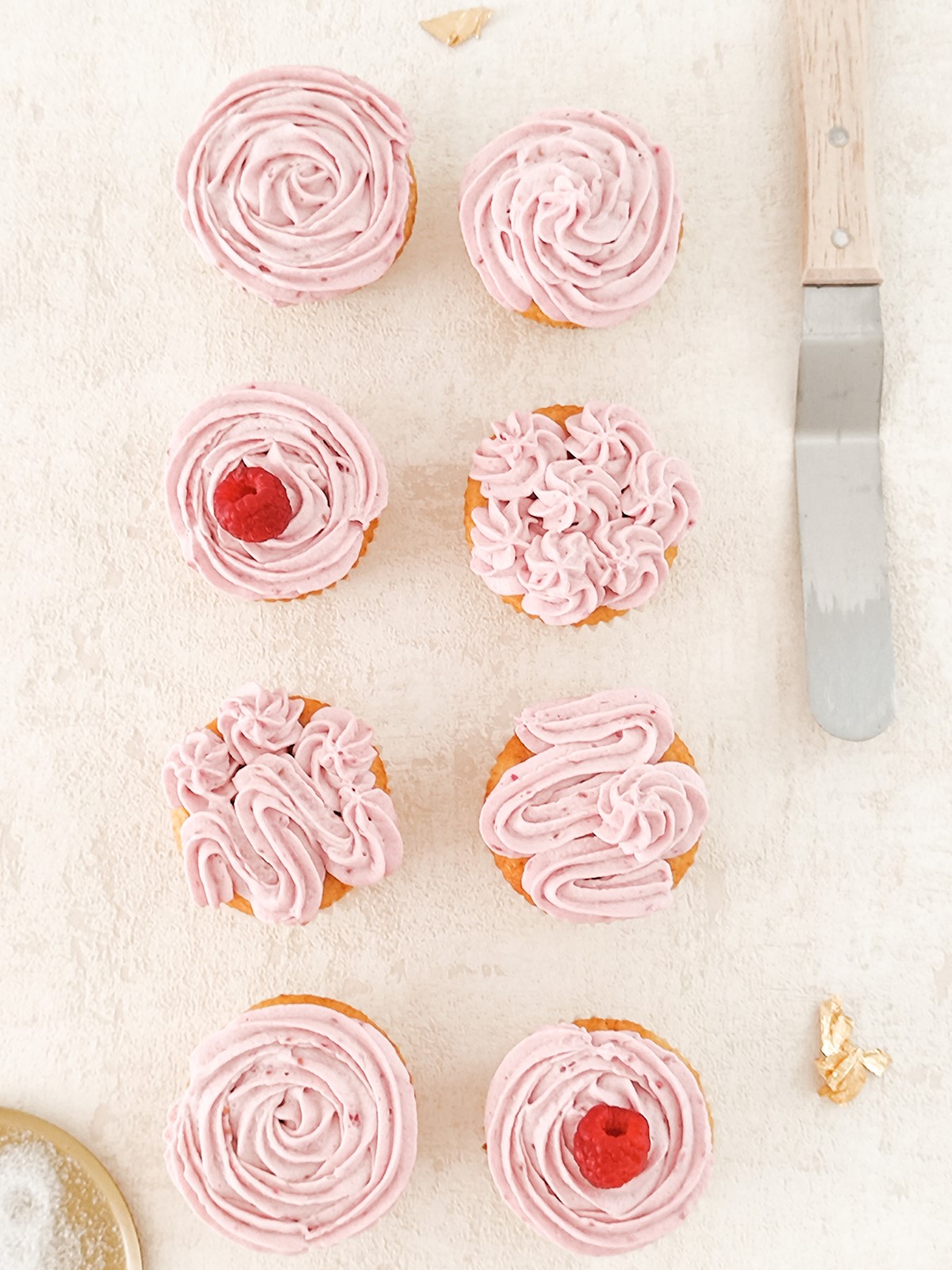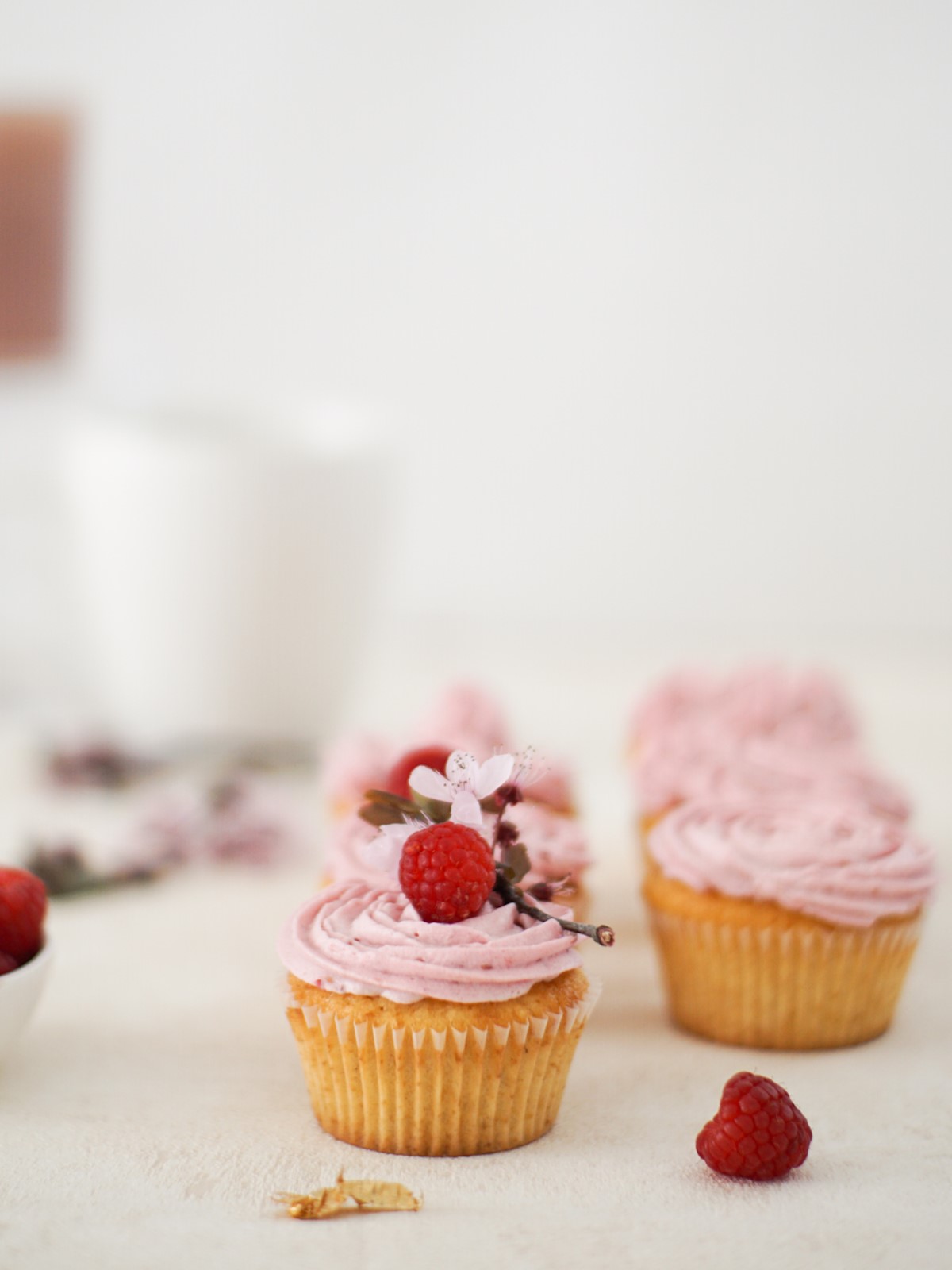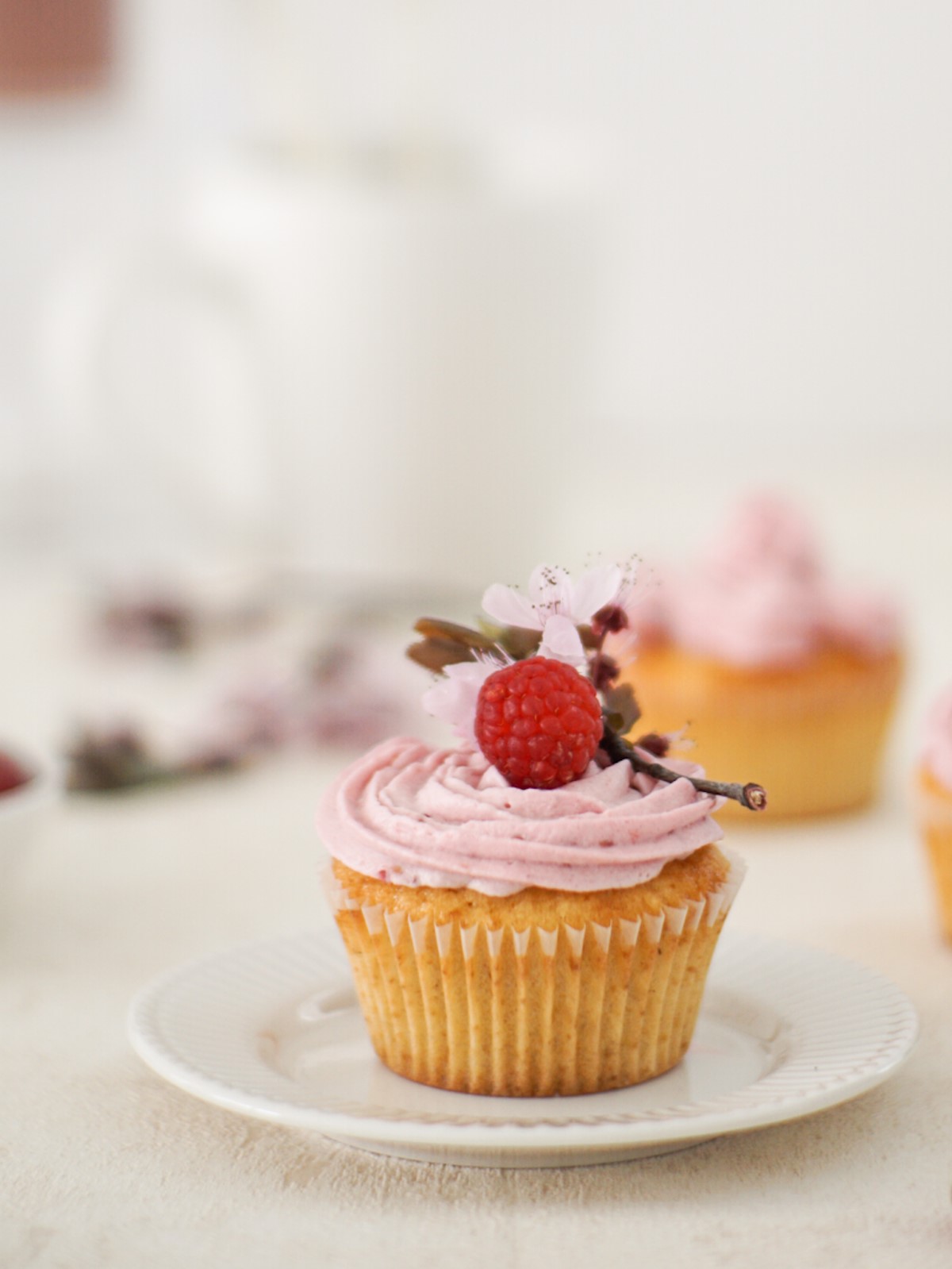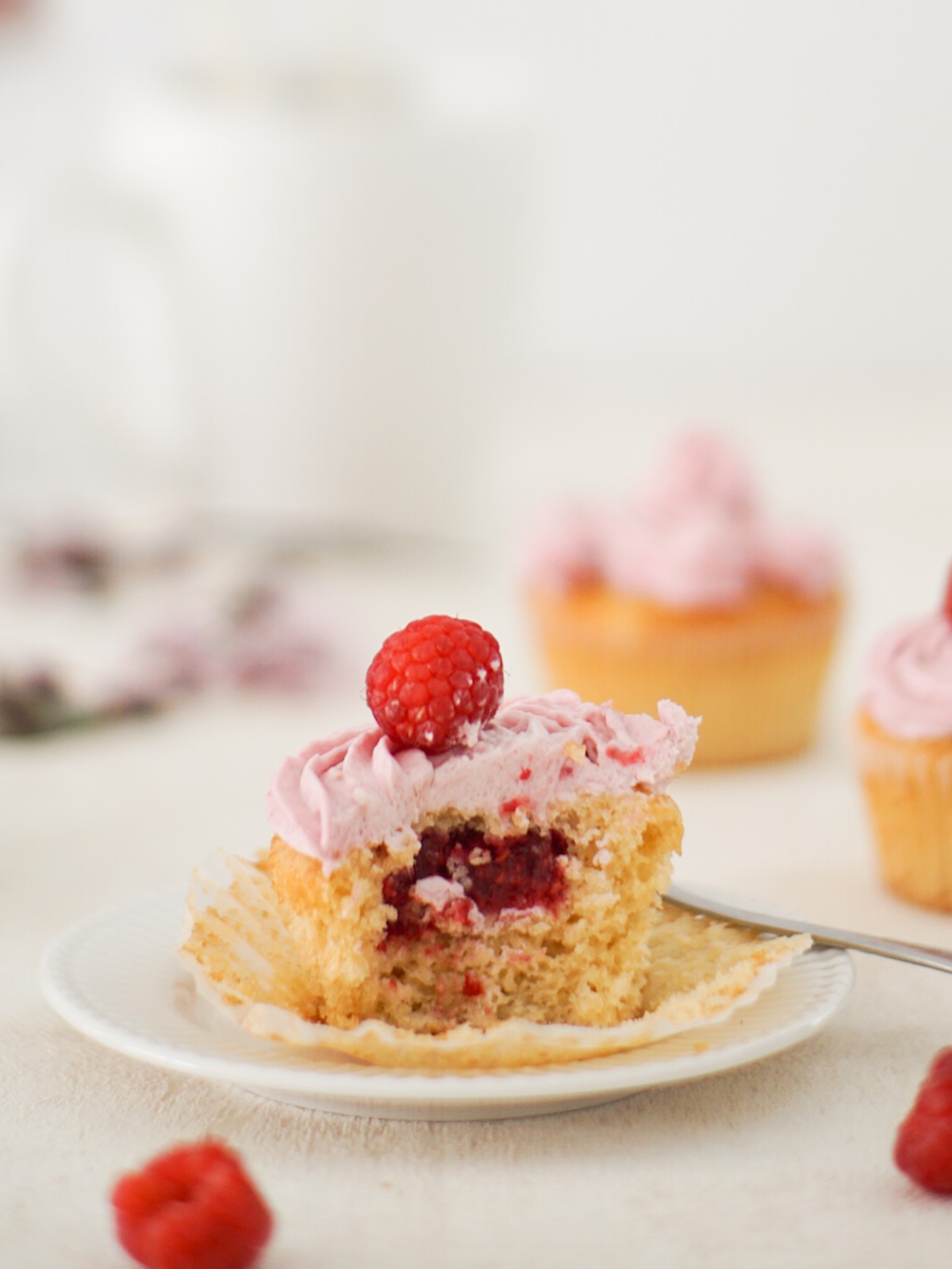 Notes:
What is cream fix?
Cream fix helps keep the whipped cream strong. It's also great in other creams used for cake decorating. I don't like using buttercream and this is a great substitute instead of butter and sugar to keep a cream good for piping.
Do I use fresh or frozen raspberries?
As you wish. I used frozen raspberries for the purée. If you are decorating cupcakes with raspberries, then use fresh raspberries for that.
Sugar
You can adjust the amount of sugar that you'd like to use based on your taste. When you're making raspberry purée and cream cheese frosting, just taste as you go and adjust the amount of sugar to your taste.