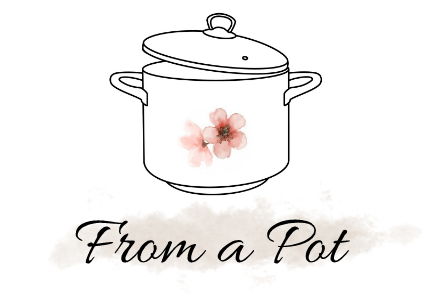 From a Pot: Ferrero Rocher Cupcakes
Ferrero Rocher Cupcakes
Delicious Ferrero Rocher cupcakes with hazelnuts and chocolate cream.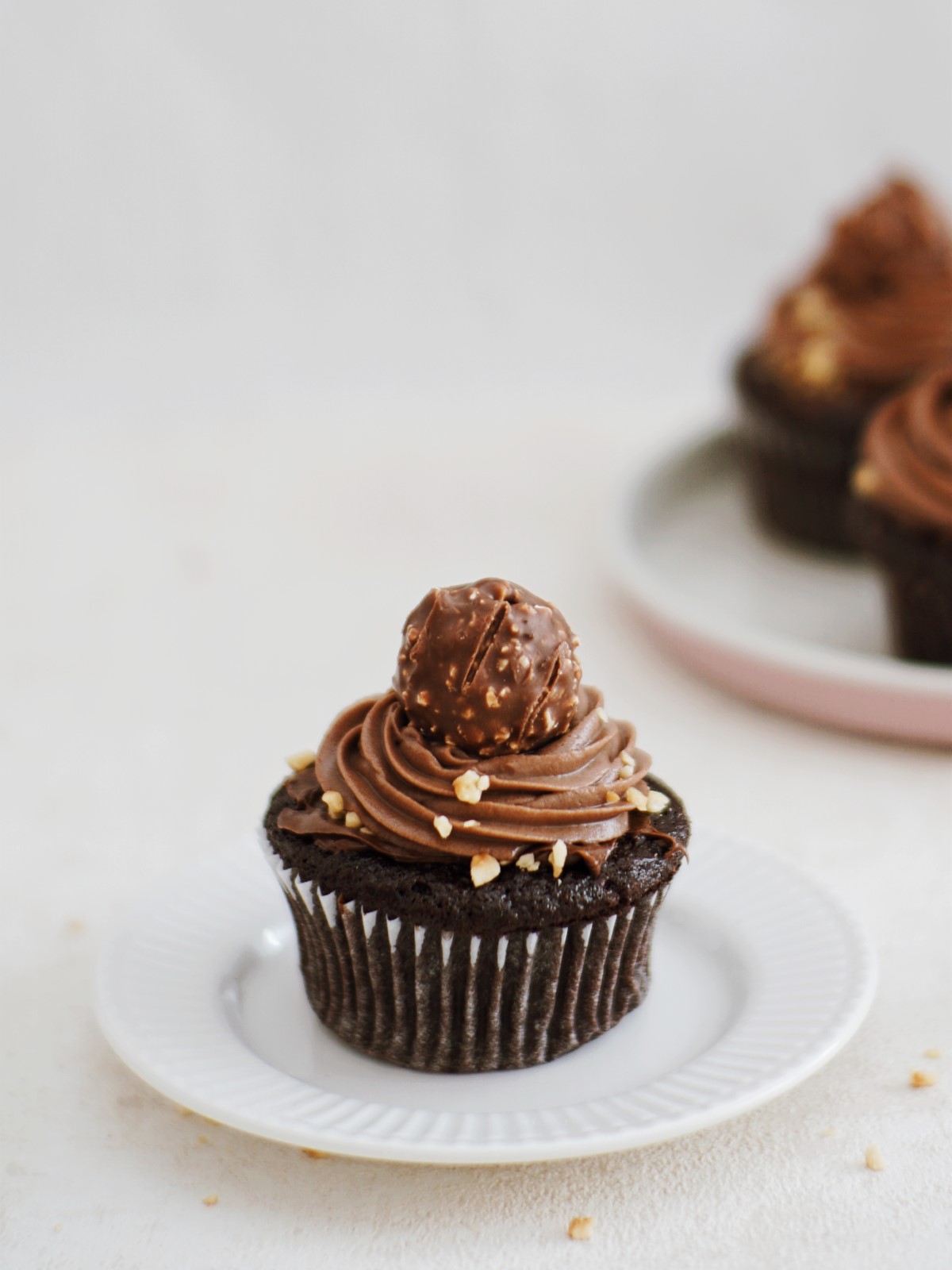 Fancy Ferrero Rocher cupcakes are a great idea for a New Year's dessert. Simple to make, chocolaty, creamy, and delicious.
Equipment
Muffin tray
Cupcakes liners
Piping bag
Electric mixer
Nutritional values
Shopping List

Flour: 90.0 g
Dark cocoa: 40.0 g
Salt
Baking powder
Soda
Brown sugar: 50.0 g
White sugar: 100.0 g
Egg: 1.0
Oil: 15.0 ml
Water: 40.0 ml
Milk: 100.0 ml
Vanilla extract
Ferrero rocher: 12.0
Mascarpone: 400.0 g
Nutella
Powdered sugar: 30.0 g
Ingredients and Instructions
Field to change the scale in the recipe. The meaning of the number depends on the type of recipe and can mean the number of servings or the number of products obtained from the recipe.(Ferrero Rocher Cupcakes)
Scale
Cupcakes
Flour: 90 g

Dark cocoa: 40 g

Salt: 0.5 tsp

Baking powder: 1 tsp

Soda: 0.5 tsp

Brown sugar: 50 g

White sugar: 100 g

Egg: 1

Oil: 15 ml

Water: 40 ml

Milk: 100 ml

Vanilla extract: 1 tsp

Ferrero Rocher: 12
Mascarpone Cream
Mascarpone: 400 g

Nutella: 3 tablespoons

Powdered sugar: 30 g

Vanilla extract: 1 tsp

Dark cocoa: 1 tablespoon

Salt: 0.5 tsp
Topping
Hazelnuts

Nutella

Ferrero Rocher
Instructions
Cupcakes
Preheat the oven to 180 degrees Celsius (356 degrees F) and line the muffin tray with cupcakes liners.
In a bowl with an electric mixer, mix the egg, sugar, oil, salt and vanilla extract. Mix for about three minutes, then add hot water and milk and mix lightly.
Sift the flour, cocoa, baking powder and soda through a sieve to the wet ingredients and mix lightly to combine all the ingredients.
Fill the cupcake liners with batter. First, put one teaspoon of the batter into the liners, then place the Ferrero Rocher balls on top of the batter, and cover them with another teaspoon of the batter.
Bake the cupcakes for about 20 minutes. Wait for them to cool completely before decorating them and taking them out of the baking pan.
Mascarpone Cream
Mix the mascarpone, cocoa, salt, powdered sugar and vanilla extract well to get a smooth cream.
Before use, put the cream in the refrigerator to keep it cold.
Topping
Spread a bit of Nutella on top of the cupcakes and sprinkle them with pieces of hazelnuts.
Then decorate them with mascarpone cream and top them with a few hazelnuts or Ferrero Rocher balls.
Gallery: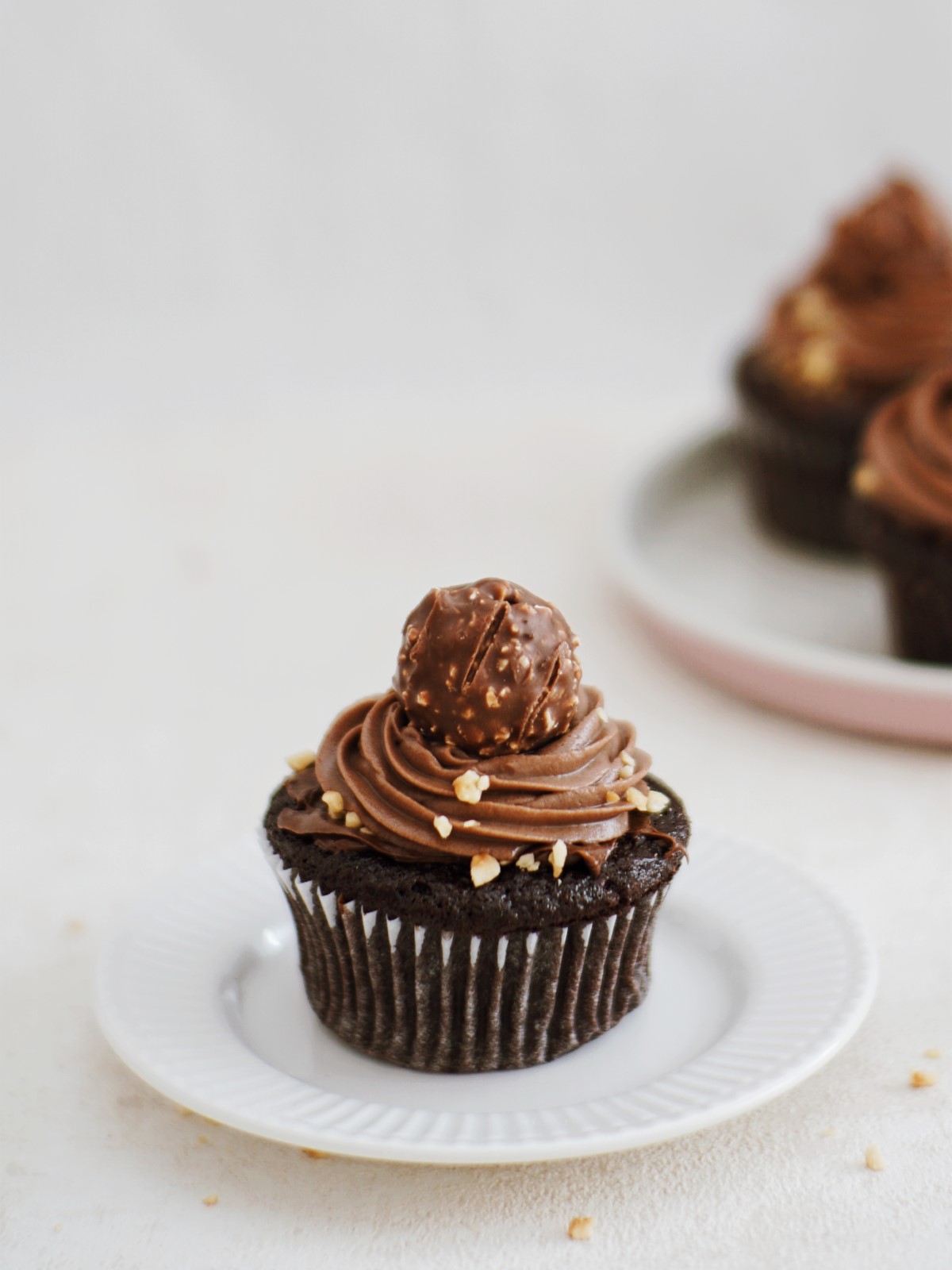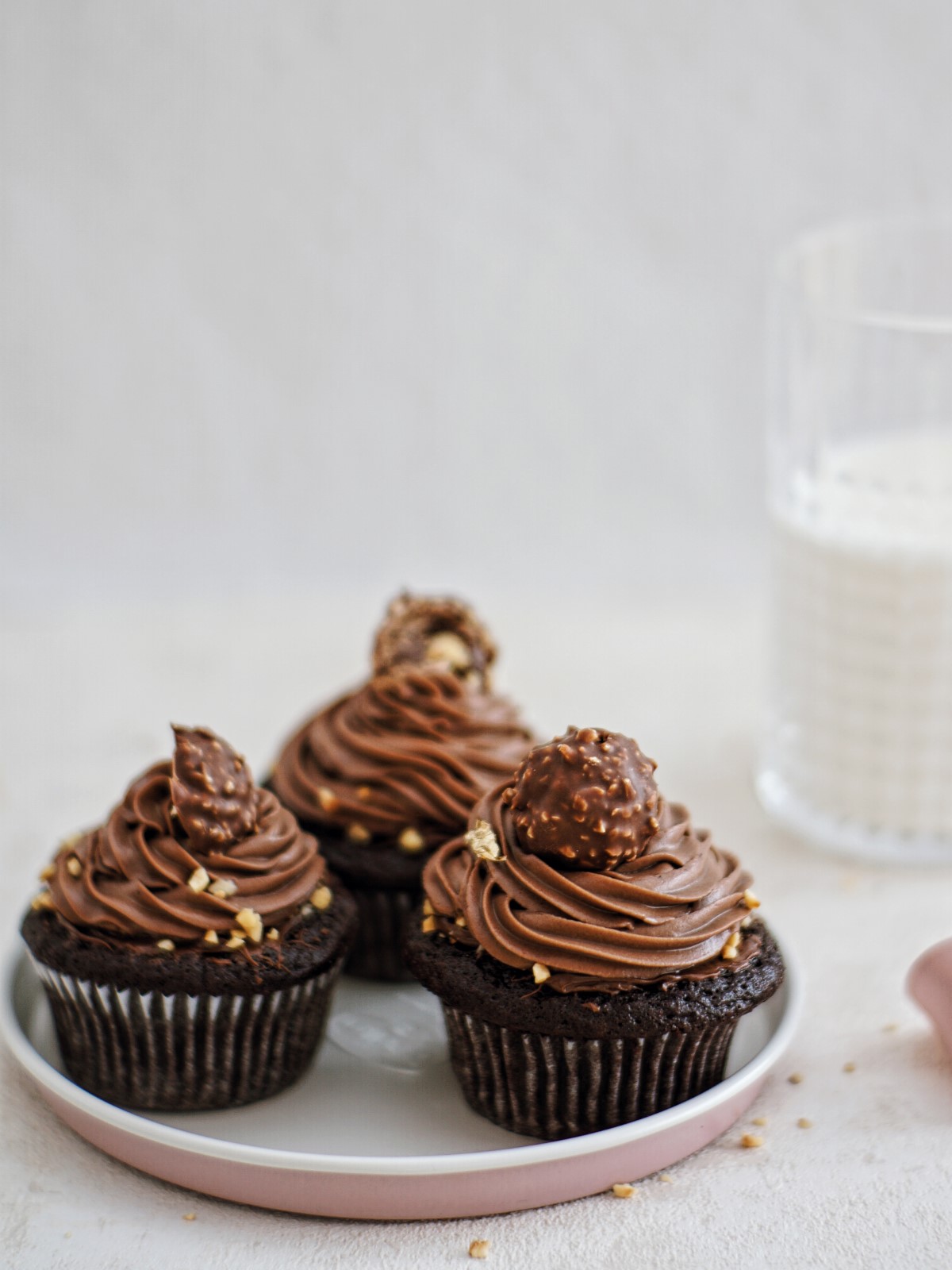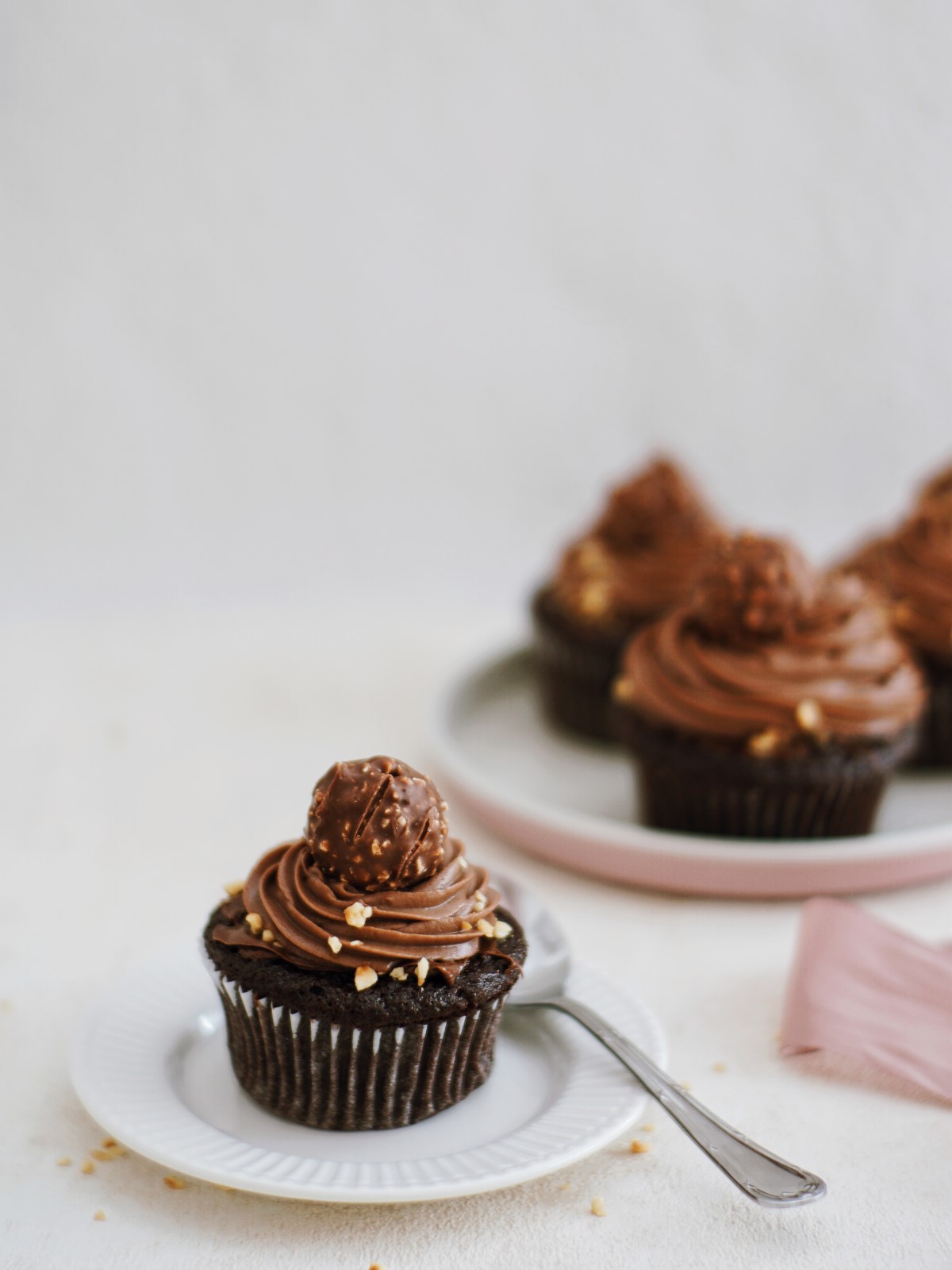 Fun Facts:
The company that makes Ferrero Rocher was founded in Alba, Italy, in 1946 by Pietro Ferrero.
Ferrero Rocher was first introduced in Europe in 1982 and in the United States in 1983.
The chocolates are made from a blend of roasted hazelnuts, milk chocolate, and wafer.
The slogan for Ferrero Rocher is "the golden experience."
Ferrero Rocher has several variations, including Ferrero Rondnoir (dark chocolate) and Ferrero Raffaello (coconut and almond).
Ferrero Rocher is the third largest chocolate brand in the world, behind Mars and Lindt.
The company also owns other popular confectionery brands such as Kinder, Tic Tac, and Nutella.