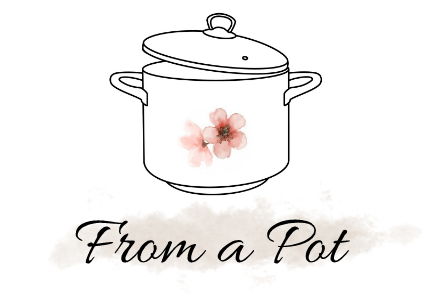 From a Pot: Chocolate Marble Cake
Chocolate Marble Cake
Fluffy classic marble cake with vanilla and chocolate.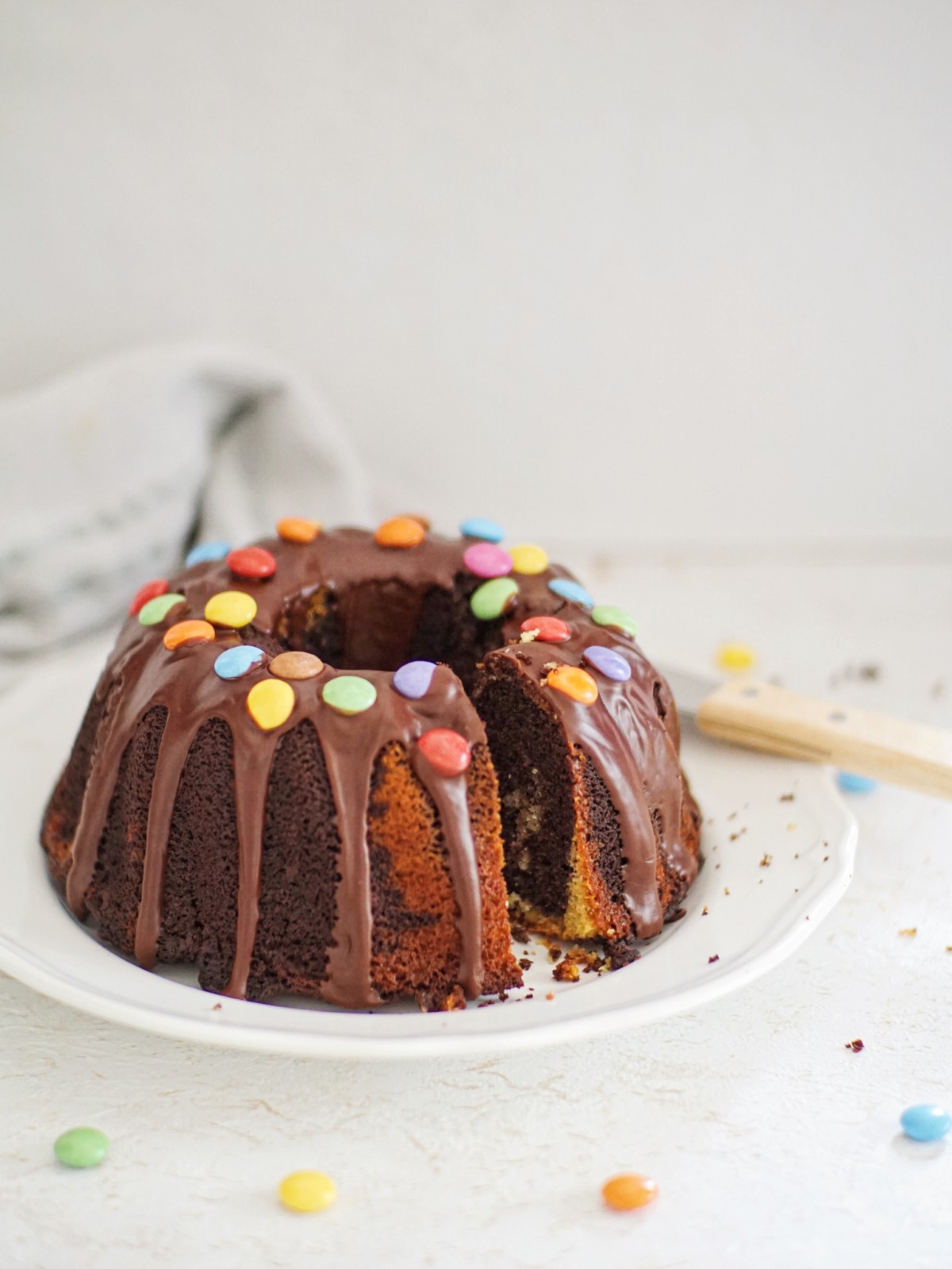 Chocolate, vanilla, chocolate vanilla and some more chocolate. If you can't decide which flavor you like more, why not mix both. Marble cake is one of the easiest pastries to make, and it tastes as good as it looks. You can bake it in baking trays of various shapes and sizes and make it look different every time. Top it with some chocolate glaze or sprinkle it with powdered sugar. You can also mix dry or fresh fruit into it to give it some extra sparkle. It tastes best served with a cup of good coffee.
Prep Time
Total Time:
1 Hour and 5 Minutes
Equipment
Baking tray
Electric mixer
Scale
Pot
Bowl
Nutritional values
Shopping List

Butter: 300.0 g
Flour: 200.0 g
Vanilla extract
Vanilla yogurt: 120.0 g
Salt
Sugar: 200.0 g
Dark cocoa: 50.0 g
Milk: 80.0 ml
Baking powder: 10.0 g
Dark chocolate: 100.0 g
Ingredients and Instructions
Field to change the scale in the recipe. The meaning of the number depends on the type of recipe and can mean the number of servings or the number of products obtained from the recipe.(Chocolate Marble Cake )
Scale
Marble Cake
Butter: 250 g

Flour: 200 g

Vanilla extract: 1 tsp

Vanilla yogurt: 120 g

Salt: 1 tsp

Sugar: 200 g

Dark cocoa: 50 g

Milk: 80 ml

Baking powder: 10 g
Chocolate Glaze
Dark chocolate: 100 g

Butter: 50 g
Instructions
Marble Cake
All the ingredients must be at room temperature, so put them out of the refrigerator for a while before use.
Beat the sugar and butter with an electric mixer until fluffy. Mix for about 3 minutes to get a light yellow colour. Add yoghurt, vanilla extract, eggs, milk, salt and mix.
Sift flour and baking powder to the wet ingredients. Mix to combine.
Prepare a separate bowl and divide the batter into two parts. Add dark cocoa to one half of the batter and mix.
Grease the baking tray with butter and put the mixture in it alternately. Stir it around a bit with a chopstick or skewer to create a marble effect.
Bake the cake in a preheated oven at 180 degrees Celsius (356 degrees F) for about 40 - 45 minutes. Wait for the cake to cool down a bit before turning it onto the cooling rack.
Chocolate Glaze
Put butter and pieces of chocolate in a bowl and melt them over a double boiler.
Wait for chocolate to cool to room temperature, then pour the glaze over the cake and decorate it as desired. I used Smarties, but you can also use nuts, dried fruit or something else.
Gallery: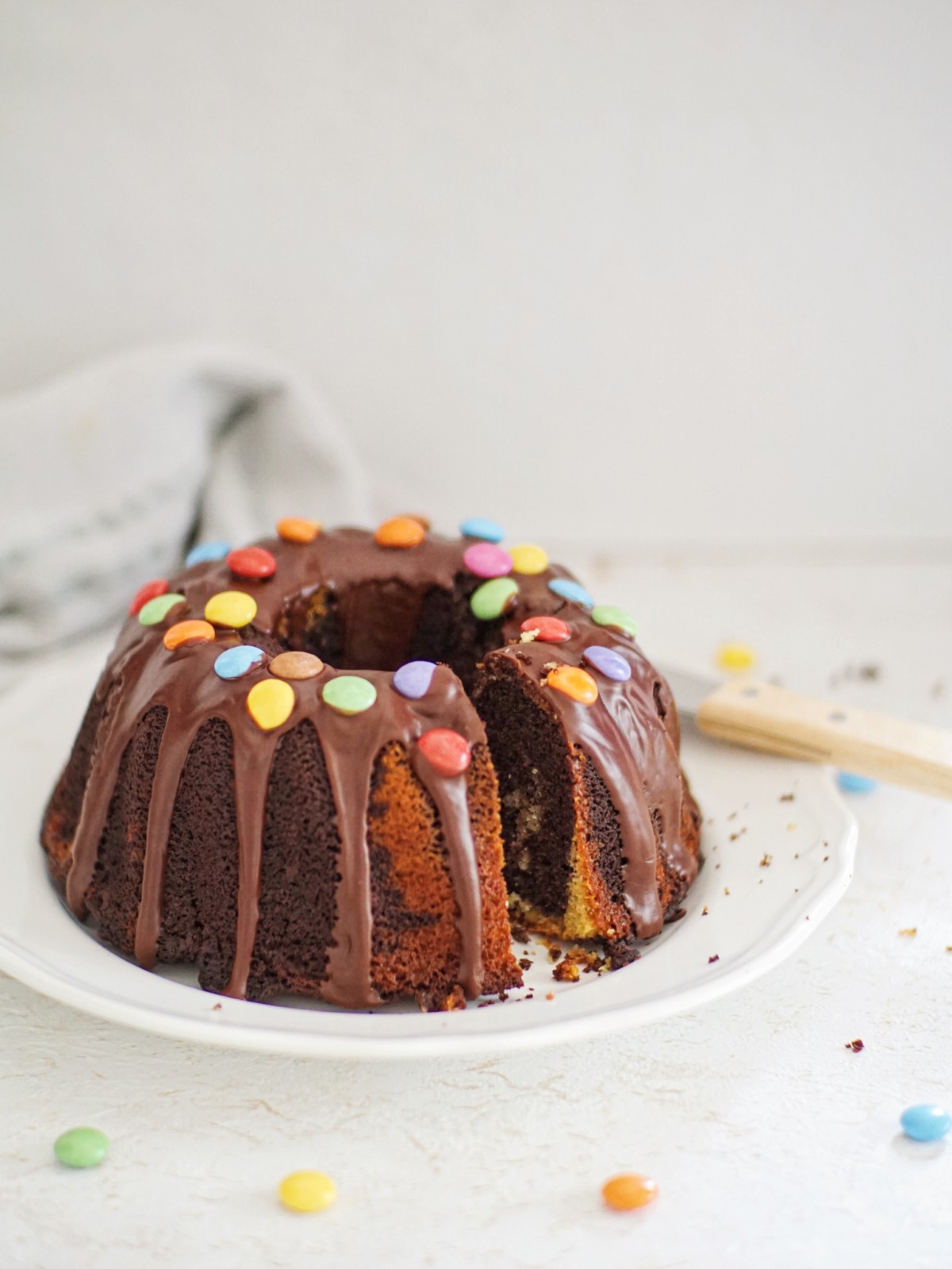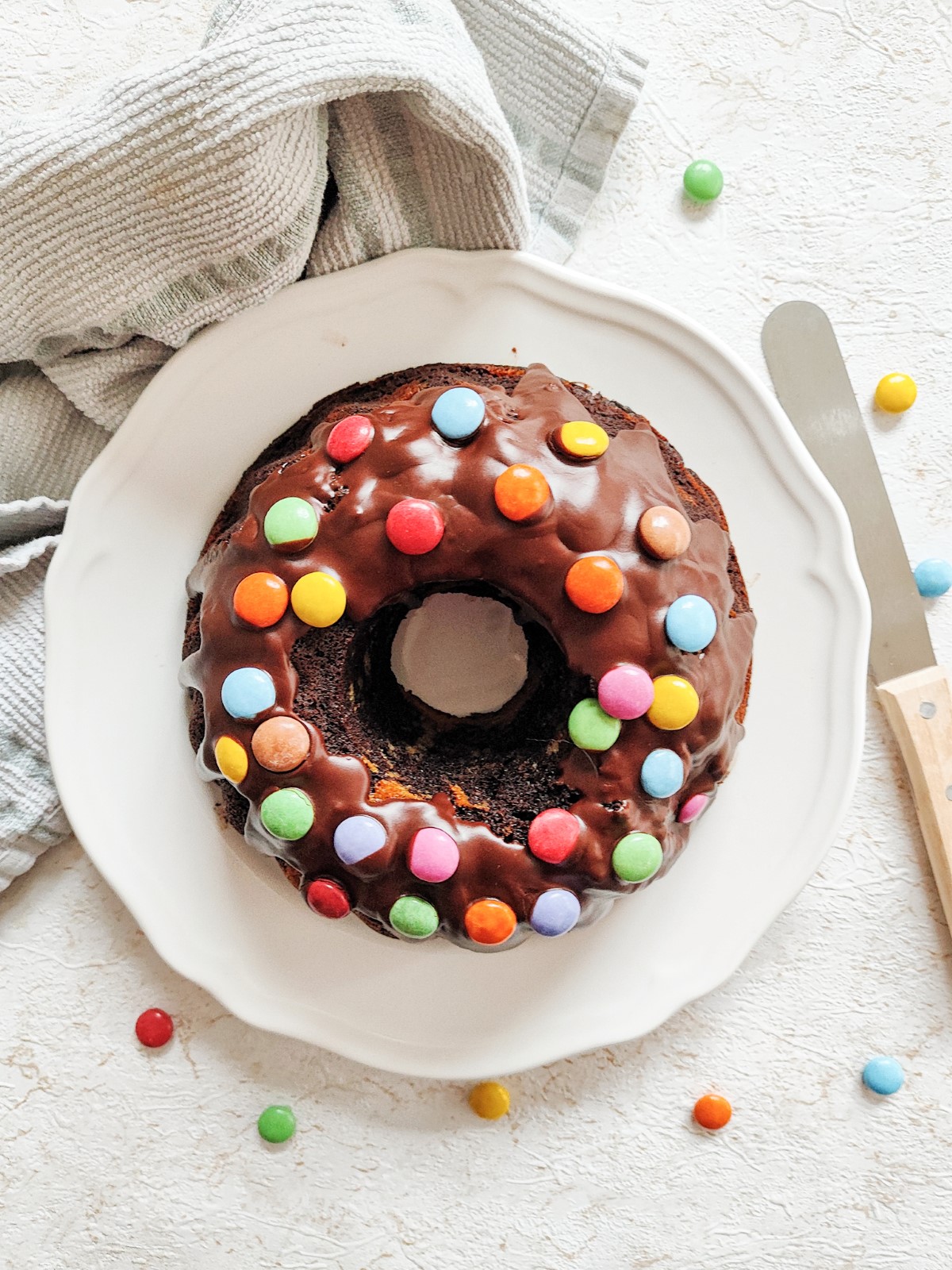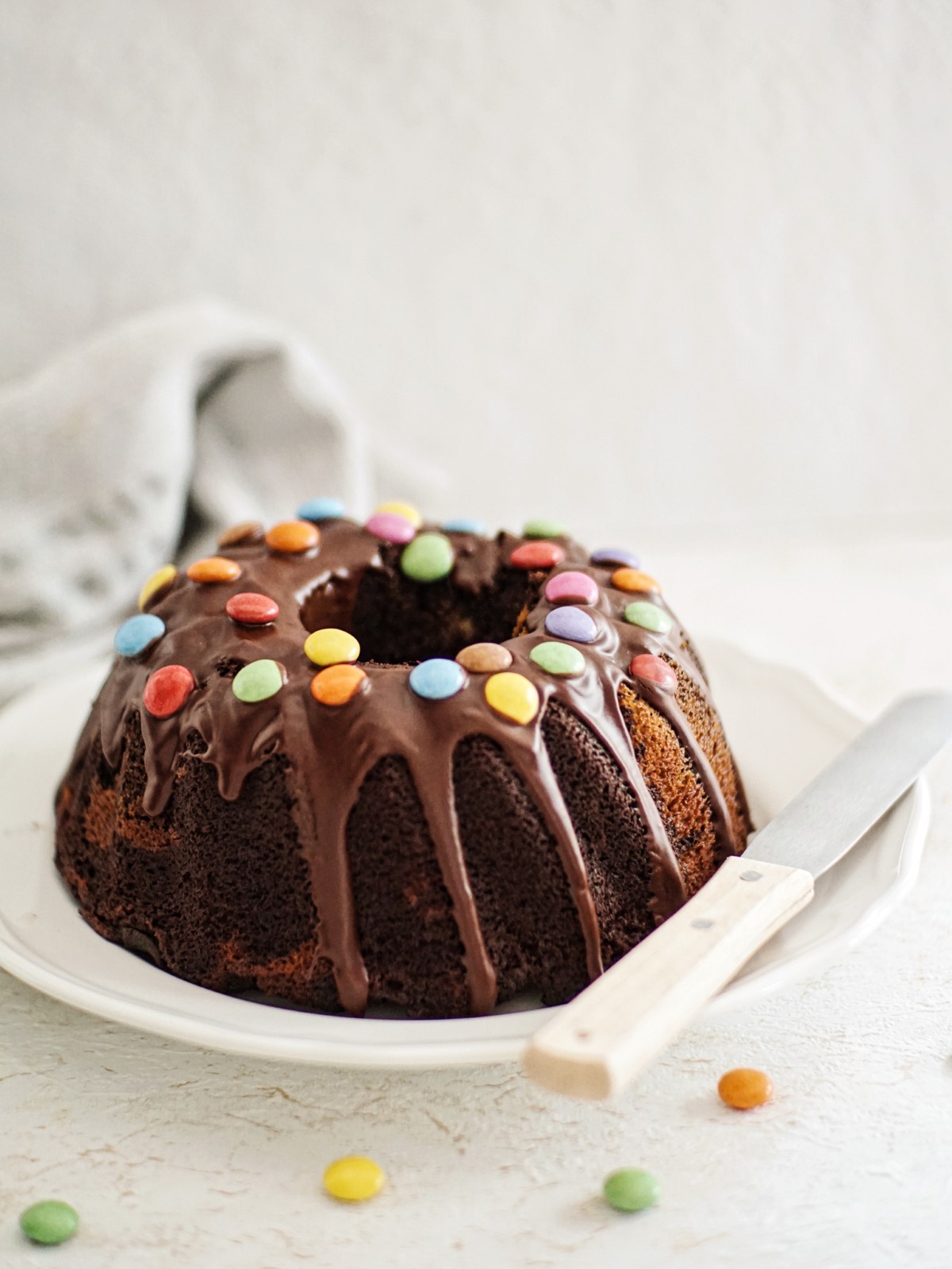 Notes:
Topping
I topped the cake with chocolate glaze, but you can also serve it as it is, or sprinkle it with powdered sugar.
Yoghurt
I used vanilla yoghurt for even more vanilla flavor, but you can also use regular yoghurt.
Chocolate and cocoa
Use quality dark chocolate and dark cocoa. Chocolate should be at least 70%. If you want your chocolate glaze to be a little bit shiney add a few drops of oil to it.
Can I add fruit to the cake?
Of course. You can add raspberries, cherries, blueberries… Lightly mix them into the batter, using a wooden spoon.