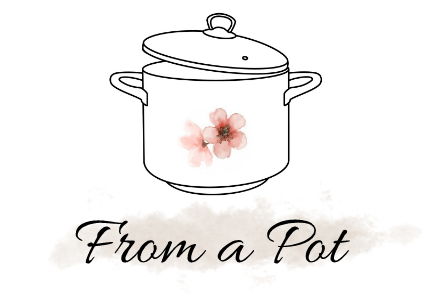 From a Pot: Miso Ramen
Miso Ramen
Miso ramen is great for those cozy nights when you want a warm, healthy and quick meal.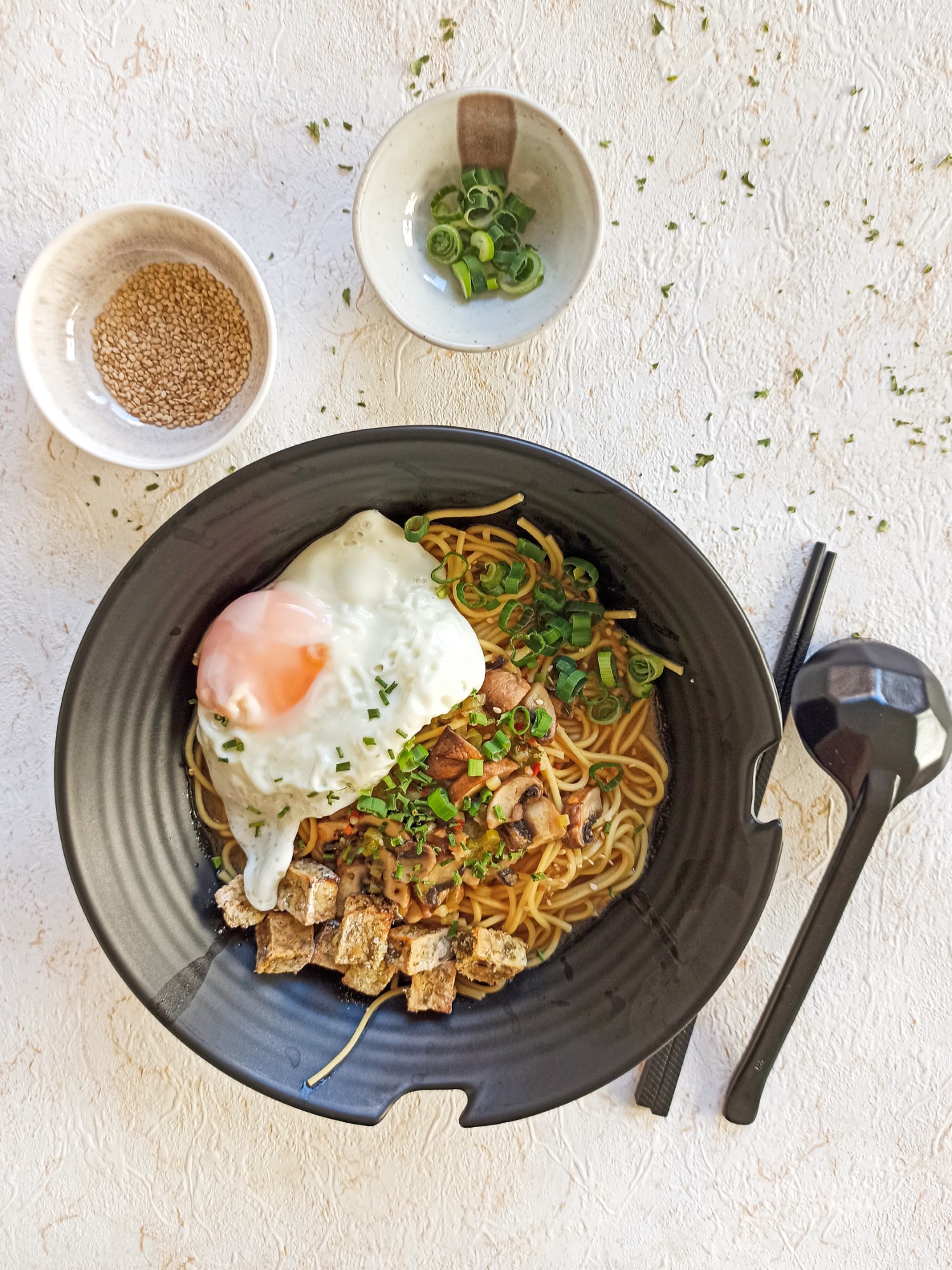 Nutritional values
Shopping List

Garlic
Ginger
Sesame oil
Sesame seeds
Chili paste
Miso paste
Vegetable soup base: 1.0 l
Salt
White pepper
Sugar
Sake
Button mushrooms: 100.0 g
Dry mushrooms: 3.0 g
Ingredients and Instructions
Field to change the scale in the recipe. The meaning of the number depends on the type of recipe and can mean the number of servings or the number of products obtained from the recipe.(Miso Ramen)
Scale
Ramen
Garlic: 1 tsp

Ginger: 0.5 tsp

Sesame oil: 1 tbsp

Sesame seeds: 1 tbsp

Vegetable soup base: 1 l

Salt: 1 tsp

White pepper: 0.5 tsp

Sugar: 1 tbsp

Sake: 1 tbsp

Button mushrooms: 100 g

Dry mushrooms: 3 g
Instructions
Ramen
Heat up sesame oil and quickly fry minced garlic, ginger and button mushrooms cut into pieces. Add miso paste, sugar, chili paste then mix.
Add in sake, vegetable soup base, salt, pepper, dry mushrooms and sesame seeds.
Let the soup simmer for about 10 minutes, and meanwhile prepare the noodles.
Cook the noodles in water according to the instructions on the package.
Add noodles to the ramen bowl and pour soup over them.
Use any topping that you wish. Such as shallot, eggs, tofu, sesame seeds …
Gallery: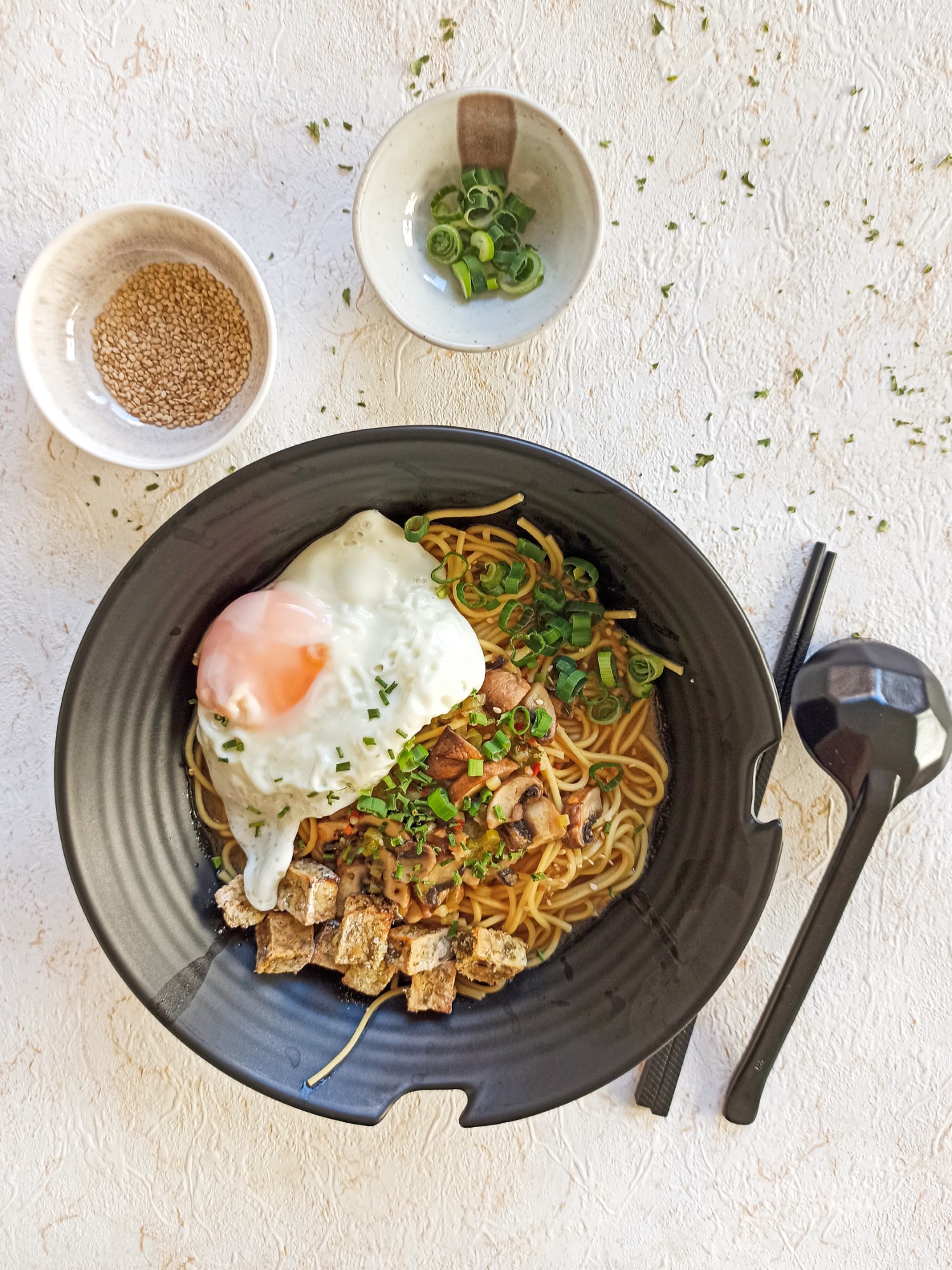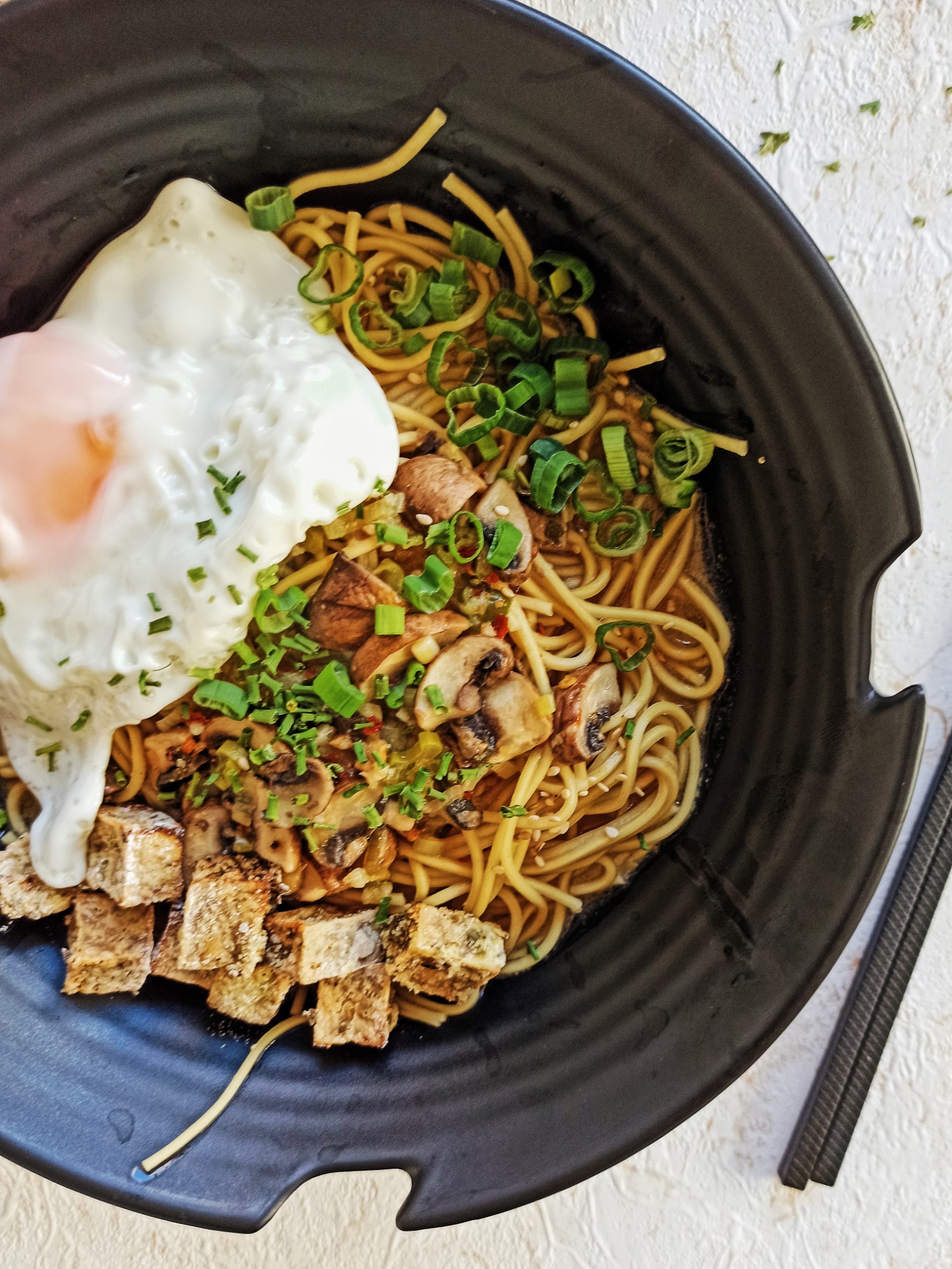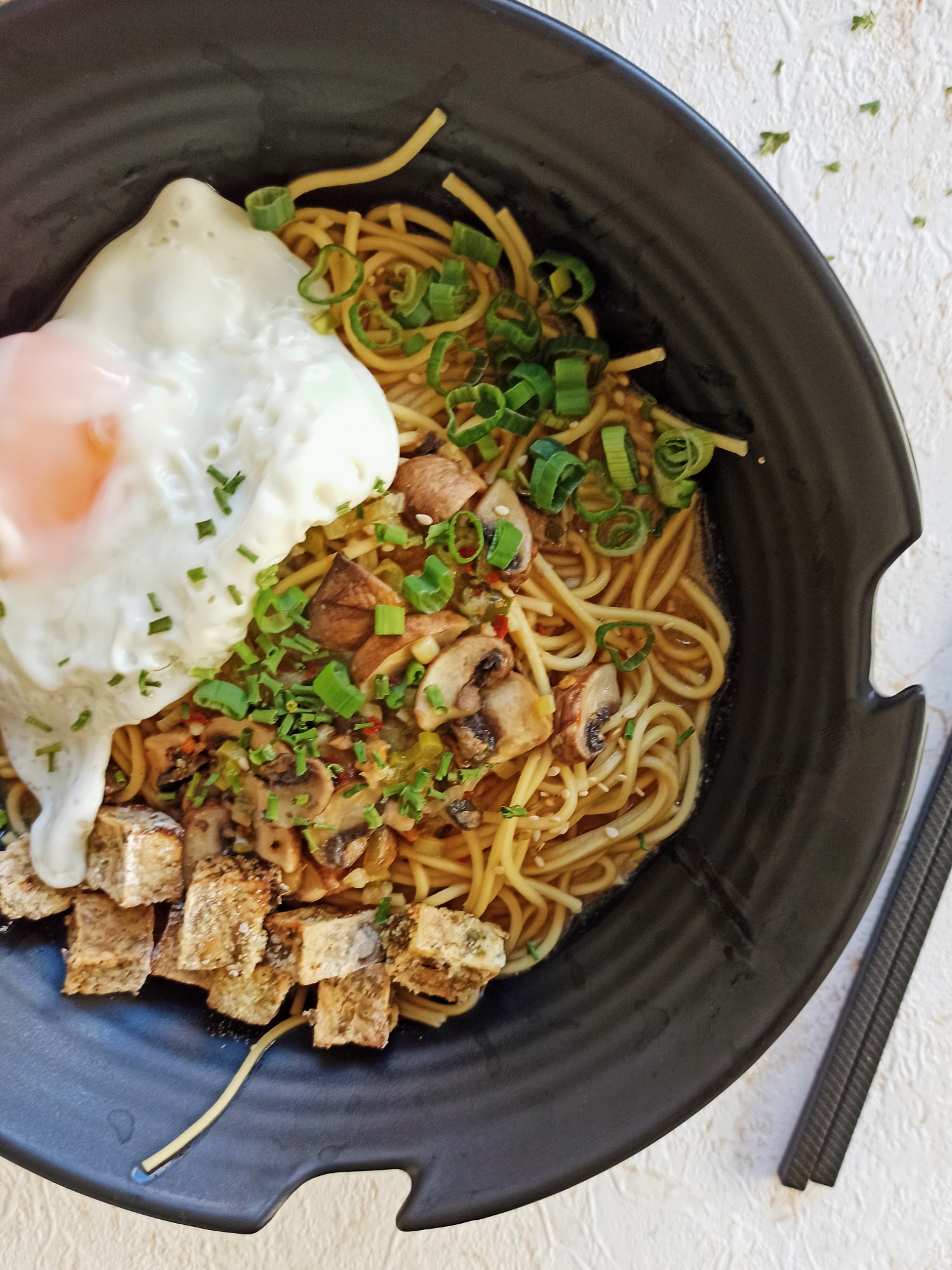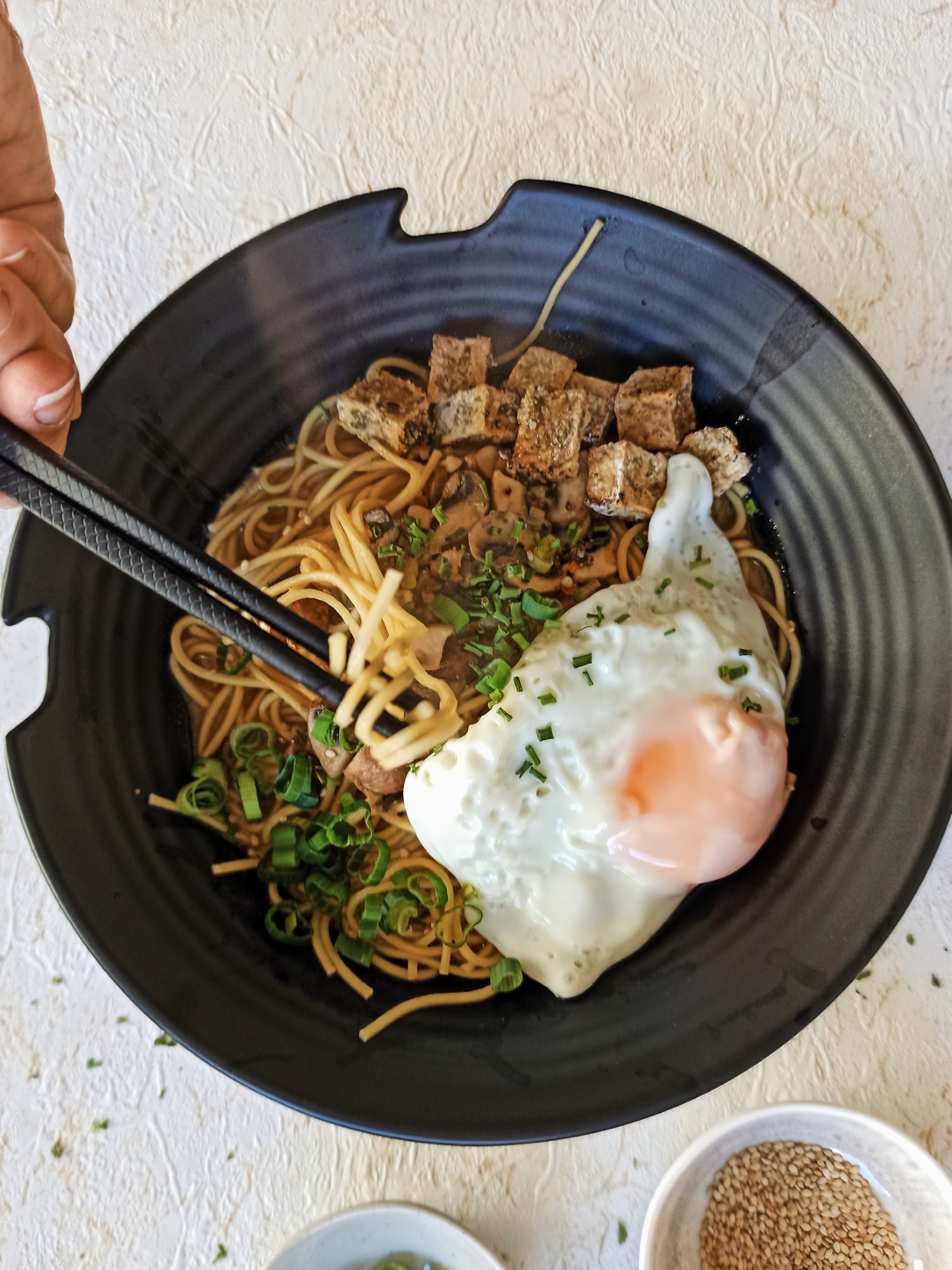 Notes:
You can also use pork or chicken instead of mushrooms. I prefer the vegetarian version of ramen, so I use mushrooms.
I use button and dried mushrooms. Dry mushrooms will add an excellent taste to the soup.
You can also strain the soup if you don't want any pices in it.
Miso
Your soup will vary slightly in taste depending on which miso (soy paste) you use. They are all great. Try several ones and choose the one that suits you best. I usually use this one:
Chili paste
Is extremely spicy if you are not used to spicy food, so you may want to use less than stated in the recipe and add it as you go, according to taste.
Sake
Is Japanese wine that they use almost everywhere while cooking. In this recipe, sake adds umami and sweetness to the dish.
Noodles
You can use any ramen noodles. Do not salt the water for the noodles like you would for pasta, unless it's written on the package. They usually cook really fast, they need about 3 - 4 minutes in boiling water.
Toppings
You can use any toppings. Usually hard-boiled eggs, meat or shallots are used …
I used crispy baked tofu and fried egg. Prepare the toppings a bit in advance so that the noodles do not get too soggy in the soup.