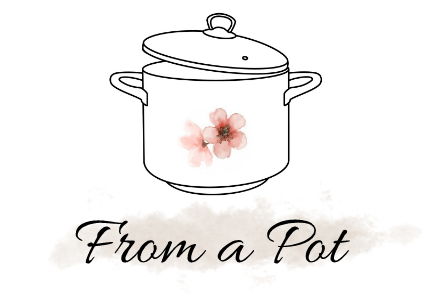 From a Pot: Pho - Vietnamese Noodle Soup
Pho - Vietnamese Noodle Soup
Delicious vegetarian pho (Vietnamese Noodle Soup).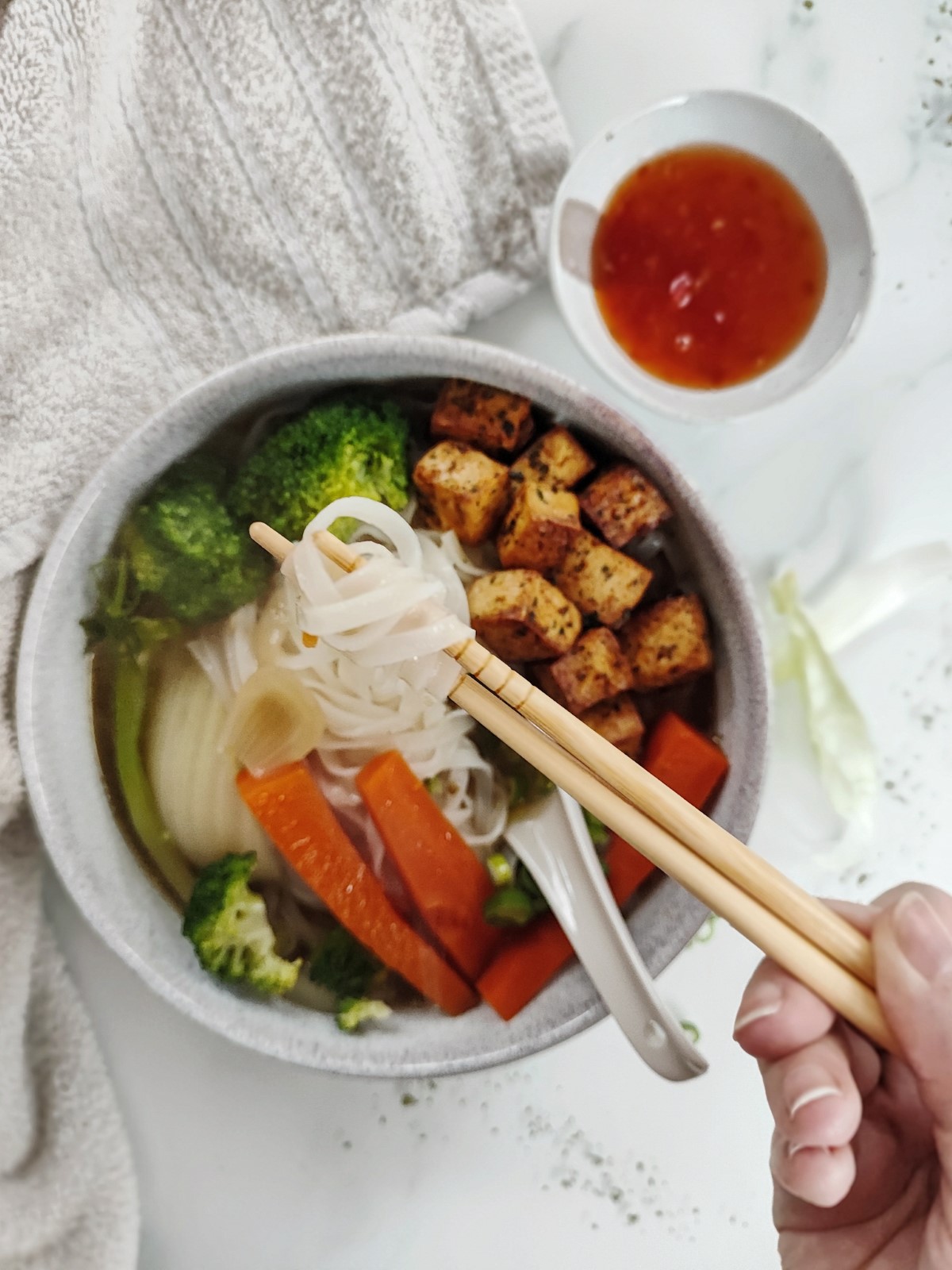 Let's talk about pho, pronounced "fuh". Pho is Vietnamese noodle soup that's often made with beef, fish sauce and topped with awesome things like basil, beansprouts, and different types of veggies. It takes some time to make authentic pho soup but since I prefer veggies to meat this is a vegetarian version of pho, which is ready a lot faster than a meat version.
The most important part of pho is the broth. Rice noodles don't really have a strong taste, so your pho will be as good as your broth. I use different spices and dry mushrooms to give the soup more flavour.
Anyway, there is almost nothing better than a big bowl of warm noodle soup with spices and veggies. This soup is utterly addictive and every spoonful leaves you wanting more. Your house will also smell amazing while cooking this because of all the spices.
Let me know how you like it in the comments.
Prep Time
Total Time:
1 Hour and 10 Minutes
Equipment
Pot
Baking tray
Parchment paper
Nutritional values
Shopping List

Cinnamon stick: 1.0
Cloves: 4.0
Star anise: 3.0
Coriander seeds
Salt
Dry mushrooms: 10.0 g
Ginger: 10.0 g
Onion: 1.0
Soy sauce: 20.0 ml
Brown sugar
Carrot: 2.0
Oil
Vegetable soup base: 300.0 ml
Garlic powder
Ingredients and Instructions
Field to change the scale in the recipe. The meaning of the number depends on the type of recipe and can mean the number of servings or the number of products obtained from the recipe.(Pho - Vietnamese Noodle Soup )
Scale
Broth
Cinnamon stick: 1

Cloves: 4

Star anise: 3

Coriander seeds: 1 tsp

Salt: 1 tsp

Dry mushrooms: 10 g

Ginger: 10 g

Onion: 1

Soy sauce: 10 ml

Brown sugar: 2 tbsp

Carrot: 2

Oil: 1 tsp

Vegetable soup base: 300 ml
Tofu
Tofu: 250g/cup

Soy sauce: 10 ml

Salt: 1 tsp

Garlic powder: 0.5 tsp
Garnishes and serve
Tofu

Bok choy

Broccoli

Lime

Carrot
Instructions
Broth
Peel onion and cut it into 4 parts. Also peel carrots and ginger and cut them into cubs.
In a medium size pot, heat the oil and add in onions and ginger. Toss it around for about 3 - 5 minutes until they start to broil a bit.
Lover the heat to medium and add in the spices (cinnamon stick, cloves, star anise, coriander seeds). Toss it around for about a minute, until fragrant.
Then add in the mushrooms, carrots, sugar, salt, soy sauce and vegetable soup broth. Cover with lid and bring to the boil, then reduce the heat and let it simmer for about 30 minutes.
Strain the soup to remove all the spices, then bring back to the boil and add in broccoli, bok choy or other vegetables of choice. If you want to use fresh veggies, you don't have to cook them in the soup, or you can cook them in a separate bowl of water.
Noodles
Cook rice noodles as instructed on the package.
Tofu
Drain the tofu with paper towels and use your palms to gently squeeze out some of the water.
Cut the tofu into small cubes and transfer it into a bowl. Marinate it with spices and soy sauce and let it rest for about 20 minutes.
Preheat the oven to 200 degrees Celsius (400 F) and line a large baking sheet with parchment paper.
Transfer the tofu to your prepared baking sheet and arrange it in an even layer. Bake for about 20 minutes, or until golden brown.
Garnishes and serve
Serve in a large bowl. Add a handful of noodles to each individual bowl and top it with veggies, tofu, herbs and soup broth. In the end, finish with a squeeze of lime juice.
You can also serve some sriracha or chilli garlic sauce on the side.
Gallery: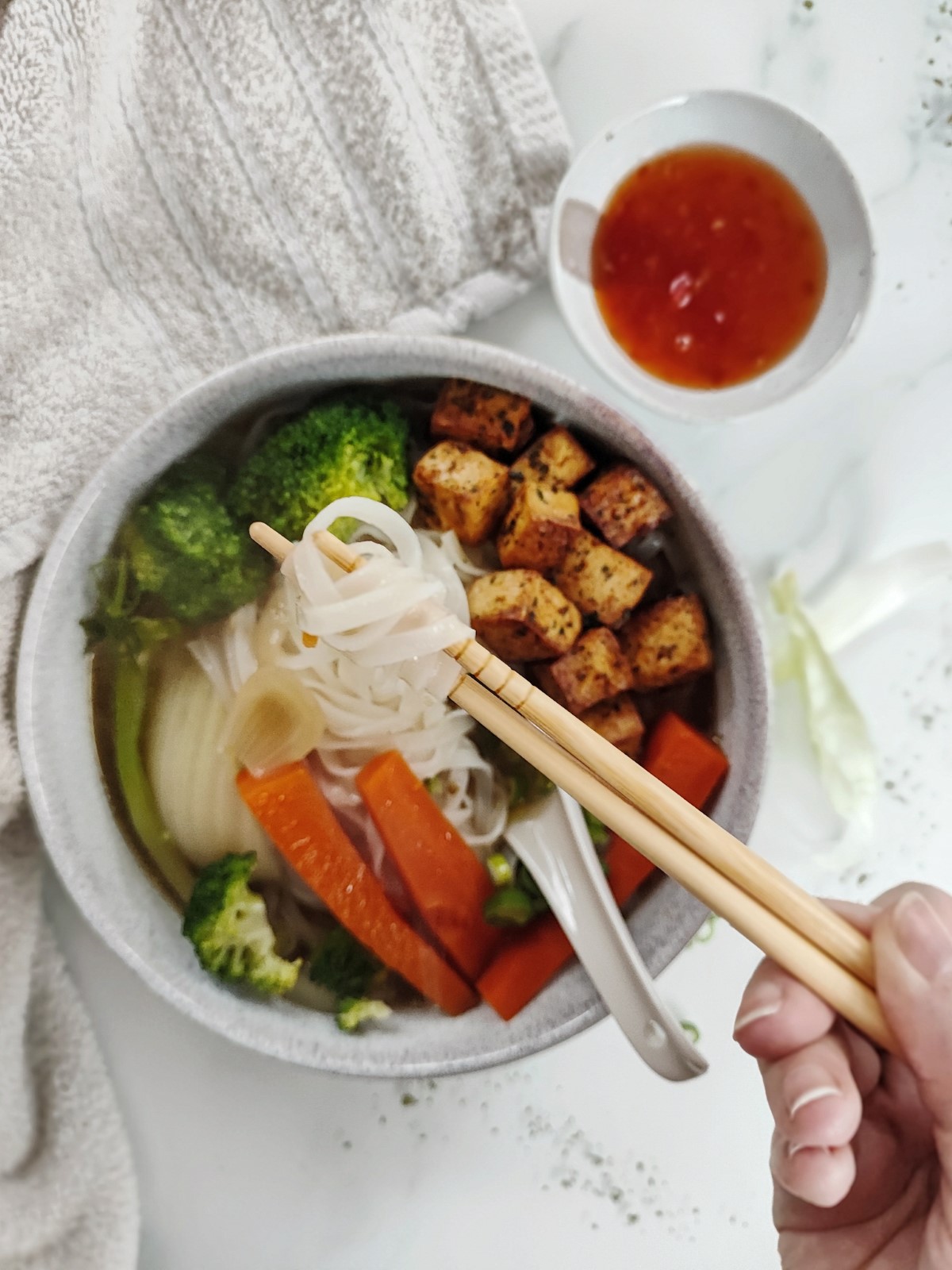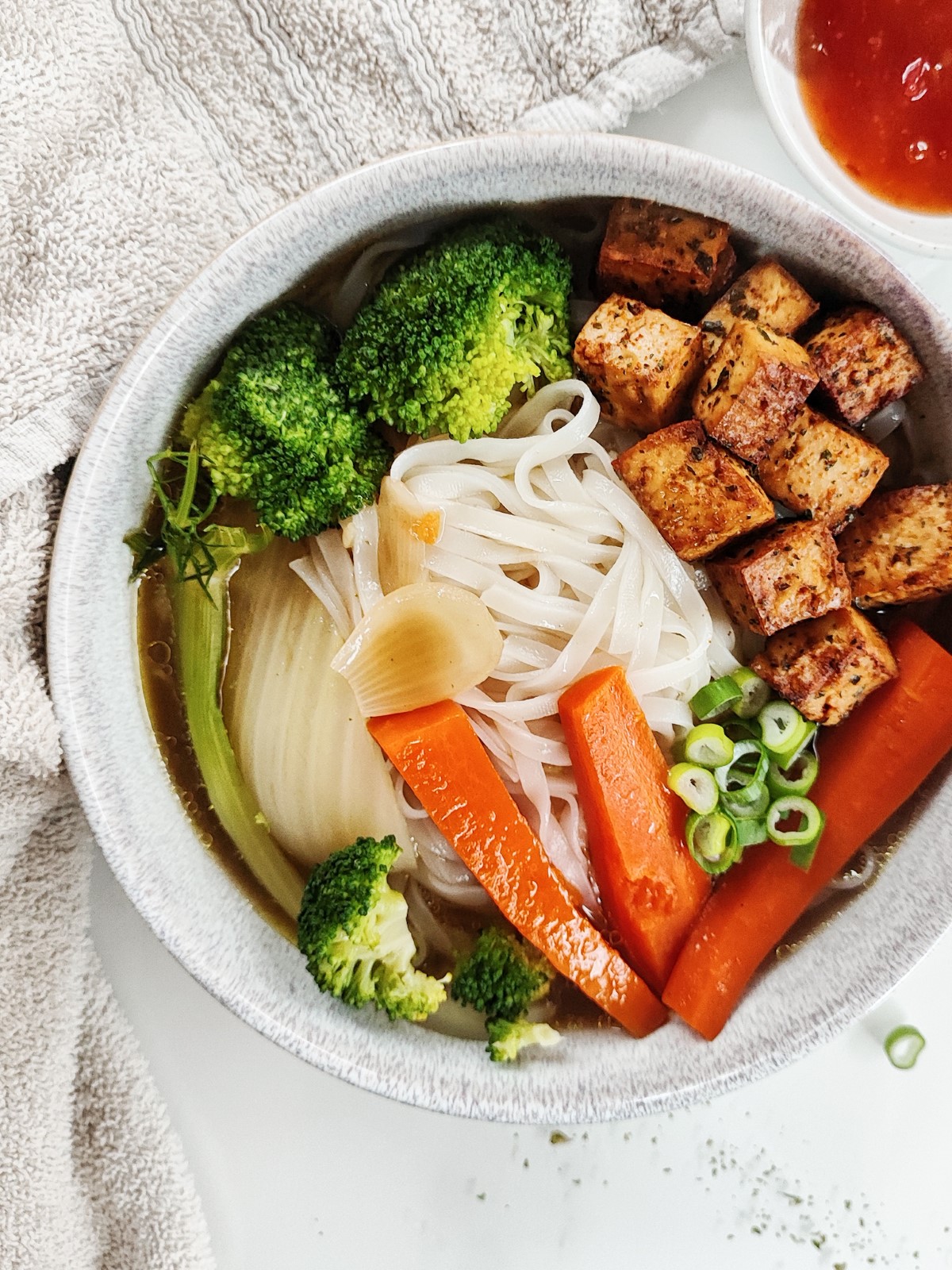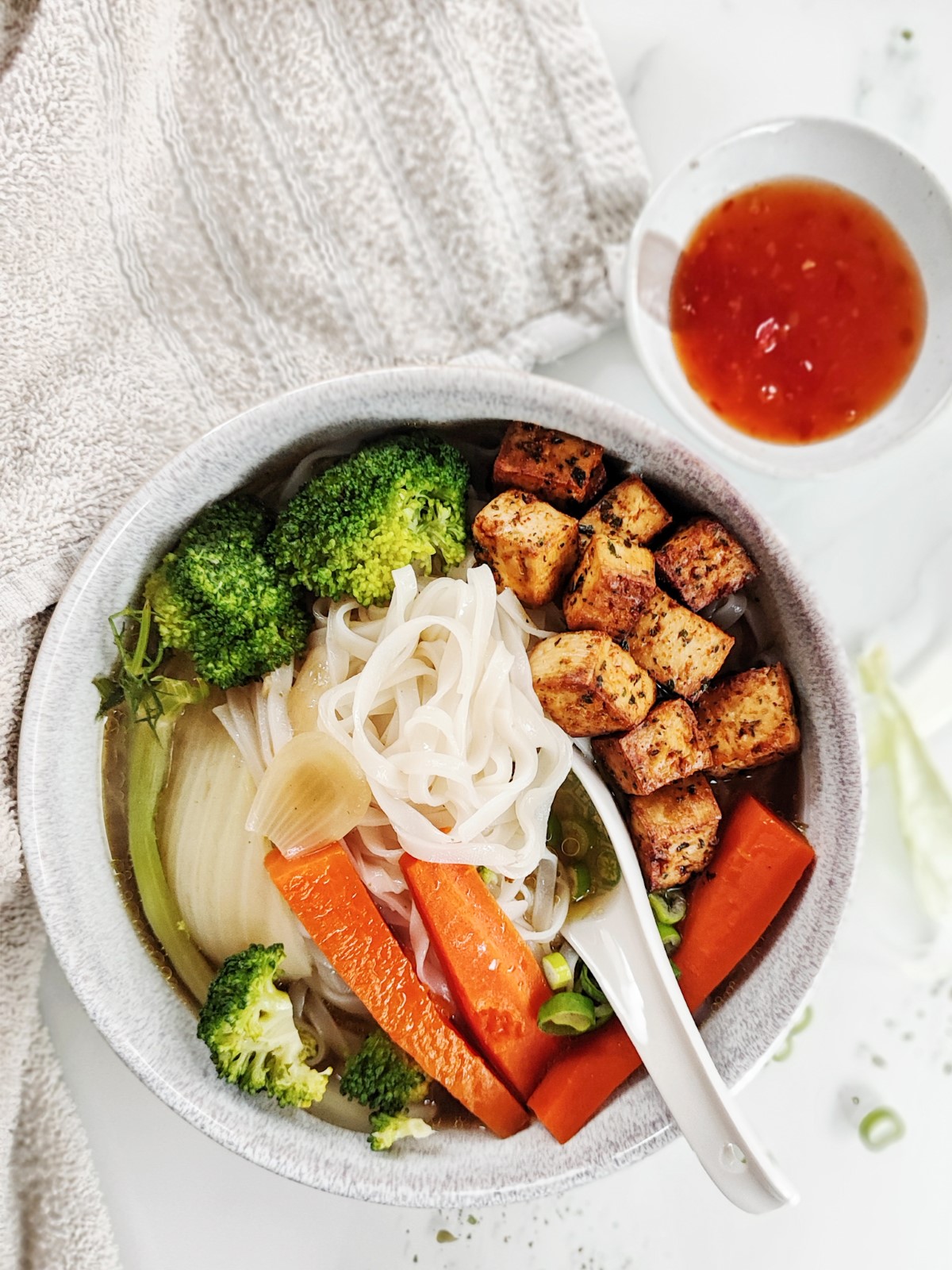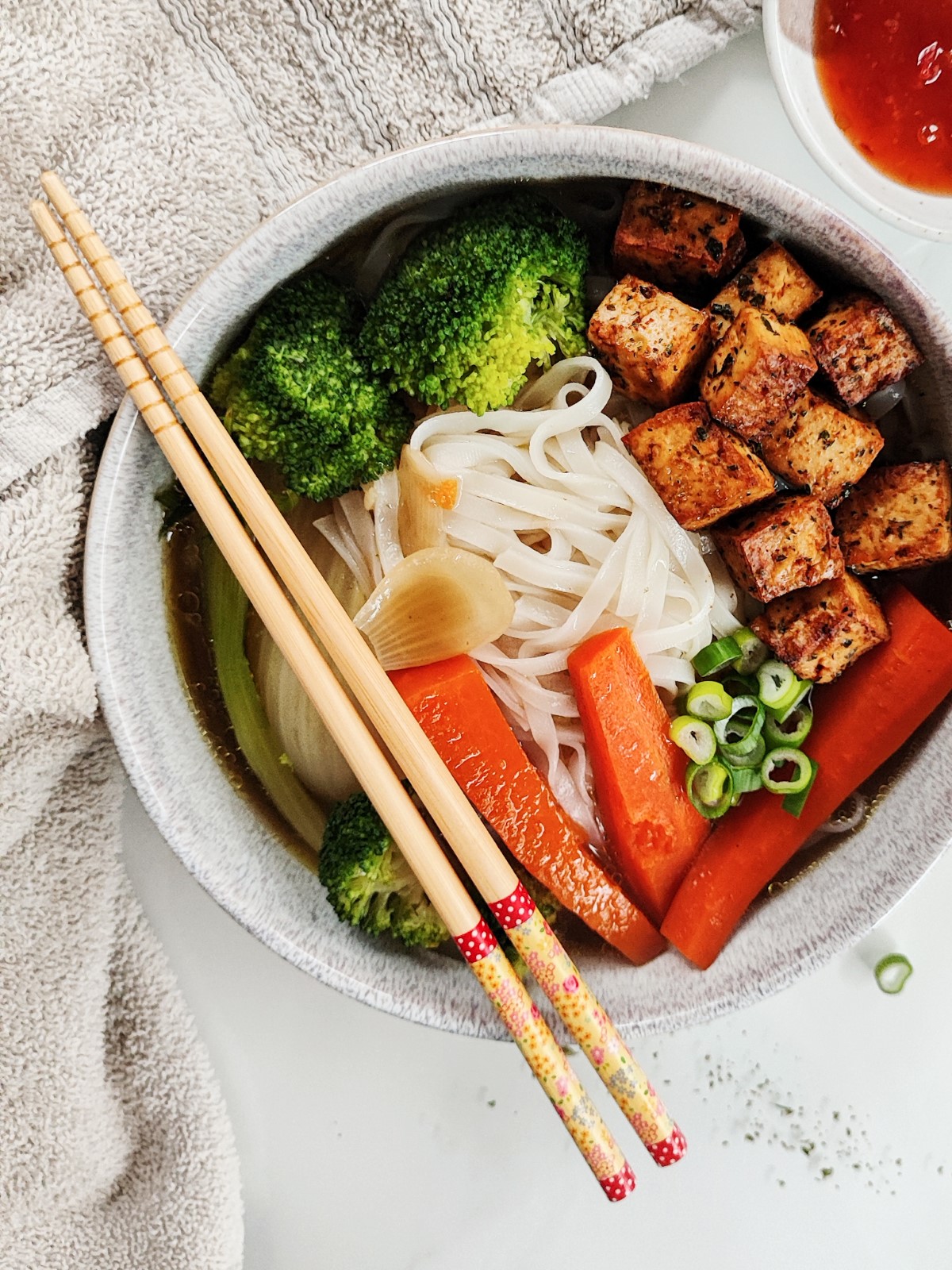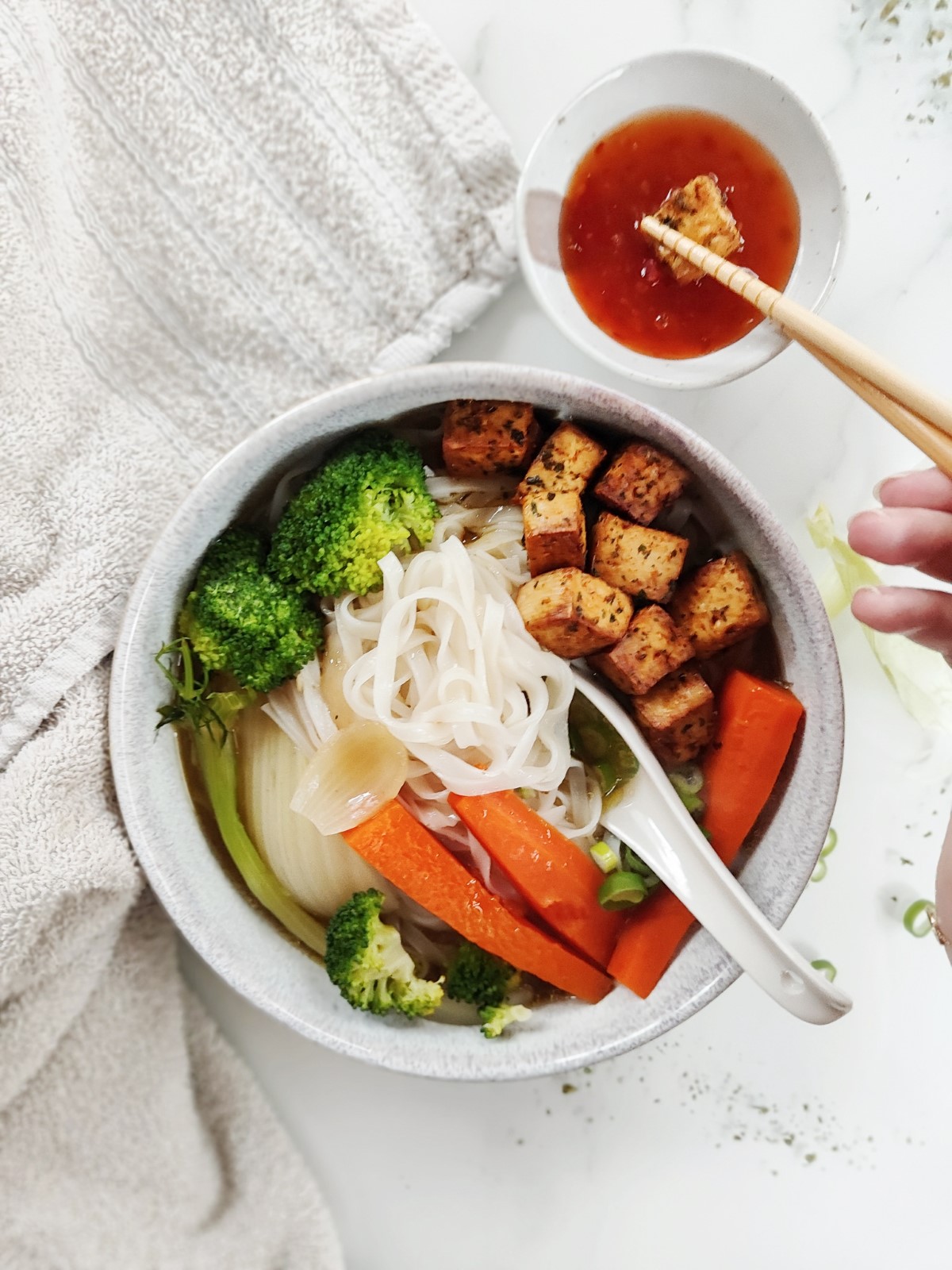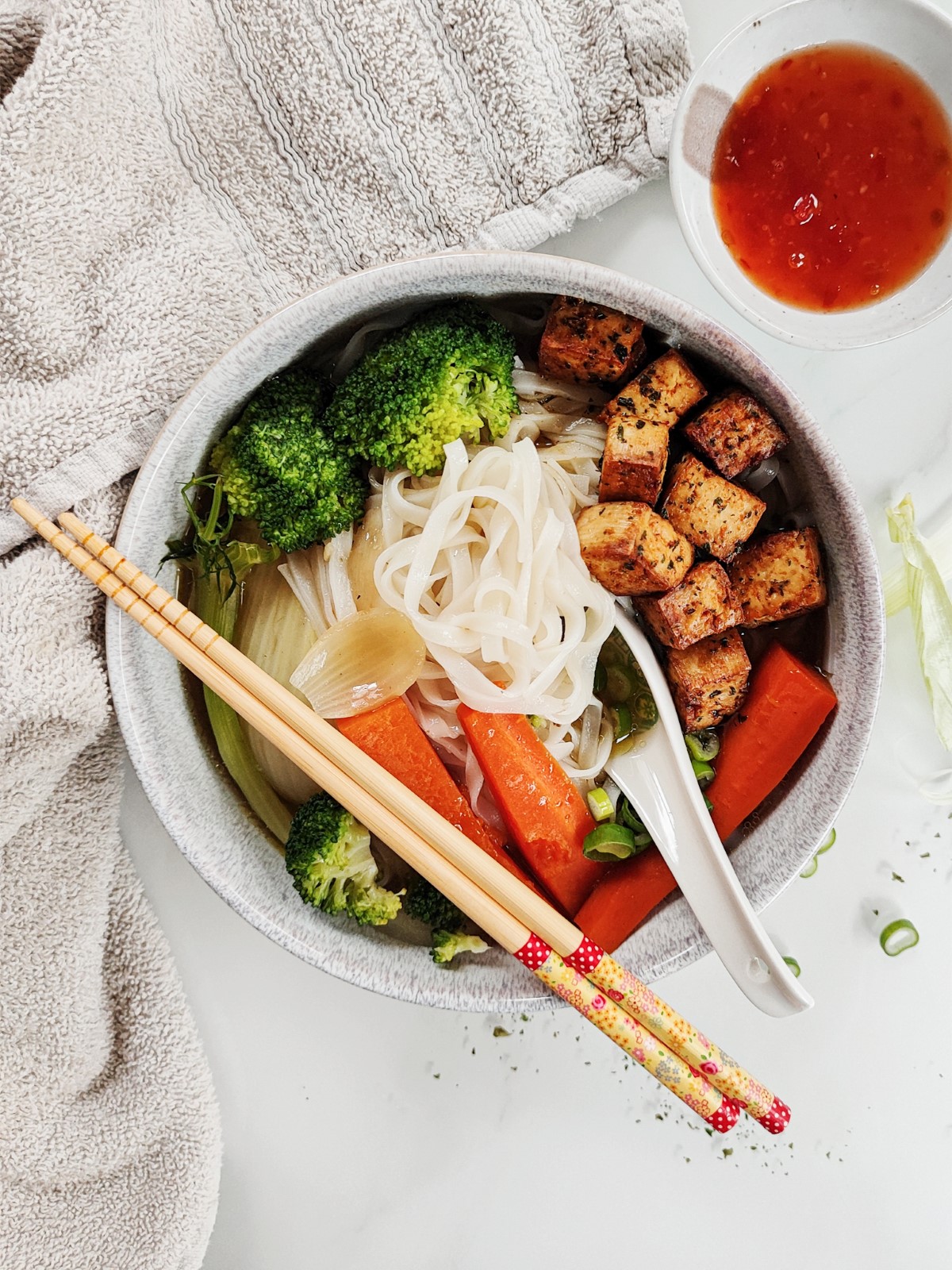 Notes:
Spices
This recipe uses a combination of different whole spices. If you have the option to use whole spices and not powdered spices please do. If you don't have that option, spice powder is also ok.
Mushrooms
Dry mushrooms give more umami flavour to the broth, so use them if you can. I use a mix of different dry mushrooms but you can also use shitake.
Vegetable stock
Any of your favourite vegetable stock will work.
Rice noodles
Rice noodles are typically used when serving pho. They cook a bit different from regular noodles. Usually you just let them simmer in hot water for about 3 minutes but it depends, it's best to cook them as instructed on the package.
Fun Facts:
Since this is Vietnamese food let me tell you about my first experience eating Vietnamese food in a restaurant. I actually first tried Vietnamese food in Vancouver (Canada). At that time Vietnamese restaurants weren't really a thing in Slovenia. They're still not but it's getting better. Anyway, me and my husband were in Vancouver, hungry and we went to this Vietnamese restaurant down the street from our airbnb. We ordered some food (the food was great) but we could not finish it all, so we left some on the plates and got ready to pay. The waitress was this older lady and she was so angry with us that we left some food on our plates. We paid and finished the food cuz you know you do what an older person tells you to do. :) I've been a bit scared of Vietnamese restaurants since then. Ok no but it was certainly an experience we'll never forget.