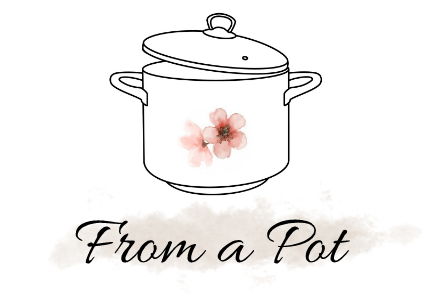 From a Pot: Cake with chocolate mousse and raspberry filling
Cake with chocolate mousse and raspberry filling
Moist chocolate cake with raspberry filling and mascarpone cream. It's so good and creamy.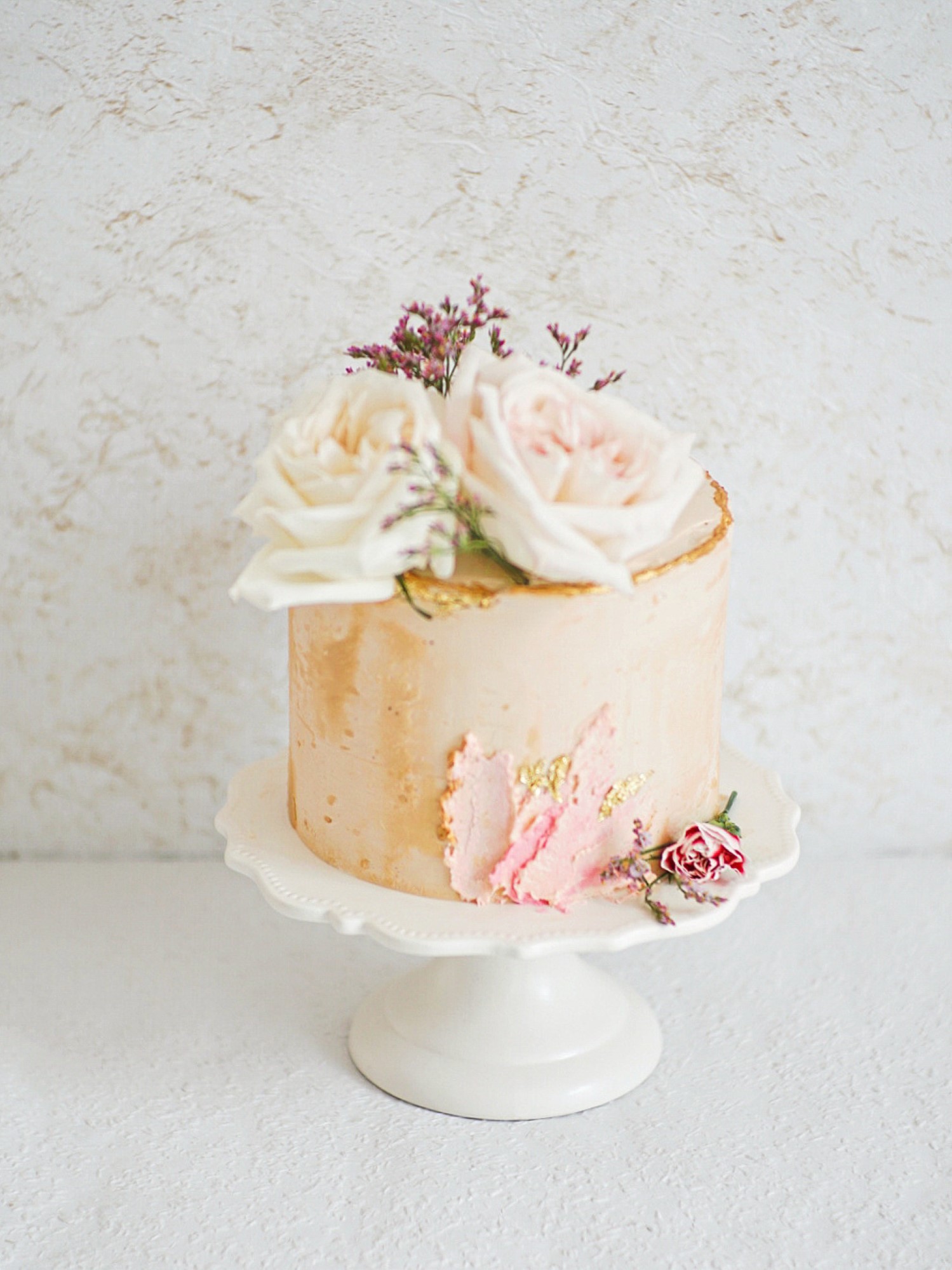 Equipment
Pots
Knife or cake cutter
Digital food thermometer
Flowers for decoration
Food colors
Golden leaves for decoration
Brush for decoration
Nutritional values
Shopping List

Flour: 240.0 g
Baking powder: 10.0 g
Baking soda
Brown sugar: 60.0 g
Sugar: 450.0 g
Egg: 9.0
Vanilla extract
Plain yogurt: 130.0 g
Milk: 120.0 ml
Oil
Mascarpone: 100.0 g
Whipped cream: 65.0 g
Salt
Powdered sugar: 20.0 g
Raspberries: 220.0 g
Cornstarch
Water
Lemon juice
Dark chocolate: 60.0 g
Butter: 450.0 g
Ingredients and Instructions
Field to change the scale in the recipe. The meaning of the number depends on the type of recipe and can mean the number of servings or the number of products obtained from the recipe.(Cake with chocolate mousse and raspberry filling)
Scale
Cake
Flour: 240 g

Cocoa: 60g

Baking powder: 10 g

Baking soda: 1 teaspoon

Brown sugar: 60 g

Sugar: 80 g

Egg: 3

Vanilla extract: 1 teaspoon

Plain yogurt: 130 g

Milk: 120 ml

Oil: 6 tablespoons

Butter: for greasing pan
Mascarpone cream
Mascarpone: 100 g

Whipped cream: 40 g

Salt: 0.2 teaspoon

Vanilla extract: 1 teaspoon

Powdered sugar: 20 g
Raspberry puree
Raspberries: 220 g

Sugar: 60 g

Cornstarch: 2 tablespoons

Water: 2 tablespoons

Lemon juice: 1 tablespoon
Chocolate mouss
Dark chocolate: 60 g

Whipped cream: 25 g

Egg: 1

Sugar: 10 g

Whipped cream: 50 g
Swiss meringue
Egg: 5

Butter: 450 g

Sugar: 300 g

Salt: 0.2 teaspoon

Vanilla extract: 1 teaspoon

Food colour
Instructions
Cake
Mix together eggs and sugar for about three minutes then add the remaining wet ingredients, and mix slightly.
Sif the dry ingredients (flour, cocoa, soda, baking powder) through a strainer so that there are no lumps. Mix, and be careful not to over mix. Mix just enough to bring the ingredients together.
Grass the baking trays with butter and distribute the cake batter evenly.
Bake at 180 degrees Celsius for about 15 - 20 minutes. Check with a toothpick if the cakes are done. When the cake is pierced with a toothpick and there is no more batter on it, it's done.
Allow cakes to cool completely.
Mascarpone cream
Put all the ingredients in a bowl and mix well with an electric mixer. Mix for about 3 - 4 minutes, then put the cream in the fridge to cool for a bit.
Raspberry puree
In a small saucepan, combine all of the ingredients.
Stir the mixture until it begins to boil. Everything needs to heat slowly so the sugar dissolves and the mixture thickens properly. It will take about 10 minutes. Cook it at a medium heat.
Once the raspberry puree has cooled to room temperature, place it in the refrigerator to harden further.
Chocolate mouss
Melt the chocolate over a double boiler. Pour a little water into the pot and wait for it to boil, then place a cup of chocolate on top of the pot and wait for the chocolate to melt.
Heat up 25 g of whipped cream in a pot. Mix it with melted chocolate, and wait for the chocolate mixture to cool to room temperature.
Whip 50 g of whipped cream.
Separate egg yolk from egg white.
Add a pinch of salt and sugar to the egg whites and beat until stiff peaks.
Gradually add egg whites and whipped cream to a room temperature chocolate mixture. Fold it gently with a wooden spoon.
Place the mousse in the refrigerator for at least 3 hours.
Swiss meringue
Separate the egg yolks from egg whites.
Add sugar and salt to the egg whites and mix lightly with a hand whisk.
Over a double boiler slowly heat up the egg whites. Stir slowly while heating. Make sure the water does not touch the bowl.
Heat the egg whites until they reach 60 degrees Celsius - check this with a food thermometer. If you don't have a thermometer, check it with your fingers. The mixture is ready when it's smooth, warm and you don't feel whole pieces of sugar on your fingers.
Pour the mixture into a mixing bowl and start mixing until the egg whites cool back down to room temperature. The mixture will get glossy peaks.
Gradually start adding pieces of room temperature butter to it. Make sure the mixture is really at room temperature and not too hot otherwise the butter will start to melt. When adding butter, the mixture will become a bit more liquid, when this happens just keep mixing further until all butter is added.
Finally, you can add a little bit of vanilla extract, food coloring ...
Place the meringue in the refrigerator and mix lightly again before use.
Assemble the cake
If necessary, cut off the tops of the cakes to get a smooth, flat surface.
Fill the cake with creams in any order. Smooth the fillings with a cake smoother.
Once the cake is assembled, place it in the fridge for half an hour to cool.
Apply the meringue. Help yourself with a turntable and cake smoother.
Once you apply the meringue, put the cake back in the fridge for half an hour before you start decorating. The colder the cake, the easier it will be to decorate.
I use fresh flowers and golden leaves to decorate.
Gallery: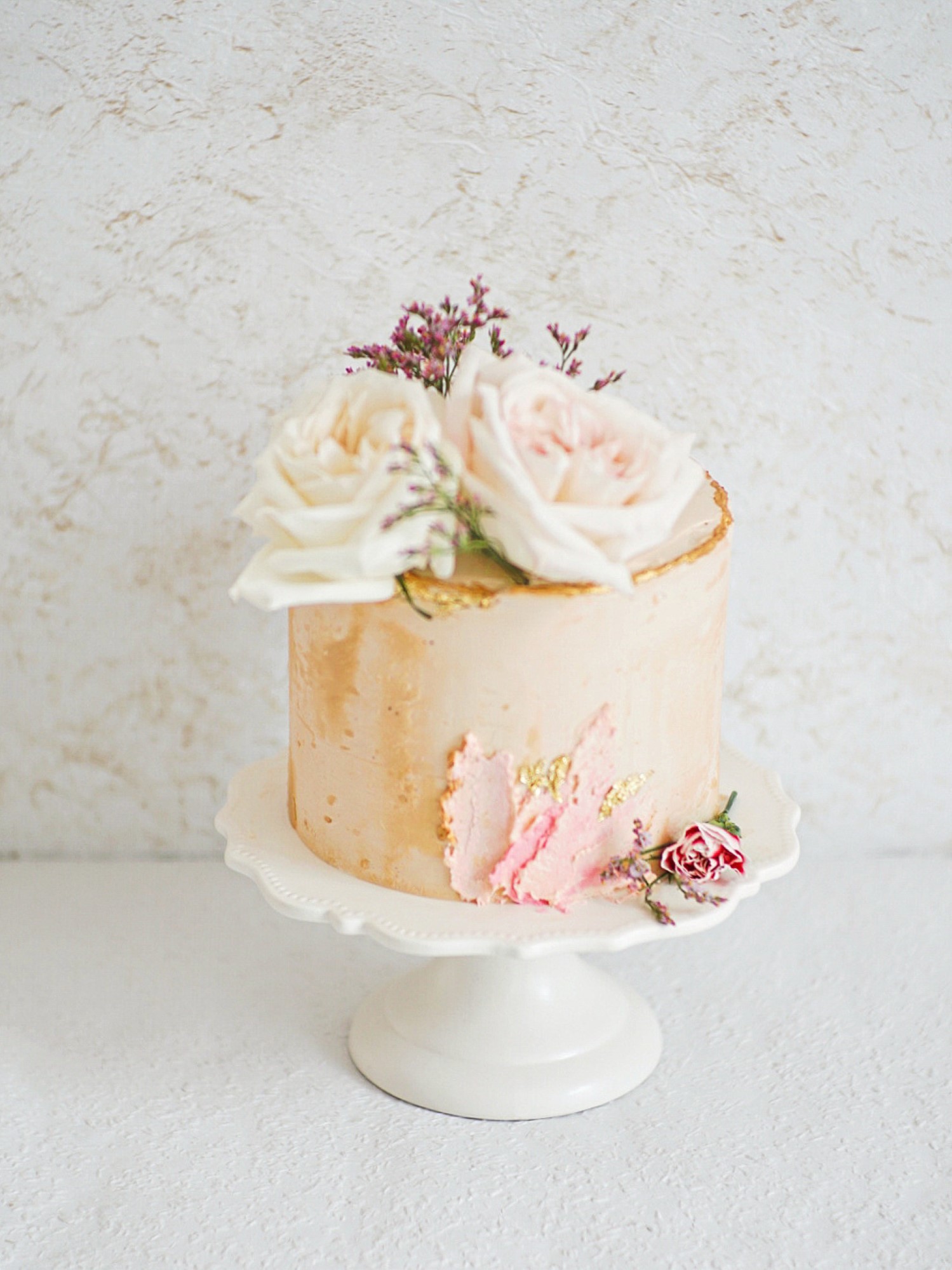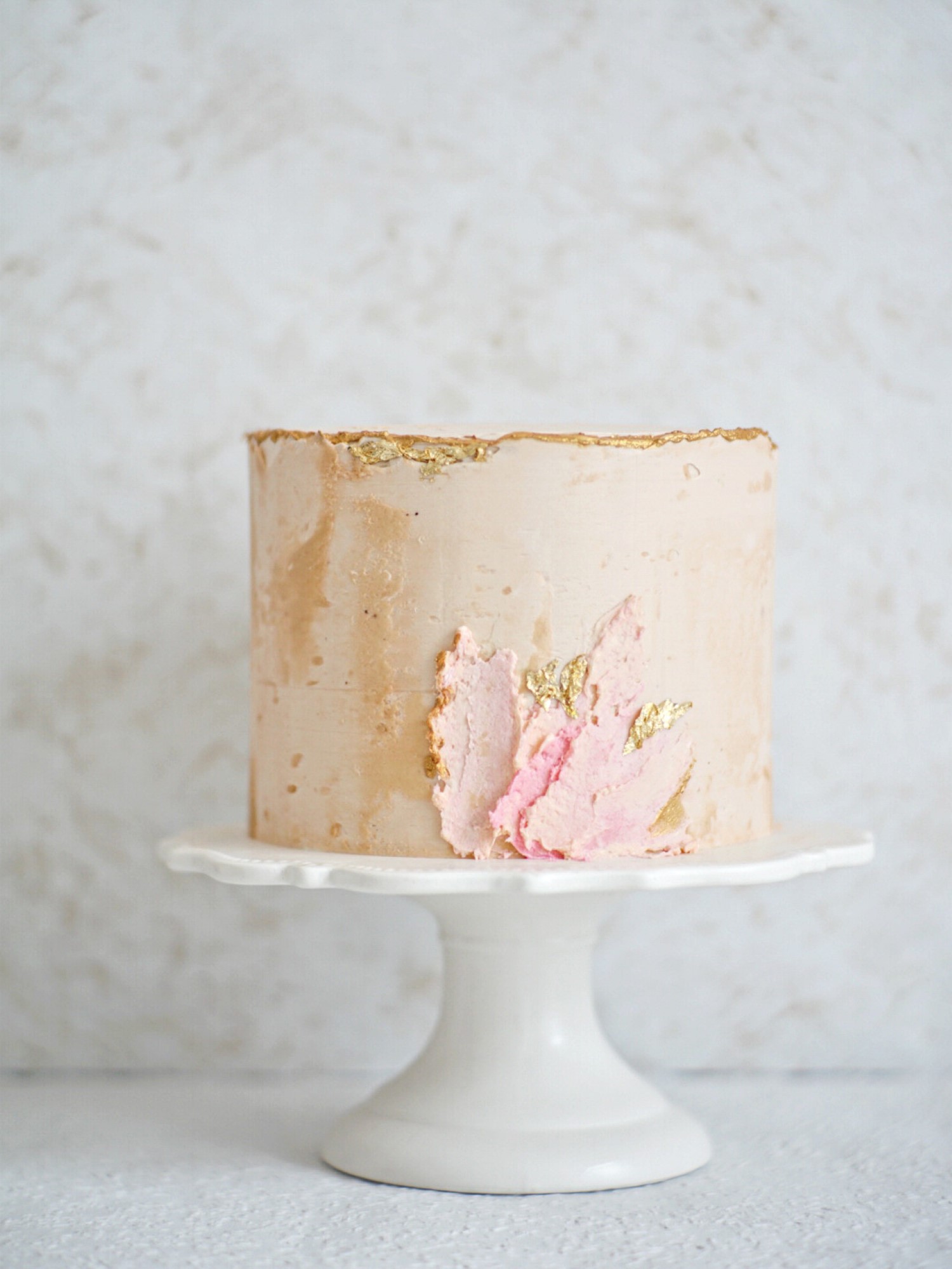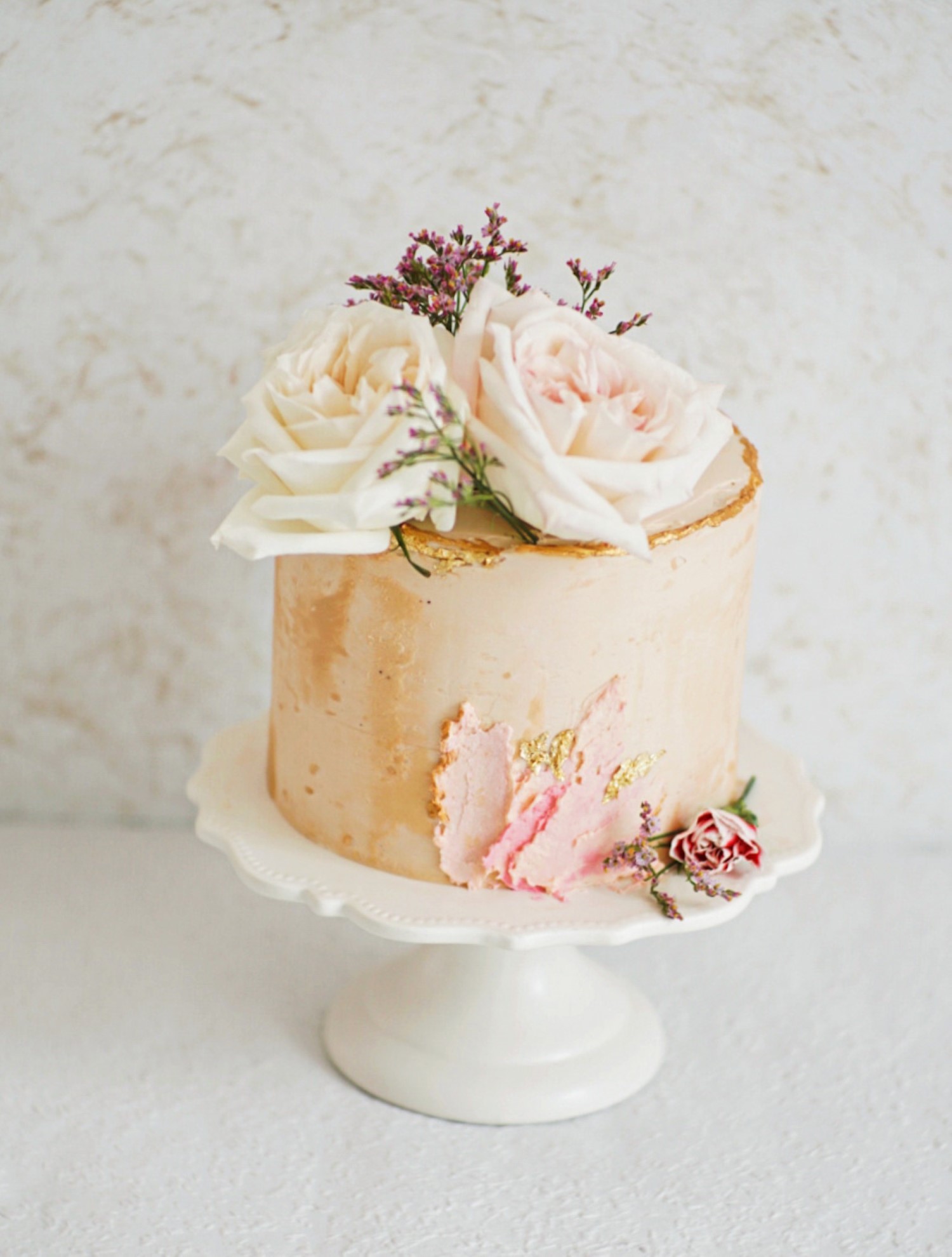 Notes:
Use room temperature ingridients.
Cake fillings
All the fillings can be made a day in advance. Raspberry filling is good for about a week, chocolate mousse for 3 to 4 days, mascarpone filling for 4 days, butter cream for about a week.
Cakes can be juiced with milk or sugar syrup if desired.
Buttercream
You can use some other buttercream or meringue for the frosting. Here I used Swiss meringue.
How to move the cake?
If you are transferring a cake from a turntable to a regular stand make sure that before you start decorating you use a cardboard cake circle to ensure it has a sturdy foundation. The cake also needs to be cold before you attempt to move it. Place it in the refrigerator for at last 30 minutes or longer.
Heat up the spatula. Run it under hot water and then dry with a towel. When the spatula is warm, run it all along the bottom edge of the cake. Once you got around the entire cake, work your spatula underneath and lift it up from one side. Slide your hands underneath the cake and slowly lift it up. Move it to the cake stand and use the spatula to help lower the cake,
Decorating
Decorate the cake as you wish. If you work with gold leafs, applying them with a brush is a bit easier.
Serving the cake
Before serving, place the cake out of the refrigerator for about 15 minutes so it warms up to room temperature.