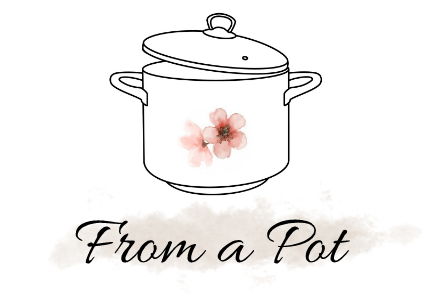 From a Pot: Stuffed Peppers with Vegetables
Stuffed Peppers with Vegetables
Easy summer lunch - stuffed peppers with vegetables and sweet tomato sauce.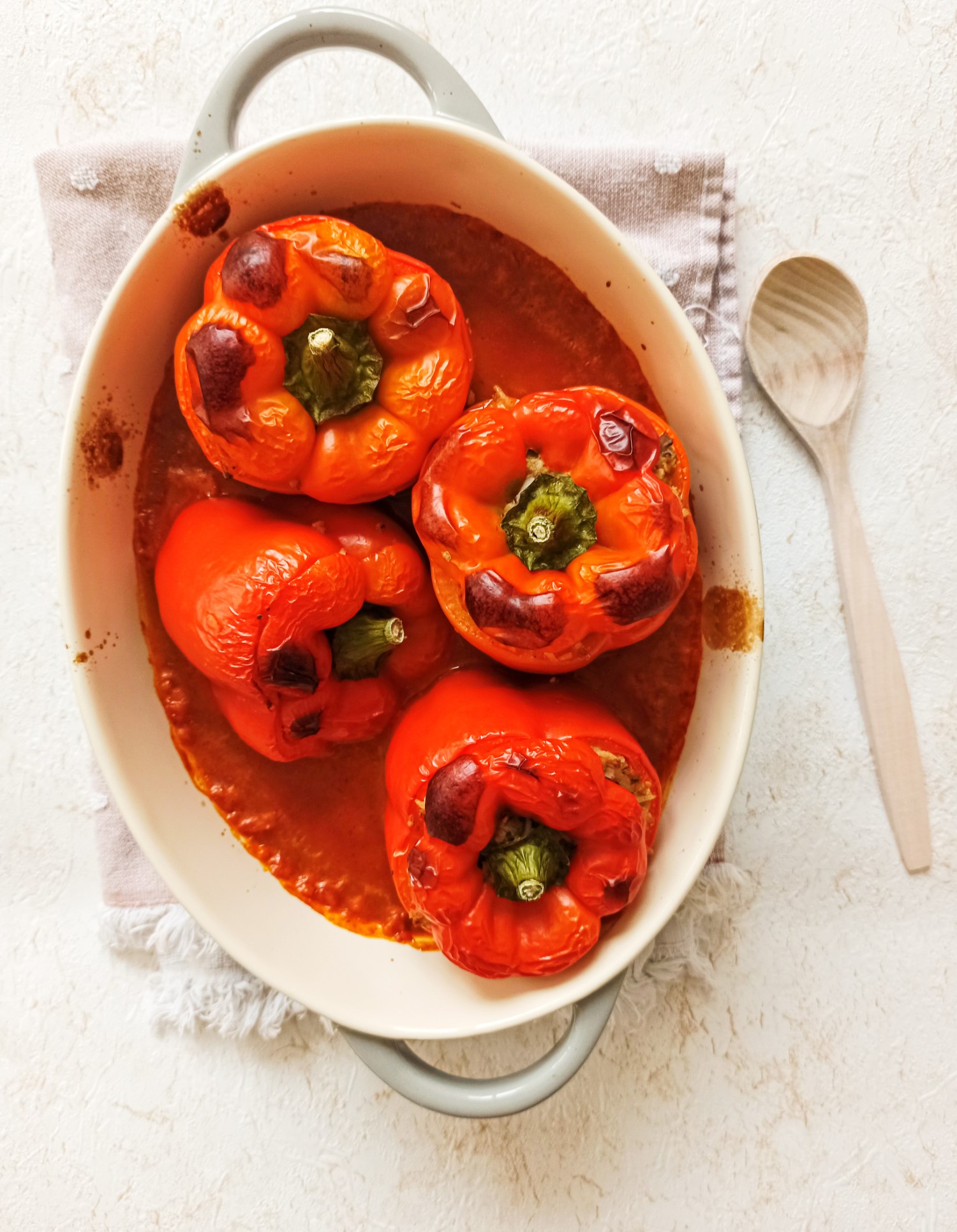 Prep Time
Total Time:
1 Hour and 40 Minutes
Equipment
Blender
Cutting board
Knife
Pots
Ceramic baking tray
Strainer
Nutritional values
Shopping List

Pepper
Soy: 80.0 g
Rice: 50.0 g
Beans: 100.0 g
Button mushrooms: 150.0 g
Vegetable soup base: 120.0 ml
Water: 50.0 ml
Onion: 2.0
Salt
Parsley
Paprika powder
Marjoram
Oil
Tomatoes: 400.0 g
Sugar
Tomato paste
Ingredients and Instructions
Field to change the scale in the recipe. The meaning of the number depends on the type of recipe and can mean the number of servings or the number of products obtained from the recipe.(Stuffed Peppers with Vegetables)
Scale
Filling
Pepper: 4

Soy: 80 g

Rice: 50 g

Beans: 100 g

Button mushrooms: 150 g

Vegetable soup base: 50 ml

Water: 50 ml

Onion: 1

Salt: 1 tsp

Pepper: 0.5 tsp

Parsley: 1 tbsp

Paprika powder: 1 tsp

Marjoram: 1 tsp

Oil: 1 tsp
Tomato Sauce
Tomatoes: 400 g

Oil: 1 tsp

Onion: 1

Sugar: 2 tbsp

Tomato paste: 2 tsp

Paprika powder: 1 tsp

Salt: 1 tsp

Pepper: 0.5 tsp

Vegetable soup base: 70 ml
Instructions
Filling
Cook the soy in the vegetable soup base. Wait for the soup to boil, then add soy and cook for about 10 minutes on low heat. Drain the soybeans, and squeeze the water out of them as much as possible.
Cook the rice in salted boiling water. Cook it for about 10 minutes, then drain it.
Cut the onion into pieces. Wash and slice button mushrooms and prepare the peas.
Heat up the oil and saute the onions. Then add the peas and mushrooms and cook everything for about 5 minutes.
Add soy and rice to the vegetables and season with salt, pepper, paprika powder, parsley and marjoram.
Cut off the top of the peppers then clean and wash them well. Stuff them with soy and vegetable mix then cover them again with the part that you cut off.
Place them in a baking tray.
Tomato Sauce
Wash and cut tomatoes into pieces.
Cut the onion into pieces.
Heat a teaspoon of oil in a pot and saute the onions. Add in two tablespoons of sugar and stir, so that the sugar starts melting.
Add in tomatoes and other spices, simmer for another minute, then pour in the vegetable soup base.
Cook the tomato sauce for about 15 minutes, then blend it and pour it over the peppers.
Bake the peppers in the oven at 200 degrees Celsius for about 40 minutes.
Gallery: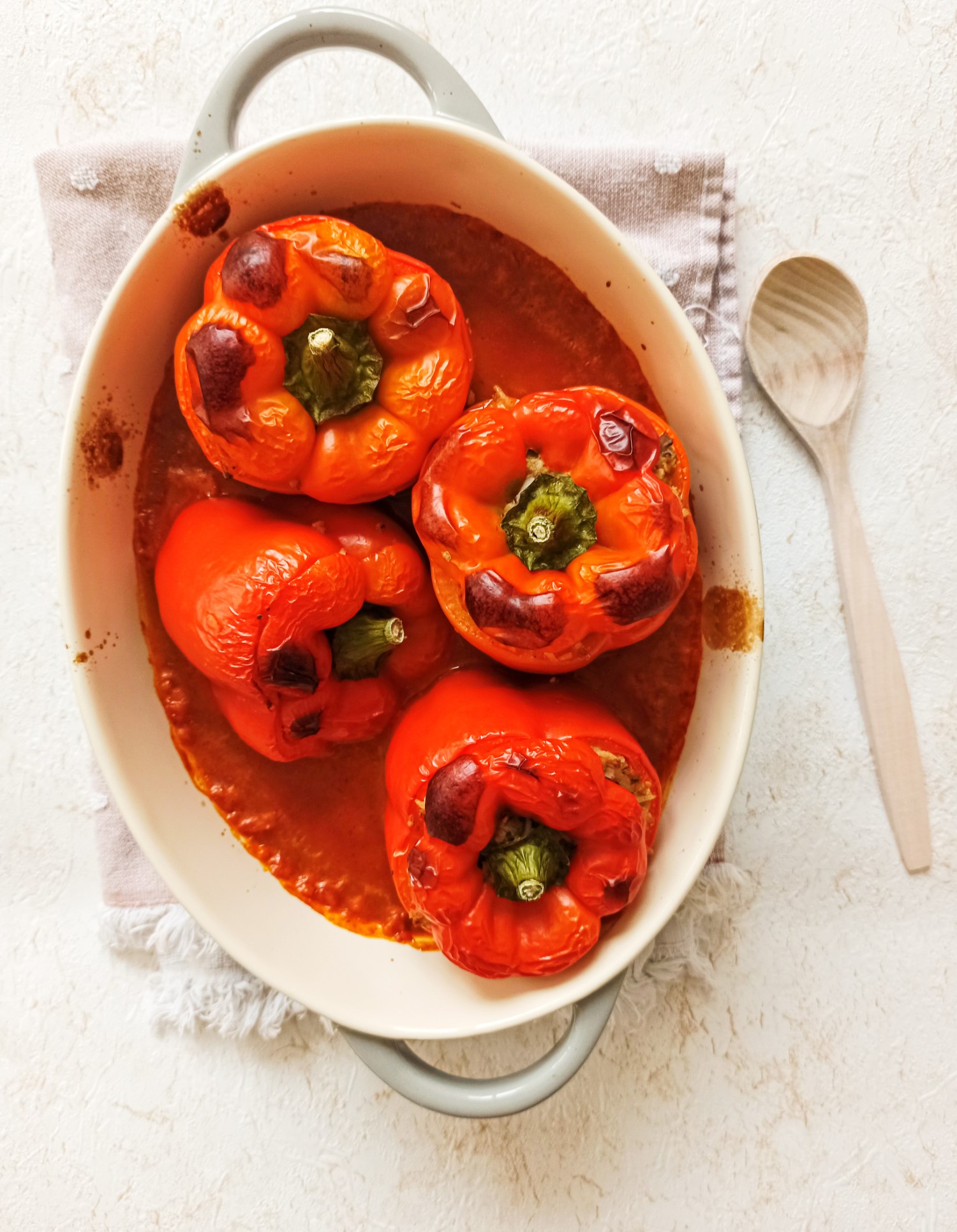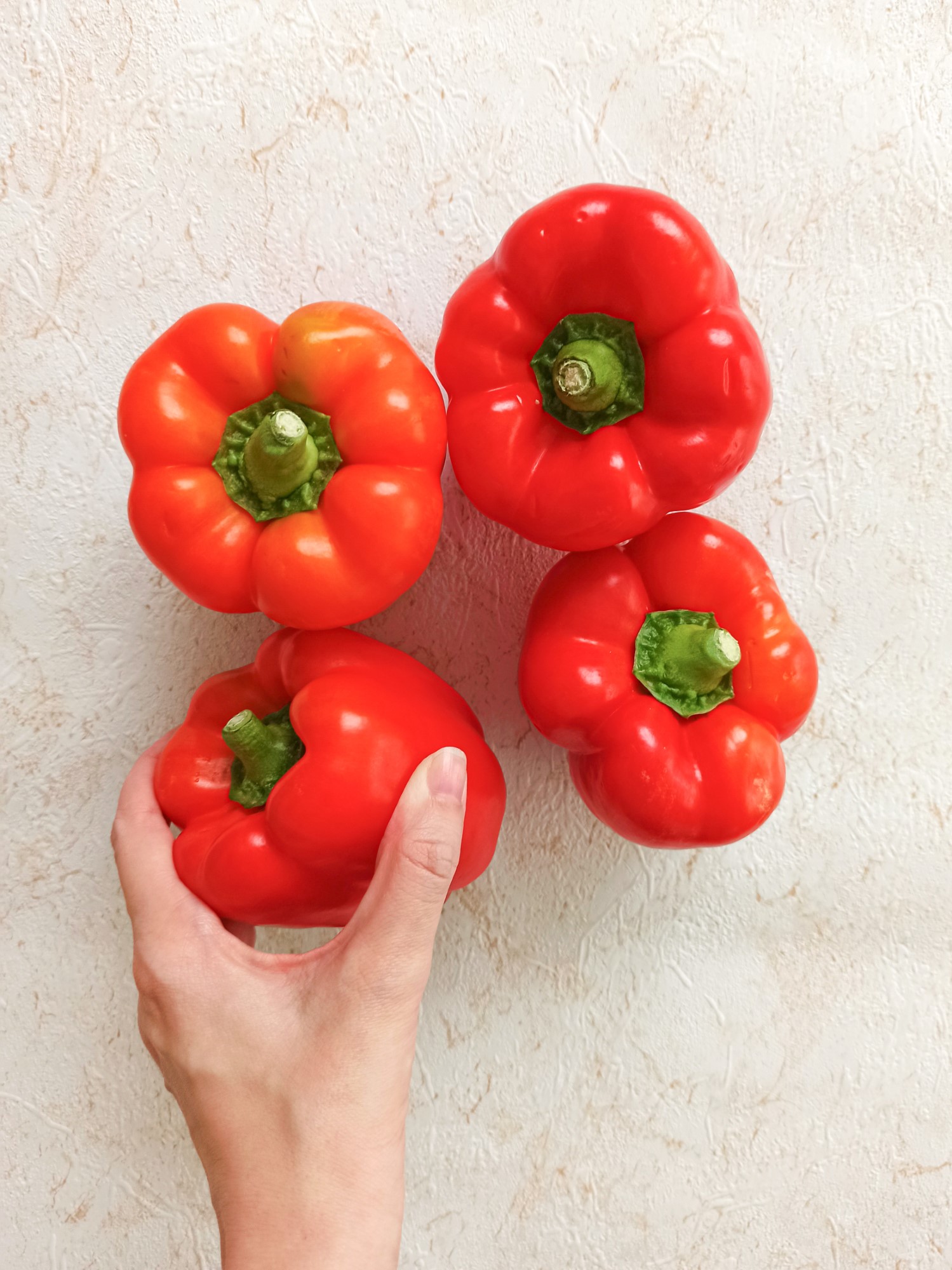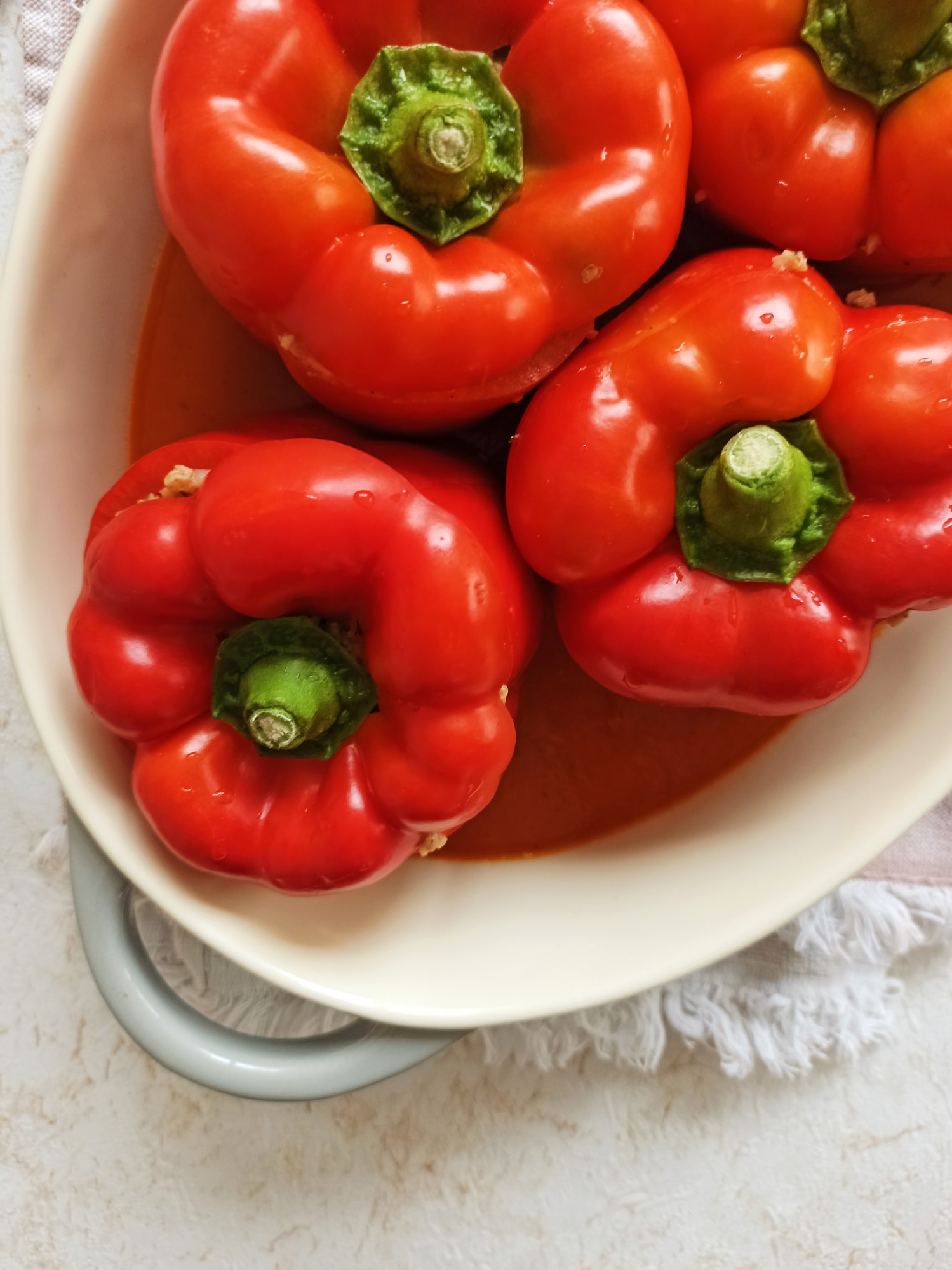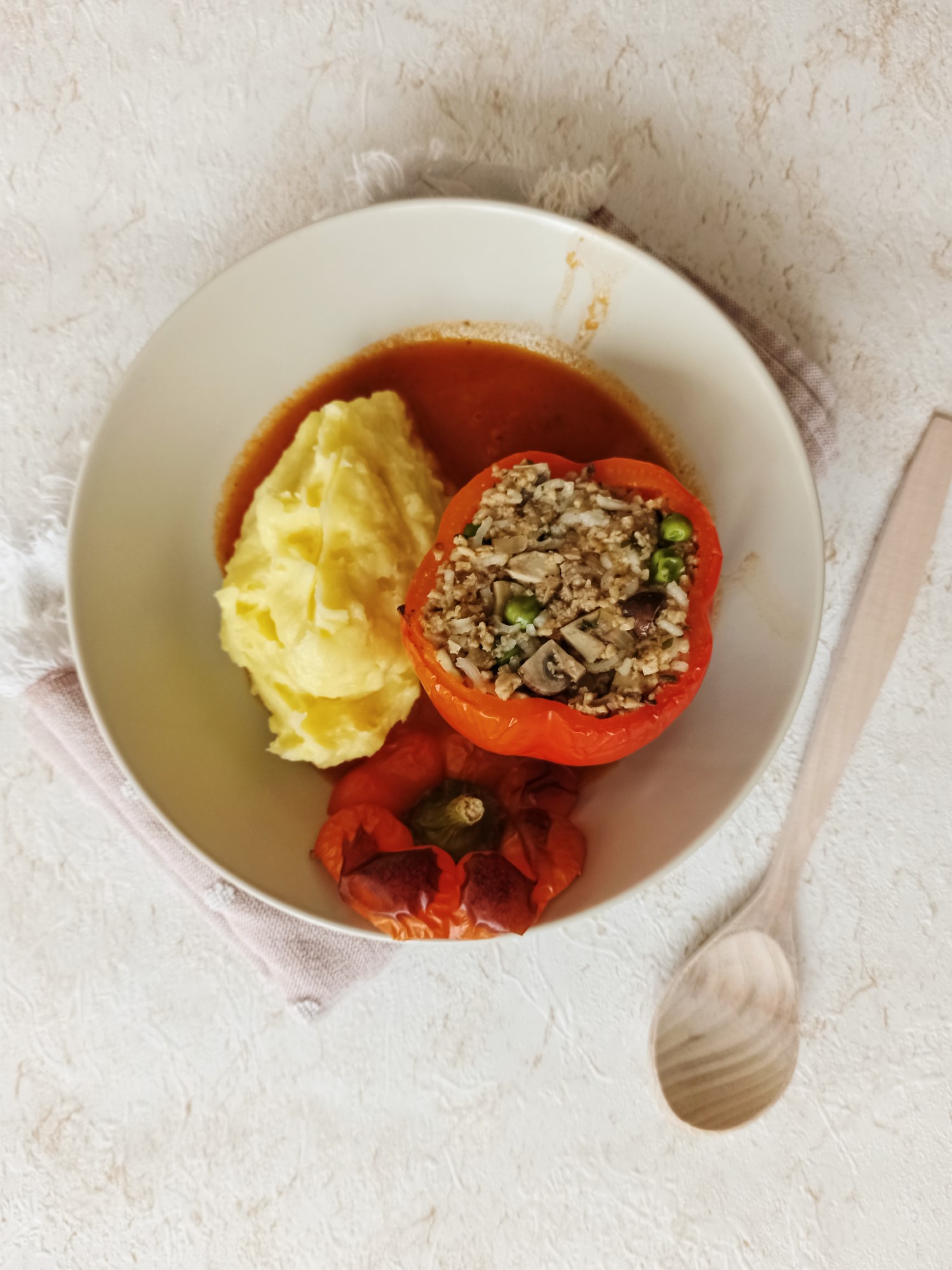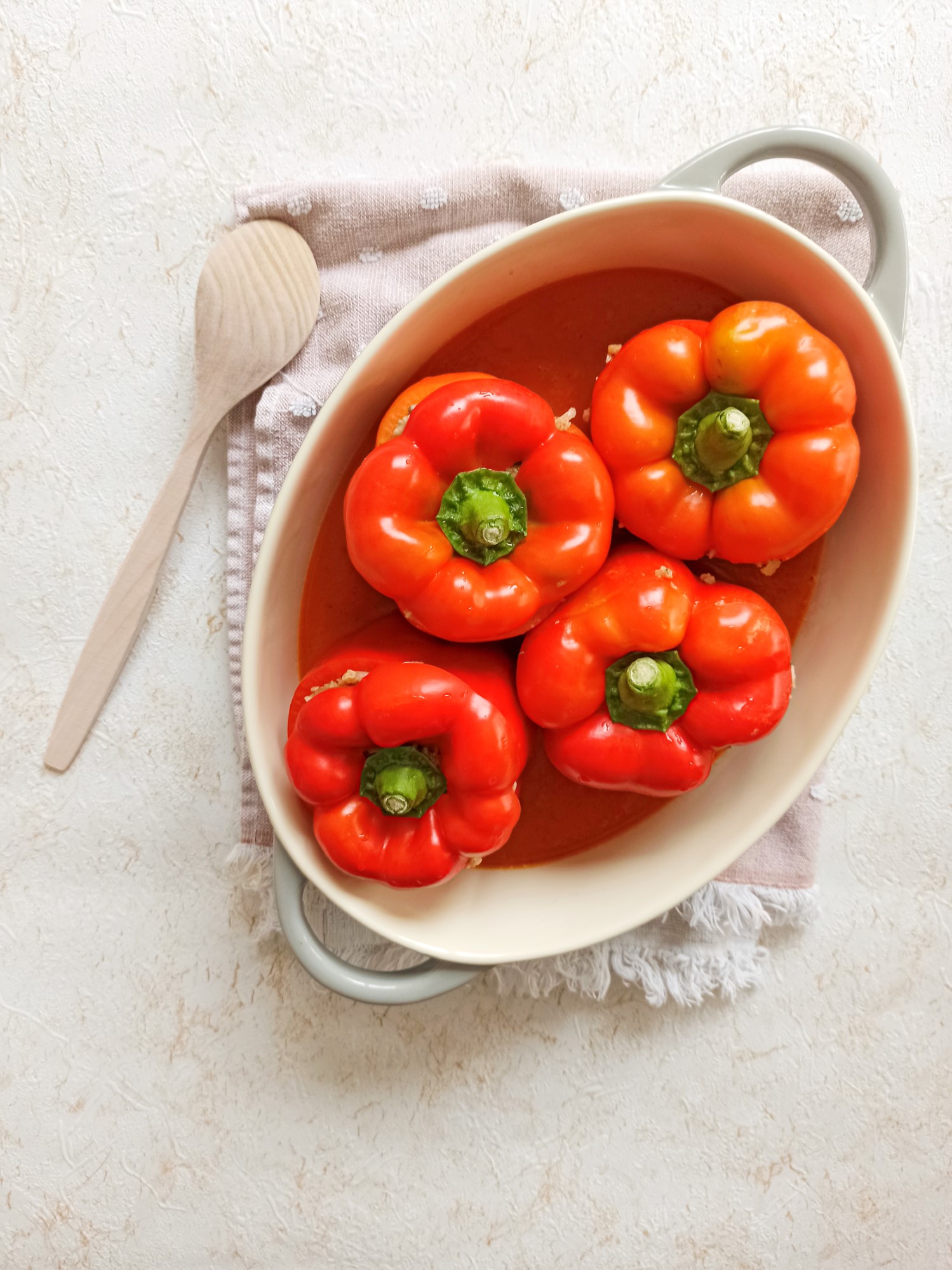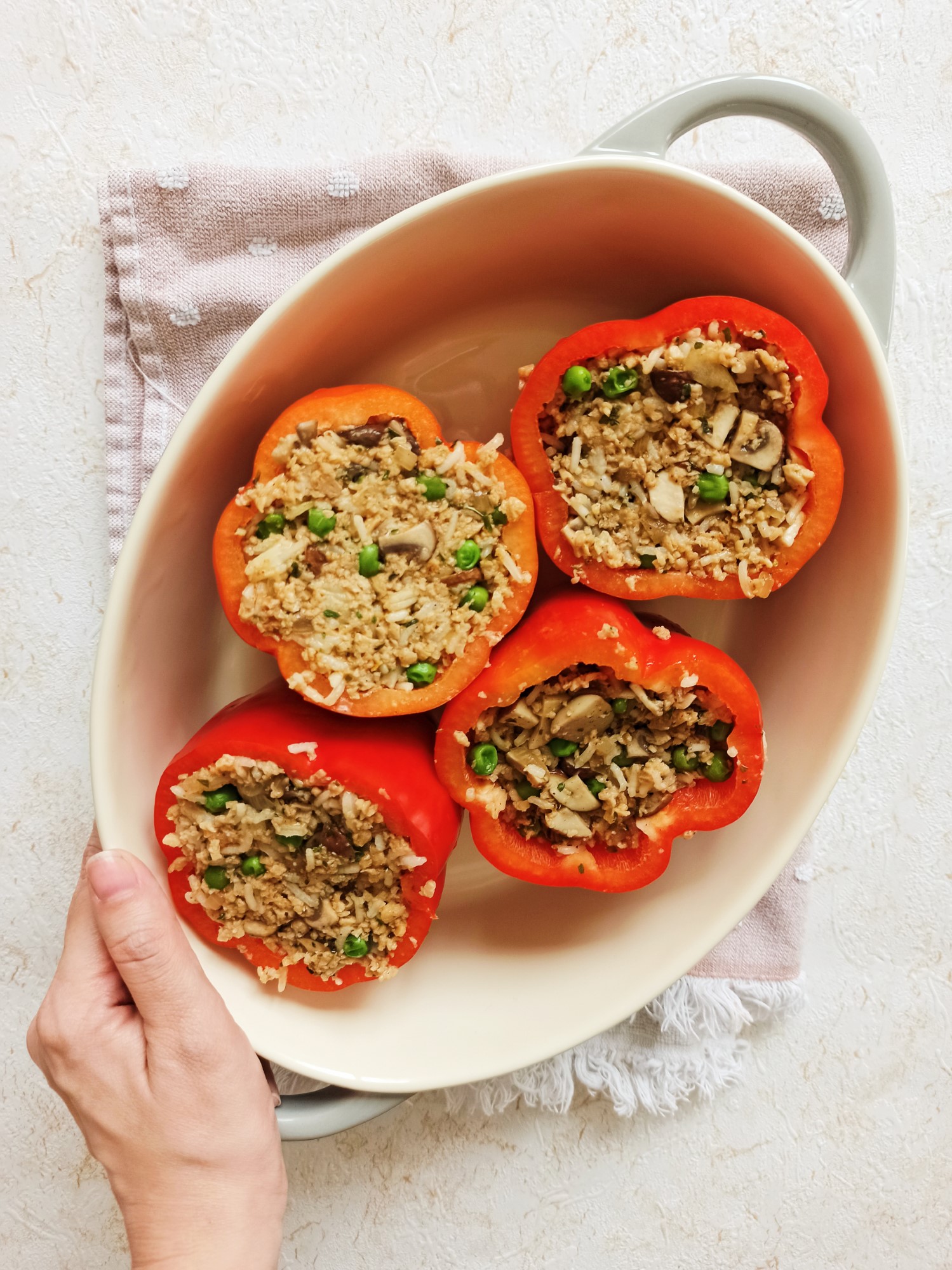 Notes:
This recipe is very flexible, you can use any vegetables, such as carrots, zucchini, leek ...
Instead of rice or soy, you can also use some other cereals or you can fill the peppers just with vegetables.
You can also put larger pieces of potatoes in the sauce next to the peppers and bake them.